July 5, 2010 
Marina Bay Yacht harbor, Richmond, California
Since we are getting close to shoving off on our 2nd multi-year cruise, I guess it's time to start the journal writing again.  For the record, I am Dan Best and this is the personal journal that I will be keeping while my wife, Kathryn, my nephew, Adam and I sail off into the sunset aboard Loose Pointer, our 44' sailboat.  Some photos of the boat can be found at http://dbsail.org/LoosePointer/.  You are receiving this because you either asked for our journals or I thought you might enjoy them.  If you'd rather not get them (probably about every week or so), just let me know and I'll take you off the list.  If there's someone you know that would like to receive them, feel free to either forward them yourself or have them send me a quick note (Dan@dbSail.org) and I will include them in the list.
The plan is to move aboard sometime in July, then leave Richmond sometime thereafter (in theory, Aug. 1st, but we'll see).  We will be spending some time along the California coast, particularly the Channel Islands in Southern California where we will be doing a lot of SCUBA diving.  On Oct 25th, we will be joining a large group of boats in a rally called the Baja HaHa, cross into Mexico and head down to the Sea of Cortez.  Our plans after that are a little vague, but I've no doubt that we'll figure something out.  After all, last time we made it as far away as Tonga.
First, the Reader's Digest condensed version of the adventure so far: 
· I finally got the new boat (Loose Pointer) up to the bay area and for the next month or so (until we leave), she will be in slip E-243 at Richmond's Marina Bay Yacht Harbor.
· We have a buyer for the Fresno house.
· We are about to close on the house in Santa Rosa we are buying.
We bought Loose Pointer at the end of January down in Long Beach and I've been trying to move it up to the bay area ever since.  First, the weather didn't cooperate, then I had knee replacement surgery and had to wait until I was all healed up, then some crew issues, then another weather delay.  Finally, on Sunday, June 20th, my friend Jeff and I untied the lines in Long Beach, topped off the fuel tanks and headed north.
The trip started off nicely, but there were a few incidents along the way.  Unfortunately, our ability to deal with them was somewhat hampered by the fact that the boat is new to me and I'm unfamiliar with all its systems.
The breeze was coming from directly in front of us, so we were motoring happily along.  I'm pleased to say that the cockpit of Loose Pointer is as comfortable underway as I had expected it to be.  The first incident was about 7 hours after we left.  The engine suddenly slowed down and stopped, starved for fuel.  No big deal, it's not uncommon for boats that have been sitting unused for a long time to develop a little algae in their fuel tanks, then when you get underway, start bouncing in the waves and it breaks loose, settles to the bottom, gets sucked up into the fuel line and clogs the filter.  This has never happened to me before, but it's certainly not unknown and it didn't surprise me in the least.  I just went down below, changed the filters and we were back on our way.
About 10 minutes later, it happened again.  Uh oh.  Again, I went below to check the filters, but this time, they were clean – no need to change them.  Worse, the battery could only just barely turn the engine over and it wouldn't start.  Oh well, it is a sail boat so we raise sail and plan on arriving in Santa Barbara the next morning where we can get the battery recharged and figure things out.  Unfortunately, a little while later, the jib halyard (the rope that holds the front sail up) broke making it impossible to make headway upwind.  With just the mainsail, I could go across the wind or downwind, but not upwind.  Hmmmm, time to come up with a new plan.  The closest port was Redondo Beach, so we headed for it and gave Vessel Assist (sort of like AAA on the ocean) a call to alert them that we are going to need some help getting into the harbor (it's upwind as you enter the it).  On the way there, Jeff discovers that the starting battery is low on water, so we top it off and try starting the engine again.  It just barely turns over, but it does start this time.  Not knowing why it died the 2nd time, I'm concerned with how long it will run so just let it run for a few minutes to get some charge into the battery, then shut it down and pray that we can get it restarted when we reach Redondo Beach.  If it doesn't, I'm going to have to drop the anchor outside the harbor until I can get someone to tow me in.  I've never had to have a boat towed and I really don't want this to be the first time.  On the way, I give the local yacht club there (King Harbor YC) a call and get permission to tie up at their guest dock when we arrive.  We finally get there about 2am, the engine blessedly starts and we make it into the harbor and to the guest dock.
While there, we were able to get a new halyard installed, the battery fully recharged and I bought a pair of jumper cables so, if necessary, I can start the engine from the house batteries.  I also ran the engine under load for an hour and decided that it had died that 2nd time because of some air that I had introduced into the fuel system when I changed the filters.  All this took a couple of days, and then we were once again underway.
The seas after rounding Pt. Conception, near Santa Barbara, were quite steep and rough and I was really pouring on the fuel to keep the boat moving.  Otherwise, every minute or so, we would hit a series of waves that would bring the boat to almost a stand still.  Our next stop was Morro Bay (again at about 2am).  We pulled in here to get some sleep, pick up some more food and a little more fuel.  By about noon, we were again underway.
The water stayed rough until we passed Pt. Sur, near Monterey, then settled down to more rounded seas that Loose Pointer would just slide up and over, so I could ease up on the throttle and things were once again quite comfortable.  At some point that day, the engine once again lost power and when I checked the filters, they were still nice and clean.  While I was down there, I switched to the other fuel tank.  The engine started up easily and ran well, but now, I've got a mystery.  Why did it die?  As an experiment, I switched back to the starboard tank and the engine immediately lost power again, so I quickly switched back to the port tank and it revved back up and was happy.  OK, mystery solved.  I've apparently got a plugged fuel line coming from the starboard tank.  No huge problem, except that the port tank is getting a little low.  I transfer 10 gallons of diesel from the starboard tank and figure that that will get us up to Half Moon Bay where we can buy some more.  I was almost right, but the boat has a 3rd small auxiliary tank that did get us there.
We arrive at Half Moon Bay at about 3am.  Why are we always getting somewhere in the middle of the night?  I hate entering unfamiliar harbors at night.  At least I've been to Half Moon Bay many times, so even though it's my first night approach there, it's not too stressful.  We drop the anchor and settle in for some much needed rest.  The next morning we get up, but when I try to start the engine, nothing happens.  The starter just goes "Click!"  That darn starter battery must have a problem. However, I am prepared this time with my jumper cables.  I hook them up to the much larger house batteries, push the starter button and "Click!" is all that happens.  So here we are, safe in a harbor with the anchor down, but I've no way to start the engine.  I get on the radio and try to call Vessel Assist again.  They don't answer, but the harbor patrol does and asks what the problem is.  I tell them that I was in need of a jump start and they offer to come over and give it to us.
Thirty minutes later, they are alongside, the jumper to their battery is hooked up and I push the starter button.  You guessed it.  "Click!"  It would seem that I probably have a corroded connection somewhere in the wiring and it can't deliver enough amperage to turn the starter over.  It occurs to me while the harbor patrol is giving us a tow to a transient berth that I could have used the jumpers to bypass the boat wiring and jump the battery directly to the starter.  Oh well, I'll try that as soon as we get tied up. Unfortunately, when I do, I get the all too familiar "Click!"  It turns out that it's not battery problems and it's not a problem in the wiring.  I have starter problems.
Kathryn drives down from Santa Rosa.  I remove the starter (after borrowing a wrench from the harbor patrol), and the next day (Sunday) we drive Jeff back home to Santa Rosa and we return to Fresno with the starter.  Monday morning I take it to a shop (Starr Rebuilders) that in 3 hours has rebuilt the starter and returned it to me. 
As soon as I have the starter back, I drove up to my brother's in Pleasanton, left the car there and he gave me a ride back to the boat in Half Moon Bay.  After reinstalling the starter, the engine starts right up.  YEAH!!!!!!  The next morning, I make the 5 hour trip up to Richmond without incident.  I can't tell you how good it felt to cross under the Golden Gate Bridge at last.  I was the only one on the boat and it was kind of windy, so getting it into the slip was a little interesting, but after a couple of tries, I finally managed it.
That was the 5th or 6th delivery I've done up the California coast and it was certainly the most incident filled.  However, there was nothing major.  Just normal stuff that happens when a boat just sits for awhile then is suddenly used hard.  There were a couple of other things like the stopped up toilet that I haven't mentioned, but they were all just normal stuff.  For the record, after I got the boat to Richmond, I completely dismantled the sewage system and replaced almost all the hoses.  A nasty job, but it needed doing and hopefully, I'll never need to do it again.
Saturday, September 25, 2010
Current Location: Pt. San Pablo Yacht Club
37 dg. 55.404 N, 122 dg. 22.576 W
Total distance traveled so far: 0 nm
It's been a couple of months since my first journal entry and a busy 2 months it's been.  We (Dan, Kathryn & Adam) have spent most of the time tied up to the guest dock of the yacht club.  Not only is the weather nicer that at our slip at Marina Bay (just a mile or so away), but we have friends here and access to the shop has been a real boon.  We've been working hard getting Loose Pointer ready for the trip and are just about set to untie the dock lines and get started on our Journey. 
For those who are interested, an incomplete list of the projects include:
All new standing rigging (the wires that hold the mast up)
Some repairs to the mast.
Replace 4 of the chain plates (the heavy stainless steel plates the standing rigging connect to)
A brand new mainsail
Replace the UV protective strip on the jib (the front sail)
Add a reef point to the staysail (the middle sail)
A new mainsail cover
Add a 2nd anchor roller
Replace all of the house batteries
Add two more large solar panels and a charge controller
Add a SCUBA compressor
Add floatation to the Porta-Bote dinghy
Fix some leaks in the remote oil filter system
Convert the 2 hanging lockers to shelves
Replace the toilet
Replace the stove/oven
Replace the SSB (the long range radio)
Haul the boat out of the water and paint the bottom
We've done all that and too many other projects to remember.  There are lots more small projects yet to be done, but we'll work at them along the way.  Everything in the storage locker has finally been moved aboard and it's time to get going.  It is long past time in fact since we had hoped to get underway sometime in August.  We should be untying the dock lines and leaving Monday afternoon (or possibly Tuesday morning at the latest). 
The first day will be a short one.  We'll just head over to Richardson bay and anchor for the night off Sausalito.  We'll then head out the Golden Gate and ride the outgoing tide the next morning.  After making that left turn down the coast, we plan to stop at Half Moon Bay, Santa Cruz, Monterey and Morro Bay before continuing on past Point Conception and arriving at the Channel Islands where we hope to spend 2 or 3 weeks enjoying SCUBA diving in the kelp forests there.
Please note that we are now using the email system that operates directly from the boat via the SSB radio.  Feel free to contact us at WDF3565@sailmail.com but please don't include us in the distribution of any funny or interesting emails or web sites you send out to all your friends.  The SSB connection is VERY slow and we are limited in the amount we can receive from the system.  Also, it does not allow any attachments.  If you want to send us attachments, you can send them to our regular addresses.  These will only be checked sporadically, when we are in port and have wifi access or visit internet cafes.
You are receiving these emails because you have either expressed an interest in doing so or we thought you might enjoy keeping up with us in our travels.  If you would rather not, just let us know and we'll take you off the list.  If anyone you know would like to receive them, all they have to do is to send us an email and let us know.  You are also welcome to forward them to anyone who might be interested.
We are looking for a volunteer to administer the list.  All that is required is internet access and a willingness to go to a web site once in awhile and add or subtract from the list of people receiving the emails.
Bye for now,
Dan
Wednesday, September 29, 2010
Current Location: Anchored in Half Moon Bay
37 dg. 29.810 N, 122 dg. 29.292 W
Total distance traveled so far: 36.04 nm
We did it!  It seems hard to believe, but we actually untied the dock lines and started our trip Monday about 6:45 in the evening.  We didn't make it very far (just over to Richardson Bay), but that's not the point.  The point is that after all the hard work and effort, we are finally underway.  There were a couple of "issues" that came up, one of which almost caused us to return to the dock, but in the end, they have been handled and the next morning, we raised anchor and continued on out the Golden Gate and made that big left turn down the coast.
Shortly after arriving at Richardson Bay, we discovered two problems.  The first was that our anchor light (a white light at the top of our mast that warns other boats that we are anchored and not able to move) wasn't working and the other was that the toilet was stopped up again.  The anchor light we decided not to do anything about for the moment, but the toilet was a major problem.  To give you a little background, the toilet wasn't working right when we bought the boat, so Kathryn & I rebuilt it while the boat was still down in Long Beach.  Then a clog developed in the system during the delivery my friend, Jeff, and I did from Long Beach up to Richmond.  This caused me to completely dismantle and rebuild the system, a nasty job that took 2 full days in which I replaced almost every hose there.  The hose is a very stiff 1.5" one that is very difficult to get onto the fittings and almost impossible to get off the fittings when taking it apart.  This is partially due to the nature of the hose but also because the connections are mostly buried behind cabinetry when it is usually impossible to get both hands on a connection at the same time.  The whole thing comprises about a dozen different pieces of hose, a Y-valve, a holding tank and a couple of pumps.  After rebuilding the system, the toilet started giving us problems again and so we threw it out and bought a new one.  Now, we thought, we can finally just use the darn thing and not have to be working on it all the time.  Silly us!  Anyway, shortly after arriving at Richardson Bay, it was apparent that there was a clog somewhere.  To say that we were a little frustrated is a massive understatement.  I was afraid that we were going to have to return to the dock while I tore the whole thing apart and rebuilt it again.  Before going to bed, we did determine that the clog was in the plumbing somewhere and not the toilet itself. After sleeping on it, I was sure that the clog was at the Y-valve (difficult to get at), the same place it was last time, but there was a long shot that it was in the only hose that I didn't replace a couple of months ago, the one between the toilet and the anti-siphon device.  That's about the only part of the system that's easy to take apart, so even though I was pretty sure the problem wasn't there, I took it apart any way and lo and behold, I found the clog.  Ten minutes later, we had a working toilet again.  You can just imagine the huge relief we all felt.
So by 10:00 am that morning (Tuesday), we were underway and crossed under the Golden Gate Bridge about 45 minutes later.  It was a windless day and we had to motor all the way, but it was great to be moving at last.  The only fly in the ointment was that Adam experienced some sea-sickness.  We'll all be happy when he finally adjusts to the motion and doesn't have to endure that anymore (it often takes 2-3 days).  We arrived here in the mid-afternoon and anchored near another boat, Frank Edmond, with some friends aboard (Leland & Cesily).  After securing Loose Pointer, we went ashore for an early dinner, and then visited with our friends aboard Frank Edmond until dark.
This morning, I climbed to the top of the mast and discovered that when I put the new LED bulbs in the anchor light (while the mast was off the boat), I managed to install them just backwards.  When I took them out and put them in correctly, the anchor light started shining away (Yeah!).
There is another boat here that is flying the flag that shows that they will be participating in the same rally we are between San Diego and Cabo San Lucas about a month from now (the rally is called the BaHa HaHa).  Once Adam was finished with his lessons for the day, we all got into the dinghy and went over and introduced ourselves.  It turns out that there are two teenagers aboard, 14 yo Stewart & 15 yo Katie along with their parents, Neil & Tiffan.  No doubt we will be seeing a lot more of them in the coming months.
Thursday, September 30, 2010
Current Location: Slip A58, Monterey Harbor
36 dg. 36.209 N, 121 dg. 53,462 W
Total distance traveled so far: 101.46 nm
We got up early this morning and were underway from Half Moon Bay at 05:15am on a dark and foggy morning.  Thank the powers that be for modern electronics.  Without the chart plotter and radar, we could not have left so early.  It was windless and foggy all the way to Monterey (we arrived at about 4:30pm and after securing the boat, walked down to the Harbor Master's office to pay for the slip, and then found a place to have clam chowder for dinner.  Adam's sea sickness was much better today.  Hopefully, he's starting to get over it.  We'll leave about 11:00am tomorrow, which should put us in Morro Bay about 8:00am Saturday morning.  My sister, Laura is driving down from Fresno, so it will be good to see and spend some time with her.  With luck, we'll also get to see our friends, Beezie & Deborah who live nearby in Cambria.  We will probably be leaving there Sunday evening for our 2nd overnight sail of the trip.  This will be down around Pt. Conception and into the Channel Islands.  At this point, we are not sure whether we will go directly to Santa Barbara (where we need to visit a dive shop for a couple of things before we start our SCUBA diving) or stop at one of the islands first.  I for one am just looking forward to getting down to the warmer weather of Southern California.
Monday, October 4, 2010
Current Location: Santa Barbara Harbor, Finger R
34 dg. 24.352 N, 119 dg. 41.446 W
Total distance traveled so far: 317.73 nm
Wow!  A lot has happened since my last journal entry.  First off, I want to make sure that you know that these journal entries get sent out on a very sporadic basis.  You may get one a day for a few days or on rare occasion, you might even get a 2nd one in a single day.  But at other times, we may go several days between journal entries or even a couple of weeks or more.  This doesn't mean that something is wrong or anything like that.  Usually it just means that things have been happening too fast for me to send out journal entries describing them.  It might also mean, as it was this time, that we're spending time putting miles under our keel and I'm just too sleep deprived to want to sit down in front of a computer.  At other times, we might be traveling away from the boat and either don't have the computer with us or haven't been able to get internet access.  Finally, it might mean that I'm having technical difficulties and can't send email from the boat.  On our last cruise, all of the above happened at one time or another.  So if you don't hear from me for awhile, rest assured that we are OK and still having a great time and that you'll get an update eventually.
Since my last journal entry, we've done 2 overnight sails, one from Monterey to Morro Bay and the other from Morro Bay to Santa Barbara.  We've seen high winds (gusts to 30 kts) and rough seas off Pt. Sur, dense fog as we crept into the Morro Bay harbor, a brilliant starry sky with the Milky Way stretching from one horizon, across the top of the sky and down to the other horizon and a flat windless sea as we headed around Pt. Conception (an area known for its high winds and rough seas).  We've wildly surfed the boat down large waves, experienced long stretches of boring motoring, lost an outboard to the ocean depths and watched sea otters play next to the boat.  We've visited with old friends and made new ones.  Adam spotted our first whale (quite close to the boat as we were motoring through dense fog at the time), watched dolphins playing under the bow of the boat and finally adapted to the sea going life and got the sea sickness behind him.  In short, we've been living life to the fullest and then some. This is what the cruising life is all about.  No two days are alike and cool stuff happens all the time.
Right now, we are in the Santa Barbara harbor and will be staying here for a couple of days while we wait for some high winds to blow through.  We've got plenty to keep us busy.  Adam has some school stuff to catch up on, Kathryn is working on a quilt for our niece and there are plenty of boat projects for me to work on (the highest priority right now is to figure out why the electric bilge pump stopped working).  After that, we'll head across the channel and should spend most of the next couple of weeks SCUBA diving in the kelp forests.
Friday, October 8, 2010
Current Location: Hungry Man's Gulch anchorage, Santa Cruz Island
34 dg. 09.780 N, 119 dg. 31.448 W
Total distance traveled so far: 343.18 nm
News update:  Mike Euritt, a friend of ours from the Pt. San Pablo Yacht Club is collecting these journal entries and posting them as a blog.  As opportunity permits, we'll also be sending him some of the photos that we take along the way and he will be posting those there too.  The blog address is:  http://pspyc.wordpress.com/keeping-up-with-the-bests
Things have finally slowed down a bit and it's starting to feel more like the relaxed cruising routine that I remember and a bit less like the frantic moving from one project to another that the last few months have been.  We spent a few days staying in the marina at Santa Barbara, partially hiding out from some strong winds that were forecast for the area and partially because it was just the easy thing to do.  As usual after an overnight passage, the first day was spent just napping and laying about.  The next couple of days were spent doing some projects and running a couple of errands, the primary one being buying some wetsuit hoods for the three of us as the water here is too cold to do any diving without them.
One thing that you've got to understand is that as a cruiser, running errands is a very, very time consuming thing.  Not only are you generally walking wherever you are going, but normally, since you've just arrived in town, you have no idea where you are going.  As such, getting even a single errand accomplished in an entire day makes it a successful day.  For cruisers, things just tend to go at a much slower pace.   Type "A" personalities either need not apply or better be prepared to adapt.
Wednesday afternoon, my brother stopped by and donated a 4 hp outboard to replace the one we lost overboard off of Pt. Sur.  Fortunately for us, not only did he have it just sitting around, but he had to drive down to S. Calif. on a business trip just when we were here and the detour over to Santa Barbara on the way back to the Bay area was something he was willing to do.  The Gods really are smiling on us.  Afterwards, it was too late to make the trip out to the islands, so we stayed at the marina another night and enjoyed the hospitality of the local yacht club for dinner.
Yesterday morning, we said "Good Bye" to Santa Barbara and crossed the channel over to our current location on the extreme west end of Santa Cruz Island, dropped the hook and settled in.  It's a little rolly here, so I experimented with the flopper stoppers that came with the boat.  These are devices that stick out to the side of the boat and dangle several feet down in the water and are supposed to reduce the rolling of the boat.  I've never used them before, so it took me a few iterations to figure out just how to deploy them, but once done, it's surprising how much they stabilize the boat.  I can see that they are going to get a lot of use.
There is a pretty good current here.  Too much current to easily go diving in, so we haven't gotten wet yet, but early tomorrow morning, we are planning on going over to Anacapa Island, just a few miles east of us.  Then, as soon as Adam is done with his schooling (he is still catching up as he missed some while we were underway, coming down here from the San Francisco bay area),  it will finally be time to get some diving done.
Meanwhile, we are enjoying our solitude as the only boat in this beautiful anchorage.
Monday, October 11, 2010
Current Location: Hungry Man's Gulch anchorage, Santa Cruz Island
34 dg. 09.780 N, 119 dg. 31.448 W
Total distance traveled so far: 354.55nm
Good morning all.  We are back here at Santa Cruz Island after spending the weekend over at Anacapa.  It was a good weekend for us.  Saturday morning, we motored over to a place called Cat Rock on the south side of the island and anchored there.  It was a visually impressive spot.  We were in about 35-40 feet of water, anchored just outside the kelp line at the base of a cliff that was several hundred feet tall.  To one side if us was Cat rock which juts up out of the water and looks somewhat like a cathedral sitting on the water.  On the other side, perhaps a half mile away were more cliffs and rock formations which completed the dramatic scene. 
About a half an hour after we got there, a pair of park rangers came by in a Zodiac and welcomed us to the island.  They were apparently circumnavigating the island, stopping at every boat they came across.  After visiting for awhile, they left us with some pamphlets containing information about the islands, wished us well and moved off to continue their rounds.
That afternoon, Kathryn & I went for our first dive of the trip.  It was Kathryn's first time diving in colder waters and kelp.  We had about 20' of visibility, saw lots of fish, including a couple of garibaldi and I got to practice my underwater navigation for the first time in a long time.  For you non-divers out there, let me explain that in water with limited visibility, keeping track of where you are in relation to the boat can be a quite a challenge.  The goal is to finish the dive as near as possible to your starting point (the boat) so that at the end of the dive when you are tired and perhaps a little chilled, you are not faced with a long swim on the surface which might include fighting your way through floating kelp (under the water, kelp is easy to maneuver through, but within a couple of feet of the surface, the tangle of the floating branches and leaves can be a real challenge) or if you really messed up, swimming against a current.
Sunday morning, we refilled the tanks, learning that the compressor can be a little balky in the process; I'm hoping that as we get to know the thing better, that task will become a little less troublesome.  Then the 3 of us went on a dive.  I again played the part of the leader which I discovered is more difficult than with just two divers.  With two, the non-leader is always staying within sight of the leader.  That way, when the leader periodically stops and looks around, his partner is by definition within sight.  But with three, I would lead, Adam would follow me and Kathryn would be bringing up the rear.  Adam was always staying close enough to keep me in sight and similarly, Kathryn was keeping Adam in sight.  The trouble was that when, every few minutes, I would turn to make sure everyone was together, Kathryn was far enough away from me that that there was no sign of her, I had to wait for her to catch up enough so that she came within view.  In the future, we are going to use a signal (the OK sign) that when I give it to Adam, asking if everything is OK, before answering me back, he turns and makes sure he can see Kathryn and that everything is OK with her.  We didn't see as many fish on this dive, but did see some huge starfish, a couple of cowry shells (with the cowries still living in them), a really cool harbor seal that swam near us for awhile and 4 lobsters, one of which was of a very respectable size.  Unfortunately, the lobsters were all in some fisherman's traps.  Now all we have to do is figure out where these lobsters hang out before they're caught in the traps.
My navigation was spot on this time.  I led the group in a triangle, the first leg was at an angle into the kelp, then I turned and we went at a fairly constant depth (30') through the kelp, then at an angle out of the kelp back towards the boat (in about 40' of water).  When we surfaced, we were only about a boat length away.  As my brother sometimes says, given the choice between being good and being lucky, I'll choose lucky every time.
Sunday evening, a west wind came up, and while it wasn't blowing anywhere near directly into shore, it was at an angle that would eventually blow us into the shore should anything go wrong during the night.  Besides, the wind waves it was bringing with it were starting to make things a little uncomfortable, so we pulled the anchor up and headed back here for the night.  We originally were going to a place called Smuggler's Cove, but as we got close, we could see 5 other sailboats and 2 power boats already there.  So we altered course and came back to Hungry Man's.  It's a much smaller place, but we've got it all to ourselves.  I think today, I'll put an outboard on the dinghy and go over to Smuggler's (it's the next inlet over) and maybe introduce myself around.
Wednesday, October 13, 2010
Current Location: Forney's Cove, Santa Cruz Island
34 dg. 03.359 N, 119 dg. 55.066 W
Total distance traveled so far: 381.67nm
Well, the next morning, the fickle wind shifted again, making our nice smooth anchorage pretty bumpy, so instead of going visiting, we raised the anchor (as did all those other boats) and went looking for a quieter one.  We wound up at Scorpion Anchorage, on the north side of the island.  While we had to share the new anchorage with two other boats, one of them we had already met while stopped in Santa Barbara.  It was Full & By with Ann and Dick from Vancouver, Canada.  Anchored right next to them, was another Vancouver boat, Sarah Jean II with Norm & Beth aboard.  Norm & Beth will be joining us (along with lots of other boats) for the Baja HaHa (you can Google it for more information) while Ann & Dick are going to take a much slower pace down the outside of Baja.  Kathryn & I spent the evening with the other two crews in the cockpit of Full & By getting to know each other and enjoying cheese, crackers & drinks.
This morning dawned foggy, but absolutely still and the first thing that popped into my mind was that it would be perfect conditions to visit Painted Cave, about 10 miles west of where we were anchored.  This is a really cool cave, one of the largest sea caves in the world.  So once again, we upped the anchor and were on the move.  This time, Kathryn drove the boat while Adam & I held school down below.  Once in awhile though we just had to pop our heads up and look at the scenery.  The fog had lifted just a little bit and Kathryn was keeping us right up close to shore so we could enjoy the wave and rain carved cliffs.  There are caves too numerous to count of all sizes and the geology of Santa Cruz's north shore is just too cool to believe.  Unfortunately, in the couple of hours that it took us to get to THE cave, the wind had risen and brought some pretty good swells with it.  We were still able to deploy the dinghy and get into the cave, but the waves were too big to let us get very far back into it.  We'll be passing by again on Friday as we go to Channel Islands Harbor to pick up our friends, David & Paula, for the weekend, so hopefully, things will be calm enough to make it worthwhile deploying the dinghy again.  There's no place to anchor, so you have to leave someone motoring around in circles with the big boat, but when it's calm enough to permit it, you can take the dinghy way, way back into this cave until you are in pitch darkness.  A truly amazing thing to experience and very few people ever get to.
Afterwards, we continued west around the end of the island to a place called Forney's Cove.  It's not what I would call excessively calm, but we are enjoying it.  After arriving, I finally got around to refilling our Scuba tanks and think we've finally figured out the compressor.  This time, it started right up and ran as smooth as silk until I turned it off with three full tanks before me.  The fog closed in again, and none of us felt motivated to do a dive, but hopefully, the sun will be shining again tomorrow.
Thursday, October 21, 2010
Current Location: Shelter Island, San Diego
32 dg. 43.128 N, 117 dg. 13.3488 W
Total distance traveled so far: 613.21nm
My Golly!  It's been over a week since I did a journal entry.  I think I owe everyone an apology.  During that week, we motored over to Channel Islands Harbor, Oxnard to pick up our friends, David & Paula, who were able to spend a few days with us.  We first went to Anacapa, expecting a really nice dive, but it just wasn't going to happen.  First, the rolling of the boat made them both a little seasick, and then when David & I tried to dive, the water was pretty murky and there was a really strong surge running.  10 or 15 minutes into the dive, I called it off and we headed back to the boat.  After resting up, we then headed over to Scorpion Anchorage over on Santa Cruz which was nice and quiet.  After a wonderful dinner of kabobs, we enjoyed each other's company, chatting in the cockpit until we just couldn't keep our eyes open any longer and headed off to bed. 
Sunday was spent snorkeling, exploring in the dinghy and relaxing before heading over to the Hungry Man's Gulch anchorage for the night.  The following morning found us doing more exploring in the dinghy before returning to drop our friends off at the Pacific Corinthian Yacht Club in Oxnard where they had left their car.
The Pacific Corinthian was a really nice club.  They couldn't have been more welcoming to us, allowing us to use their guest dock and access their facilities which included both a heated pool and a hot tub!
We had planned on leaving Tuesday morning for San Diego, but on refilling the water tanks, we discovered that there was a fresh water leak into the bilge.  It took some time to track this down, and then, it was raining on and off and we just couldn't get up the motivation to leave the dock.  We finally got away about noon Wednesday and motored almost straight through to San Diego (except for a couple of hours of nice wind), arriving late afternoon Thursday.  We stopped at the Police dock as we had been told that they had a list of available slips. That wasn't the case, but they did give us a list of all the marinas in the area.  Most of the cheaper ones were full, but we did finally find a spot at one of the boat yards, but they were closing so we had to hurry to get there. 
Hurrying was a big mistake.
In my haste, I cut a corner I shouldn't have and ran us aground.  There we were with our keel stuck in the mud at low tide, a 7 hour wait until high tide and the boat yard closing.
I felt pretty stupid.
Fortunately, by unfurling the jib, we were able to get the boat spun around until it was pointing at deep water and with the help of the wind and several large wakes generated by passing boats, we were able to bounce our way along until we were at last floating clear.  Fortune was again with us when Liz from the boat yards stayed late so we could get the paper work done and Loose Pointer safely settled into her home for the next few days.
Within minutes of returning to the boat, our social calendar was already filling up.  We will be having dinner tomorrow night with Marc & Laurie, the people who bought our beloved Tricia Jean.  Then Saturday, we will be linking up with Harvey, an internet friend-I-haven't-met-yet.  I knew Harvey lived here in San Diego, but it turns out that he keeps his boat (a Tayana, just like Tricia Jean) literally right across the street from where we are now.
Finally, just to add to the small world feeling that the day finished on, Profligate, the boat belonging to the organizers o the Baja HaHa rally we are joining Monday is just a short walk away.
Tuesday, November 2, 2010
Current Location: Bahia Santa Maria, Baja California Sur, Mexico
24 dg. 46.629 N, 112 dg. 14.891 W
Total distance traveled so far: 1190.63nm
Bien venidos a Mexico!  It has been a good week for us.  154 boats completed the first leg of the 2010 Baja Ha-Ha, after first parading through the harbor of San Diego, then starting the rally at 11:00 am last Monday.  Our niece, Foresta, flew in Sunday morning to join us for this leg of the trip and after picking her up at the airport, we all enjoyed the kick-off/costume party the rally organizers put on then went to bed early to stock up on our sleep since we would be standing night watches for the next few days.
We had good wind almost all the way to Turtle Bay, having had to motor only about 4 hours.  Unfortunately, along with the wind came some pretty good wind waves and chop leaving Adam and Foresta pretty sea-sick.  The boat performed well and the only problem encountered was that the first reefing line broke at some point Tuesday night.  We arrived at Turtle Bay about 2am and after weaving our way through an endless obstacle course of the anchored boats of those that had arrived before us, dropped our own anchor and promptly went to sleep.
We finally got a chance to try out the Monitor wind vane that came with the boat on the first leg. This is a real Rube Goldberg device that hangs off the back of the boat and steers for us.  We also have a really nice electronic auto-pilot, but the beauty of the Monitor is that it uses no electricity (something that's always in short supply on the boat).  It has a vane that sticks up into the wind, a paddle that sticks down into the water, ropes that attach to the steering wheel and is a purely mechanical device.  We had one on Tricia Jean that proved to be incredibly reliable and worked wonderfully, steering a better course than a human could, but I was a little concerned about how well it would work on Loose Pointer since this boat has a center cockpit, the steering wheel is half a boat away instead of just a couple of feet.  It turns out that the Monitor really doesn't care how far away the wheel is.  It works just as well on this boat as on our last one.
I'm sorry to say that one of the boats, Hand Full, with teens aboard were not able to leave with the rest of us.  Apparently some last minute business issue needed to be resolved and so their stuck in San Diego for a little while.  Neil sent me an email though saying that he hopes to catch up at some point.  I hope so, as Adam enjoyed the kids (Stewart & Katie) and Kathryn & I also enjoyed Neil & Tiffan's company.  All is not lost though as Adam has found another friend (Jacob) aboard Jane-O, another boat in the fleet.  They have been hanging out together and since Jane-O's plans include heading into the Sea of Cortez, they should have a lot of opportunity to spend time together.
After a couple of days at Turtle Bay which included some baseball with the community one day and a huge beach party the next, it was time to get underway again, this time on the 2nd leg down here to Bahia Santa Maria.  This time, we used the spinnaker for part of the way and it was another success.  This is a huge, colorful balloon-like sail that can be used when sailing down wind.  We also experimented with sailing wing-on-wing which is when the jib (the front sail) and the main (the one in back) are flown on opposite sides of the boat.  This one can be a little tricky as the boat has to remain almost perfectly downwind or one or the other of the sails collapses.  It's even more difficult for wind vane autopilots.  Since we are moving with the wind, there is very little wind blowing across the boat for the wind vane to sense.  I'm very pleased to say that our Monitor was able to handle both these situations very nicely.  It just quietly did its job hour after hour while we relaxed in the cockpit.
At one point, while I was down below sleeping, the wind finally died and when Kathryn tried to start the engine.  Nothing happened.  Not even a click.  Fortunately, we were able to quickly trace it down to the ground wire of the starting battery being loose.  After tightening it, the engine fired right up.  We only ran it for a couple of hours before the breeze came back and we then sailed the rest of the way here.
One final note is that yesterday, I ran the water maker for the first time and made about 75 gallons of wonderfully fresh water.  About 50 went into the tanks and the rest into buckets for Kathryn to use while doing laundry.  This boat has a huge water maker.  The total time to make all that water was less than two hours.
Monday, November 8, 2010
Current Location: Bahia Frailes, Sea of Cortez, Mexico
23 dg. 22.717 N, 109 dg. 25.299 W
Total distance traveled so far: 1413.92nm
We have finished with the Ha-Ha rally, left the vast bulk of the boats behind in Cabo San Lucas and finally started our more relaxed cruising lifestyle. 
Coming down from Bahia Santa Maria, we had light winds and wanting to arrive in Cabo during the daylight, we chose to motor-sail (running the engine and using the sails at the same time) the entire way.  Upon arriving in Cabo, we had strong winds from the east which is very unusual for Cabo and very uncomfortable as the harbor is unprotected from that direction.  The wind waves in the harbor were such that we were unable to launch the dinghy and were stuck on the boat for the first day (Thursday).  This was not a huge issue, as we were tired after the passage and spent most of the day napping and just laying around.  I spent much of Friday running around doing our paperwork, getting us checked into Mexico.  This is a time consuming process which means walking to the Port Captain's office, waiting your turn, filling out a form and paying a small fee.  You then walk across town to the immigration office, again wait your turn to fill out a form, then walking to a bank to pay the $25/person visa fees (after waiting in another very slow line), walking back to the immigration office to present them with the receipt you got from the bank and finally being issued the visas.  Finally, you then walk back across town to the Port Captain's office.  This time, you fill out another form that allows you to leave Cabo San Lucas.  Unfortunately, you can't combine the two visits to the Port Captian's office into a single visit.  Fortunately, everybody on the boat doesn't need to do this.  It's OK if the captain (me) takes everybody's passport to the immigration office for them as long as he has the paperwork that he got from the first visit to the Port Captain's office.
I finally finished all of this about 2:30pm, stopped for something to eat (a couple of tacos and a burrito from street vendors – delicious!) and walked back to the harbor to hire a water taxi to take me back out to the boat.  While I had been doing my paperwork, that east wind had come up and the harbor was once again really rough.  So rough in fact that another water taxi had gone up on the rocks and the one I was in got a call on the radio just as we were leaving to divert over to another place in the harbor, pick up a couple of paramedics with a backboard and deliver them to the accident site.  Quite exciting actually.
When I finally got back to the boat, it was almost 4:00pm, too late to join the others at the Ha-Ha beach party which had started at noon. Oh well, at least I got us checked in which was important as Foresta needed her visa in order to check out again when she flew back to the states the next morning.  Saturday, Kathryn and I did some shopping while Adam's friend, Jacob from Jane-O came over and they spent most of the day playing X-Box and doing their best to run our batteries down.  By the way, I am very pleased with the solar panels on the boat.  When we bought it, it had a 100w panel on the stern tower and two 50w panels on the dodger roof.  I upgraded the panels on the roof to 130w ones (in the process, discovering that the wiring to these panels was woefully inadequate and replacing it with appropriately sized wire), moved the 50w panels onto swing out arms on the starboard side of the boat and routed all of the solar output through a new high efficiency charge controller.  This gives me a theoretical maximum of 460 watts (or 35 amps) of solar power that I can collect.  In practice, because of shadows, less than optimum angles, panels that need to be cleaned, etc., the most I've seen is about 26 amps, but that's still an awful lot of power that I'm getting without running he engine or generator.  To put it into perspective, the very most I ever saw on Tricia Jean was 13 amps and 9 was normal.
Saturday evening, we attended the Ha-Ha awards ceremony, tying for 3rd in our division.  Of course, nobody gets less then 3rd.  There's a first place, a second place and everybody else in the division ties for 3rd.  As the organizers say, everybody's a winner.
Sunday morning, we (and about a dozen other boats) left Cabo for Bahia Frailes, about 40 miles up the coast towards La Paz.  We got to this lovely anchorage just as the sun was going down.  The plan is to go snorkeling once Adam finishes with his school work, then move on tomorrow morning, probably to the south end of Isla Ceralvo which not only has great snorkeling, but is a little know spot and we will probably be the only boat there.
The only casualty so far has been the controller for Adam's X-Box video game.  It apparently died yesterday.  Hopefully, we can find another one in La Paz.
Tuesday, November 9, 2010
Current Location: Ensenada de los Muertos (Cove of the Dead), Sea of Cortez, Mexico
23 dg. 58.691 N, 109 dg. 49.622 W
Total distance traveled so far: 1464nm
Today was an interesting day.
We left Bahia Frailes (Friars Bay) at dawn, expecting to reach the south end of Ceralvo Island about 5:00pm. 
We didn't make it. 
About 9:30 in the morning, we were hailed on the radio ("North bound sailing vessel off of Buena Vista in Bahia Las Palmas…") by 2 Americans in a skiff.  Their brand new 70hp outboard, not even through the break in period had an electrical problem and they couldn't get it to start.  We searched the sea around us and headed for a small boat about half a mile away.  This turned out to be 3 Mexicans in a panga (a small open boat 15' to 20' long) and when I shouted to them "Todo esta bien?" ("Is everything OK?"), they flashed us the thumbs up sign.  "OK", I shouted back, "Entonces una otro panga necesita audar." ("Then another panga needs help.") and we searched the seas again.  Spotting another panga, we headed for it and called on the radio that we were doing so.  They responded that they could see us and that we needed to turn right about 45 degrees.  We did so and they confirmed that we were heading pretty much straight for them.  Eventually, we spotted the small skiff, rendezvoused with them and took them under tow for the 6 ½ miles to where their pickup and trailer were at.   While we were tossing the tow line, I asked them how the fishing was and they responded that they had caught just a single Dorado, then offered it to us.  Now you have to understand that this is about the best tasting fish in the sea) also known as a Mahi Mahi), so I accepted immediately and filleted it while towing them back to shore.
After dropping them off as close to shore as we could bring our boat, we continued on our way.  By now, it was too late to reach our original destination during daylight, so we made it as far as Ensenada de los Muertos, about 12 miles short of Ceralvo.  Kathryn BBQ'd the fish with a little olive oil, salt and pepper then served it with a cold rice, corn & tomato salad and man-o-man was it ever good!
After dinner, Adam beat me at a game of gin rummy and then I joined Kathryn up in the cockpit watching the moon set.  As I sat there staring at the moon, I was transported back to Christmas, 1968, the first time I ever visited the Sea of Cortez.  I was all of 15 and as a Christmas present, my parents sent my 18 year old brother and I on a SCUBA diving trip to the fabled Sea of Cortez.  David drove us down to San Diego in his Volkswagen (having a flat somewhere around Bakersfield) where we stayed overnight in some motel.  Then we boarded an old DC-3 for the flight to Mulege, about half way down Baja.  Gooney Birds are great planes, but they have a reputation for leaking when it rains.  I don't know if that was the case with this one, but we did watch a stream of fuel leak out of the right wing tank all the way to Mulege.  We pointed it out to the stewardess, but she didn't seem very concerned. 
After landing on a dirt strip (no control tower), a couple of taxis came out from town (picture '56 Chevy's with no shocks) and gave my brother, myself and 3 other divers a ride into town.  The only problem was that the boat, a 105' ketch named "Quest" wasn't there.  One of the guys knew enough Spanish to ask people "Donde esta la Questa?" ("Where is the Quest") and we finally were made to understand that she had been seen in Coyote Bay, 10 or 20 miles south of town.  Back into the taxis we piled.  After driving over some of the roughest dirt roads I have seen, eventually we were at a beach where we could see the boat anchored a little ways offshore.
After some time spent jumping up and down, waving, the taxis blaring their horns and blinking their lights, eventually a dinghy was launched from the boat and heading for us.  When it arrived, the captain got out and we found out that he had no idea that we were coming.  Nevertheless, he took us aboard and we had an absolutely marvelous time SCUBA diving for the next week.  We ate mostly from the sea and fortunately, one of the other guys was an expert spear fisherman, although I supplied the centerpiece of at least one of the meals, consisting of some 50 or 100 scallops I had found around one of the small islands we visited.
About now, you may be asking why staring at the moon brought these memories so vividly back to me.  Remember, this was Christmas 1968.  It was during this time that mankind for the first time ever, orbited the moon.  That was when the Apollo 8 astronauts read from the book of Genesis while circling the moon.


Tuesday, November 18, 2010
Current Location La Paz, Baja California Sur, Mexico
24 dg. 09.485 N, 110 dg. 19.518 W
Total distance traveled so far: 1538.7nm
Since my last journal entry we spent a week hanging out, snorkeling and SCUBA diving at various islands in the Sea of Cortez.  We first spent four nights anchored at one of our favorite spots, the south end of Isla Ceralvo.  The snorkeling there was great, lots of different kinds of fish and lots of them.  We had intended to only spend a couple of nights there, but there is a weather phenomenon here in the Sea of Cortez called "northers".   This is a strong wind that blows right down the sea causing some steep wind waves.  Boats the size of ours can barely make headway against this, so when they happen, the best thing is to seek out a secure anchorage and just sit tight.   Fortunately, they typically only last 1-3 days.  While at Ceralvo, we had a norther blow through, but the location we were at, just off the southern end of the island, we were protected from the waves and the worst of the wind so we just extended our stay there and did a little more snorkeling and Kathryn and I had a nice hike up an arroyo.
Once the norther blew itself out, we motored up to an island north of La Paz, Espirito Santo.  Our first stop was a little islet just off the main island where we had some incredibly clear water to enjoy.  The wind shifted a little toward the end of the day so that where we were anchored (the only sandy, shallow place around the islet, became a little rolly so we relocated to a more protected spot on the main island.
The following morning, while Adam was doing his school work, Kathryn and I took the dinghy and looked for some boats that were supposed to have been sunk off that islet.  Had we found them, we were going to return with Adam & the SCUBA gear.  Alas, they were not to be found.  Kathryn & Adam therefore spent some time snorkeling near where the boat was anchored while I stayed on the boat loafing and found a drop off that would be great for SCUBA diving.  After they returned and told me about it, I just had to check it out too.  During this dive, I find a really cool stone fish.  These are highly camouflaged fish that have poisonous spines in their dorsal fins – DON'T TOUCH!!!!  This was a really large one, sitting on the sand, half under a rock and really sure of his ability to look like a rock.  He let me get right in his face and get a really good look without moving.  The only way you could tell he was alive was a slight motion of his gills.
Tuesday, we finally broke out the SCUBA gear.  First, Kathryn and I cleaned the bottom of the boat while Adam did his schoolwork.  This is a job that has to be done every couple of months.  If you let it go any longer than that,  the little critters that like to grow on the bottom of the boat start creating their hard shells and instead of just being able to wipe them off with a rag, you have to actually scrape them off which is a much tougher job.  Cleaning the bottom of our last boat, Tricia Jean generally took me between a half and a full day, so I was kind of worried about how long it would take on the new boat since it is quite a bit larger.  But with the SCUBA gear, Kathryn and I were able to finish the job in about 40 minutes.  Much, much faster than doing it with a snorkel!
After refilling the tanks, the three of us went for a nice SCUBA dive, spending most of our time at the 30'-40' level.  It was your basic great dive, lots of fish that for the most part, seemed to have no fear of us and Adam enjoyed tormenting the puffer fish.  These are fish that when cornered or captured, swallow a bunch of water and inflate themselves into a spherical shape with lots of sharp spines pointing straight out.  In their uninflated state, that can swim fairaily fast (though not as fast as many fish), but in once inflated, their bodies are this rigid ball and they can barely move.  Towards the end of the dive, Kathryn found a really nice lobster.  There was a time, when these waters abounded with these delicious creatures, but unfortunately, they have been overfished to the point where they are a very rare find.  Since we've been in Baja, I have poked my nose into many, many cracks and crevices looking for them, but this one was the first either of us has seen on this trip.  Needless to say, we left him in his lair without disturbing him.


Saturday, November 27, 2010
Current Location Fresno, California
36 dg. 48.825 N, 119 dg. 48.875 W
Total distance traveled so far by sea: 1541.1nm
Happy Thanksgiving everyone!  We unexpectedly wound up back in Fresno for Thanksgiving.  As you may know, Kathryn and I are in the process of adopting our nephew, Adam.  We've been his guardian for the last 3 years, ever since my little sister passed away unexpectedly.  Tuesday evening after our dive, when I checked the email, there was a message from Raquel, the social worker handling the case saying that she finally had all the various pieces of paper that were required and that she was ready to schedule the final interview.  As a result, we raised the anchor at dawn the next morning (Wednesday) and headed into La Paz, arriving in the early afternoon.   Once we got ashore, we headed for the nearest travel agent to buy airline tickets back home.  Due to the holiday, most flights were full, but we were able to get some that had us flying out of San Jose del Cabo (back down the peninsula near Cabo San Lucas) Friday morning and returning on Monday. Nov. 29th. 
Suddenly, our first priority was now to find a marina with a slip available where we could safely store the boat while we were gone.  La Paz has a large protected anchorage, but there is a strong tidal current that reverses itself twice a day.  This sometimes causes problems, especially with boats whose owners have not done a lot of anchoring and right now, the bay was filled with boats, many of which whose owners had just started their first major cruise and thus, don't have a lot of experience with anchoring yet.  When an insufficient amount of chain has been let out, and the current reverses itself, an anchor can loosen its grip on the bottom and start dragging along.  When this happens, the boat starts wandering through the anchorage, and can bump into other boats, or the dragging anchor and chain can foul the anchors of other boats causing a chain reaction.  We thus didn't want to leave Loose Pointer anchored in the bay unattended for the week and a half that we would be gone.
Unfortunately, with the new group of cruisers having just arrived in La Paz the marinas were pretty full.  The first two we checked had no space for us, but we finally found a slip in Marina Palmyra, a few miles outside of town (Whew!).  We moved into the marina the following morning and Adam and I left to go buy bus tickets to the airport while poor Kathryn stayed behind to do some laundry.  The shuttle into town was full, but eventually it returned and gave us a ride.  After getting the bus tickets, I introduced Adam to some of the delights of La Paz.  First, we walked along the Malecon (the main road along the waterfront) to the best ice cream shop in the world.  We first discovered this place back in 1999 on our first cruise of the Sea of Cortez.  It's a small shop with dozens of flavors and is real easy to find as it has a tree outside painted with large, colorful polka-dots.  After Adam had an ice cream cone and I enjoyed a refreshing alcoholless pina colada drink), we were off to our next stop.  This time, it was a street vendor selling some of the best fish tacos in the world. With our stomachs comfortably full, it was now time to wander down to one of the local restaurants where there was an event welcoming the new batch of cruisers to La Paz.  Kathryn arrived shortly thereafter and we found a table next to the people from Phambili, a catamaran that had been on the Baja Ha-Ha with us.  Phambili is one of the other boats that had teens aboard that Adam had established friendships with, so he pretty much spent the rest of the afternoon and evening hanging out with them.  This event included local folk dancers, a great 7 piece mariachi band and other entertainment.  There were lots of raffle prizes given out too.  Kathryn won a gift certificate to a local chandlery and I won a beach bag and hat.
The next morning, Friday, after securing the boat, we caught a taxi to the bus terminal, rode the bus for 3 hours to the airport, spent another 3 hours flying back to San Francisco, rented a car and drove through the rain and rush hour traffic to my brother's house in Pleasanton.  We were really glad to get there and just collapsed for the rest of the evening.
Saturday morning, we were back in the car again and by the afternoon, we had arrived in Fresno.  The time of this trip was perfect since the schools aren't in session this week.  Adam has been busy shuttling between all of his friends here in Fresno and Clovis, the neighboring city where he lived before coming to live with us.  Out Thanksgiving celebration was a morning one complete with pumpkin pancakes.  This is a tradition my sister adopted when her kids grew up to the point where they had to decide whether to do Thanksgiving at her place or the in-laws.  This way, they get to spend time with both families.  Once that wound down, Adam was off again.  This time to a family in Clovis that he has been close to all his life to share the more traditional Thanksgiving meal with them.
Sunday, we'll be heading back to Pleasanton and then flying back to Baja on Monday were we will probably hang out in La Paz for a few days, then return to the islands for some more diving, hopefully in the company of one of the other boats with teens aboard.
Saturday, December 4, 2010
Current Location Calete Partida, Baja
24 dg. 31.752 N, 110 dg. 22.803 W
Total distance traveled so far by sea: 1563.88nm
The big news is that we just got word from our lawyer that he got Adam's adoption file from the Department of Social Services and all that's left now is to schedule the hearing before a judge to make the adoption final.  YEAH!!!!!!!!  This will mean that we will soon be making another trip back up to California for the hearing.  We are hoping that we can get the hearing scheduled such that we can spend another block of time in Fresno while Adam's friend's are out of school on Xmas break so that he can spend some more serious time with them.  On the trip we just did, we barely saw Adam.  He spent the first night we were back with us and Thanksgiving morning, and the rest of the time, he was with one friend or another.  He really enjoyed it and we sure liked it that he got to spend so much time with them. 
Leaving his friends behind has been the most difficult part of the trip for him.  Unfortunately, his generation just doesn't seem to use email much, preferring things like FaceBook, Twitter and the like.  I say unfortunately because we always have email available to us on the boat via our short wave radio (called an SSB).  It's slow and you can't send or receive photos or other attachments, but it works just fine for text messages like this one.  Except for the rare occasion that we are in a port and can get WiFi though we don't have the internet access Adam has gotten used to.
Don't feel too sorry for Adam though as he is making a new flock of friends out here.  Last evening, we attended an impromptu beach get together with folks from a number of different boats and there were at least eight kids, most of them in the 12-17 year old range.  Then this morning, one of the other boats here in the anchorage, Perfect Wave, loaded the older kids up and took them up to the north end of Isla Partida where there is a sea lion rookery so they could swim with the young sea lions.  When Adam got back about half an hour ago, he stuck his head in just long enough to ask if he could go to the beach and hang out with Jacob (a friend from Jane-O).  When I asked him what it was like to swim with the sea lions, I got just a single word out of him before he disappeared off to the beach.  "Awsome!"  For the record, Kathryn and I had a chance to swim with young sea lions in the Galapagos a few years ago and it is indeed an awesome experience.
Sunday, December 5, 2010
Current Location Caleta Partida, Baja
24 dg. 31.749 N, 110 dg. 22.898 W
Total distance traveled so far by sea: 1575.19nm
Almost all of the boats that were here at Caleta Partida left this morning.  Some are headed across the Sea of Cortez to Mazatlan, some further north into the sea and a couple back to La Paz.  The only "kid" boat that stayed was Jane-O, so Scott, Chris and Jacob came over to Loose Pointer this morning and we took off for a day trip up to the sea lion rookery up at north end of the island to swim with them.  It was even better than when Kathryn & I swam with them in the Galapagos.  I think it is probably because  this group of sea lions swim with humans almost every day (small boats ferry people from La Paz to swim with them on a regular basis), these were far more willing to interact with us funny humans. 
Shortly after we swam up to the rookery, one young pup came nose to nose to me, actually touching my mask with the tip of his nose. This was really cool!!!!!  An older one then swam near and I swear, his face looked just like Loki, the golden retriever that we raised and who is now my sister's pet.  Shortly after that, I felt something brush the back of my head, turned around and was again nose to nose with one of the pups.  I think that what I had felt were the pup's whiskers.
Later in the dive, another pup was touching noses with me and occasionally touching me with his flippers as he swam near, so at one point while he was hovering near me, I reached out and scratched his belly.  I don't know if anyone had every done this to him, but for about five minutes, he just couldn't get enough of it.  He would swim back and forth between me and a couple of Mexican girls who were swimming nearby and present his belly for us to rub.  At some point, he actually gave my leg a hug, gently wrapping his flippers around it for a moment. 
Another thing that happened was at some point during the swim, one of the pups decided that gently grabbing my flipper in his mouth and tugging on it was great fun.
Eventually, we got tired and swam back to the boat for lunch then headed back here to Caleta Partida.  This evening, Scott, Chris & Jacob will be coming back over to the boat to join us for dinner.  Neener, Neener, Neener, another boat with a couple of teens on it were also at the rookery and if they wind up back here tonight (there are lots of other anchorages in the area they might decide to stay at), they will also be coming over for dinner.  The boat will be a bit crowded, but it will be great fun.
As they say:  "Just another shitty day in paradise."
Monday, December 6, 2010
Current Location Caleta Partida, Baja
24 dg. 31.749 N, 110 dg. 22.898 W
Total distance traveled so far by sea: 1575.19nm
We had 10 people on the boat for dinner last night.  Scott, Chris & Jacob (17) from Jane-O came bringing a big salad and Yan, Patty, valencio (14) & Tino (12) from Neener, Neener, Neener brojught some chicken mole.  Kathryn provided spaghetti and some freshly baked bread.  We all had a great time.  The kids spent most of the night up in the v-berth playing X-box and the adults wandered between between the cabin and the cockpit.  I'm happy to say that the cockpit on the new boat comfortably sits at least 6 people for dinner and we could probably have squeezed in 1 or 2 more.  The gathering finally broke up about 10pm.
Another norther is expected today or tomorrow, though a milder one than the last couple that have blown through.  I think that we'll probably move over to El Cardonlito, the next anchorage over and an especially pretty one.  This is a long, narrow fjord-like inlet with 40' vertical cliffs lining both sides and good snorkeling.  This is an anchorage we discovered on our previous visits to the area and really enjoy.  I suspect that Jane-O may come over too and possibly even Neener though it's within easy dinghy distance of here if they don't
Thursday, December 16, 2010
Current Location Isla San Jose, Baja
24 dg. 53.207 N, 110 dg. 34.994 W
Total distance traveled so far by sea: 1615.51nm
It's been quite awhile since I made a journal entry, so I guess I'd better get one done.  There have been some new recipients added to the list lately and if you'd like to see the earlier entries, Mike from the Pt. San Pablo Yacht Club has them in a blog he is maintaining for us that can be read at http://pspyc.wordpress.com/keeping-up-with-the-bests/.
Both Jane-O and Neener Neener Neener followed us over to the El Cardonlito anchorage on Isla Partida.  As I've mentioned before, this is one of our favorite anchorages in all of Baja.  We first discovered it on one of our earlier trips down here while exploring in our dingy.  It is close to two other popular anchorages, Partida and Cardonal, but none of the guide books really say anything about it.  They don't even agree on its name.  One calls it El Cardonlito, another El Cardoncito and yet another simply refers to it as unnamed.  Perhaps the reason they don't say much is because it is very much smaller that the two nearby anchorages, each of which can easily hold a couple of dozen boats while El Cardonlito can only handle 3 or 4 at most.   It is however, really, really cool.  It is a long, narrow inlet, with 50' vertical rock walls lining each side and terminates in a small sandy beach.  The rocks the walls are made of are eroded into some really fantastic shapes that we never get tired looking at them. N The snorkeling along the walls also presents the diver with a diverse fish population to enjoy.  Both the other boats agreed that it's the best anchorage they've seen yet.
We spent a couple of days there before the three boats moved up to Ensenada Grande for a couple more nights.  Neener then left us, heading back to La Paz.  After a few days there, they will cross over to the mainland then head south to Puerta Vallarta in Banderas Bay where they will be meeting some family that will be flying in.  Jane-O and continued north with us to Isla San Francisco.
At Isla San Franciscso Kathryn & I had a great snorkel dive while Adam went hiking with Scott, Chris & Jacob from the other boat.  We dove in a fairly deep area along a ridge as it submerged into the sea and found the by now usual hoards of fish.  Unfortunately, the surface water was infested with great numbers of small jelly fish.  It wouldn't have been bad had we been SCUBA diving as we could have stayed beneath them.  But since we were snorkeling, we had to endure them.  Fortunately, none of them gave really vicious stings.  They were more like mosquito bites.
Our next stop was a bay on the coast of Baja called San Evartisto.  This one was special as it had a tienda (a small store).  It didn't have much, but we were able to get some fresh fruits, vegetables, bread, eggs, etc.  The three of us also did a SCUBA dive where Adam spotted two stone fish and I found a really big moray eel hiding in a cave.  At one point, I got all excited when I saw a lobster antenna sticking out from under a small rock.  On looking closer, I could also see the end of his tail sticking out the other side.  I waved Adam and Kathryn over, then reached under the rock to bring the lobster out.  What I found was that the antenna and tail were all there was.  Something (I suspect an octopus) had eaten the rest and just left the remains there under the rock.  I was really disappointed as this would have been the first lobster I had found on this trip even if it was a small one.  Kathryn found a really nice one on an earlier dive, but so far that's the only one we've seen.
We are now at the south end of Isla San Jose, where Kathryn & I did a long shallow water SCUBA dive at some rocks a quarter mile offshore while poor Adam did some school work.  Interestingly, the near side of the rocks were pretty barren, while the far side had lots and lots of fish.  Kathryn spotted two stone fish, while the most interesting thing I found as a pair of black panties lying on the bottom.  At one point though, I did have a really fun experience.  I had crept up to a small bass-like fish hanging just outside of a small cave.  I had gotten to within about 18" of him and was holding onto two small rocks to keep myself steady when his mate came out and came right up to me.  It actually brushed against one of my fingers and just hovered there while I reached out and touched it again.  Really cool!
San Evaristo may be the furthest north we get into the Sea of Cortez this trip as we then turned back south to Isla San Jose (where we are now).  It looks like we will spend Xmas in La Paz, then about New Years, fly back to California for the final adoption hearing on the 7th of January.  I suspect we'll spend about 10 days in California.  This will give Adam another chance to spend some serious time with his friends in Fresno & Clovis before returning to the boat.  We won't know the exact dates of the trip until we get back to La Paz about the 20th and see what tickets are available.
Monday, December 20, 2010
Current Location Candelero Anchorage, Isla Del Espiritu Santo, Baja
24 dg. 30.485 N, 110 dg. 23.391 W
Total distance traveled so far by sea: 1643.64nm
From Isla San Jose, we next traveled back to Isla Partida, stopping for a couple of nights at the Cardonal anchorage, we stopped there rather than continuing the extra half mile to our all time favorate Baja spot at Cardonalito simply because we hadn't been there yet.  I'm really glad we did too as we had a really nice walk over to the other side of the island but especially since we climbed up the mountain ringing the anchorage to a cave we could see from the boat. When we got there, the cave was quite a bit larger than we had thought looking at it from the boat.  The mouth of it was about 12 feet tall and it went back about 40' or 50'.  Inside, there were some petroglyphs, but I think that most of them must be of recent origin since they seemed to have been done with paint. 
The real treat was when we looked back down towards the beach and water; we could see that the piles of stones we had noticed were in fact, a large fish trap that someone had built in the shallow near-shore waters.  When I say large, I mean about a half acre in extent!  There's no telling when it had been built, but my guess is that it originates from prehistoric times.  Kathryn thinks (and I agree with her) that it has been maintained more recently than that, but I base my origin theory on the fact that this cave was a rough scramble about 300' up a steep slope.  Further, the area for about 100' below the cave entrance was covered with old shell fragments, including numerous conches which are now very rare in the Sea of Cortez (in all our diving, we have never seen any).  This tells me that these must have been hauled up to be consumed at the cave over a very long period of time.  Far too many shells it seems to me if the cave had just been used as a lookout to spot schools of fish that could be driven into the trap.
From the cave, we could also see the remains of an oyster farm that used to be in the bay, and while this was interesting, since it was definitely of comparative recent origin it was less so than the cave and fish trap.
Yesterday, after once again cleaning the hull of the slime and marine growth that was trying to get a start, we relocated here to Espiritu Santo, our last stop before returning to La Paz tomorrow.
One of the really wonderful things about cruising about as we do is how is close to nature we have an opportunity to get.  Yesterday, while Adam and I were putting away the SCUBA gear, a 30' area of water near the boat suddenly erupted as many hundreds, if not thousands, of 4" fish all leapt from the water at the same time.  In the clear water, we could see a beautiful yellow dorado darting though the school of bait fish.  Then, the dorado leapt from the water not once, but twice in rapid succession while chasing one of the smaller fish.  Truly a spectacular site.  The day before, while SCUBA diving off some rocks a half mile offshore of Isla San Jose, I spotted a nice looking 7" fish hanging out by a rock.  I had seen examples of this fish before, but not often so I did what I often do when I want to look at something closer.  I dropped down to the bottom a little ways away from the fish and slowly pulled myself hand over hand along the bottom closer to it trying not to scare it away.  I had gotten to within 18" of it and had stopped, just clinging to a couple of rocks while watching it when suddenly, its mate/friend/twin darted out from under the rock past the fish I had been watching, and swam right up to my hand, actually brushing against it then hovered just an inch or two away.  After a few seconds, I slowly reached out with my finger and actually stroked the side of this fish a few times before it slowly swam back to the protection of its rock.  The day prior to that, after we had dropped the anchor at San Jose, a cormorant flew up and dove into the water just a few feet from the boat.  It was fascinating watching him swim under the water.  After surfacing, he stayed near us as though expecting a handout.  These types of experiences are one of the main reasons we enjoy cruising so much.
Thursday, January 20, 2011
Current Location Cardanalito Anchorage, Isla Del La Partida, Baja
24 dg. 32.244 N, 110 dg. 23.540 W
Total distance traveled so far by sea: 1696.23nm
It's been a month since I've written in this journal and a momentous month it has been.  The obvious best thing in it is that our status with regard to Adam has changed from being his guardians to being his parents.  The adoption was finalized in a brief ceremony in front of a pair of judges in Fresno on January 7.  On one level, it's a minor thing.  He's been living with us for 3 ½ years and for all intents and purposes has become our son long hence.  However, I just don't have the words to describe the warm pleasure I get when I introduce him or refer to him to someone as "our son".  It's funny, we all got our teeth cleaned the other day, first Adam, then Kathryn and finally me.  As the dentist was doing mine, she made the comment "Your son looks a lot like you."  It was a wonderful moment for me.
What else has happened in the last month?  We had Christmas in La Paz.  Christmas Eve was spent with 120 of our closest friends at a pot luck at one of the Marinas.  I hadn't realized that there were that many of us in the area.  It was a real mob scene around the food.  Christmas afternoon was spent in a much more intimate setting, sharing the day with Chris, Scott and Jacob aboard Jane-O along with another couple who flew back to the states that evening, two of the casualties of the cruising lifestyle. 
There are perhaps 75-100 couples who leave from the west coast every year following the cruising dream.  Their plans vary, some are just going to spend part or all of a season in Baja and the rest of Mexico, then return to a normal life back in the states, some intend to spend a year or two out roaming around and some expect to be out even longer than that.  Most of those out for more than a year, plan on either crossing through the Panama Canal and continuing into the Caribbean or eventually, crossing over to the South Pacific.  Unfortunately, after preparing for years to follow their dreams, many often find it's just not for them.  All too often, what happens is that cruising the world has been a dream of one of them since they were young and the spouse has, with a little reluctance, come along.  What often happens in this case is that after a few months, the spouse just can't take it anymore. 
You give up a lot to go cruising.  The lifestyle is more like living out of an RV.  There are a lot of creature comforts that are just not available, but more importantly, the ready access to family and friends is just no longer possible.  For many of us, the things you gain far outweigh the things you give up.  Sadly for some, they find they don't enjoy it and as times goes on, it just gets worse and worse.  Saddest of all, sometimes it results in the couple breaking up, one continuing on and one returning home.  Fortunately for us, both Kathryn and I find that the cruising lifestyle suits us well.  We each enjoy different aspects of the lifestyle a bit more or less than the other, but we've learned to compromise with each other in making our plans so that we both win in the end.
One thing that is always difficult is saying good-bye.  Cruisers are often doing this.  Often this is tempered with the knowledge that in a few days or weeks, you will probably see each other again in another port or anchorage.  Sometimes though, you know that it will be a long time, if ever, before you will be getting together again.  In a few days, the latter will be the case as we bid farewell to our friends on Jane-O.  They have to start their trip back to California.  The good thing is that this is not the end of their dream, but rather the end of just the first segment of it.  Scott and Chris have to return to the "real" world, back to their jobs, etc. but I have no doubt that they will be back out here again as soon as they replenish the cruising kitty and figure out what to do with their careers.  Their son, Jacob expects to join the Coast guard in a few months.
We expect to spend a few more months in the Sea of Cortez.  As soon as Jane-o heads out, we are going to venture further north into the Sea, hopefully at least to Bahia Conception and Mulege, about half way up Baja.  This is an area that my parents visited a number of times in the '60s and that my older brother and I spent a week Scuba diving in back in 1968.  That was a loooong time ago.  I was only 15 and David was just 18.  I still don't believe that our parents sent us on that trip alone.  I'm really looking forward to seeing the area again.  After that, we'll return to the La Paz area for awhile.  Adam has made a number of friends there and we want to give him some time with them before we head south out of the Sea of Cortez and down the Mexican and Central American coast.
Sunday, January 29, 2011
Current Location Puerto Ballandra, Isla Carmen, Baja
26 dg. 01.419 N, 111 dg. 09.785 W
Total distance traveled so far by sea: 1810.07nm
Wow!  Yesterday was sure an adventurous day.  Adam & I almost DIED!
Since we said good-Bye to Jane-O, we have been slowly making our way north, typically motoring a few hours in the morning (before the winds come up) and then anchoring somewhere for a day of two before continuing on north again.   After leaving the Cardoncito anchorage, we revisited Isla San Francisco (24dg 49.381'N,  110dg 34.028'W) and Bahia San Evaristo (24dg 54.894'N, 110dg 42.185'W).  Nothing really notable occurred except that we scored some gum drops when we went into the little tienda there to stock up on fresh eggs and veggies. 
Yesterday though was a big one for us.  It started normally enough for us, we left San Evaristo at about 07:45am, heading for another one of our favorite spots in Baja, a little cove a couple of miles south of Punta San Marcial, about 27 miles north of San Evaristo.  The first thing happened in the very early afternoon, just as we were approaching our destination, Kathryn spotted a Humpback Whale and shouted for Adam and I to come up and see it.  I saw it briefly, but it had sounded (gone deep) before Adam managed to get on deck (you can tell when they sound as instead of just seeing the top of their back and spout when they come up to breathe, their tail flukes then come out of the water as they head for the depths).  We waited for awhile, hoping that he would then resurface, but Adam finally gave up and went back below to his X-Box.  A few minutes later, he not only resurfaced a ways behind us, but started a series of a half dozen breeches (leaps out of the water).  Adam missed the first few (in two of which the whale came completely out of the water and was briefly airborne), but did get up on deck in time to see the last three partial breeches.  A whale breeching is an awe inspiring sight.  I'm sure you've all seen it on television before, but trust me, seeing it in real life is just awesome.
After getting the anchor down, I told Adam to pry himself out of the V-berth and away from the X-Box as he and I were going exploring.  After putting the engine on the dinghy and getting it ready to go (in good weather, we normally tow it rather than bring it aboard), we set out.  Of course, this was not an exploration for me; I knew full well where we were going.  On our last trip to Baja, we had stopped there and discovered a wonderful sea cave less than a quarter mile from the anchorage.  It's not mentioned in any of the guides I've read, so I suspect not many people know about it, but it's really cooool!  The entrance is triangular, about 12' wide and maybe 20' tall.  The deeper you go the narrower and lower it gets.  It goes straight into the cliff face close to 100'.  It was low tide when Adam & I first went into it, and it got too narrow for the dinghy after about 75'.  This is far enough in though that it's getting really dark and you can't see ether the entrance or the back of the cave.  The walls are covered with Sally-Lightfoot Crabs (3"-9" across) running to get away from you.  It was cool!
That evening, after dark, it was high tide, so Adam and I went to check the cave out again, hoping we could get farther back.  At night, the cave is downright scary.  It is pitch black except for where the flash lights illuminate and the crabs are asleep, to they don't scurry away.  They're just stuck to the sides of the cave.  Being high tide, we could also get farther back.  In fact, we got all the way in until the bow of the dinghy was on the rocky beach at the end of the cave.
That's when things started to go wrong.
As the waves from the open sea come into the cave, they are compressed by the gradually narrowing walls, getting higher and higher the further in you go.  Last night, the sea was almost perfectly flat.  The waves were so small, you didn't even notice them as you entered the cave.  But by the time we were half way to the end, they were high enough they were causing a significant surge.  In other words, the dinghy would suddenly surge forward several feet then a few seconds later, surge backwards several feet.  With the sides of the dinghy almost scraping the cave walls (and crabs), this just added to the spookiness things.  At the end of the cave, the waves still weren't what you could call big, maybe a foot high, but it was enough that after lifting the back of the dinghy up, it dropped it far enough that the outboard hit the bottom forcibly.  In fact, it hit forcibly enough that it knocked it off its mounts and I almost lost it overboard.  At the same time, the waves started sloshing water into the dinghy.  It was at this time that we decided to beat a retreat out of the cave.  Remember, the outboard is out of commission and with the cave walls virtually scraping the dinghy, there was no room to deploy the oars.  So we had to reach out and grab the cave walls to propel us backwards (don't forget, the walls are covered with sleeping crabs).  When we got far enough back toward the entrance that the waves weren't bouncing us around, I remounted the outboard onto the back of the dinghy, but it wouldn't start.  Even after we had exited the cave entirely, we couldn't get it to start.  No big problem though as we have oars, so I'll row us back to the boat (or so I thought).   A few minutes later, I missed a stroke, fell off the seat onto my back and in the process, let go of the oars, losing them overboard.  You can just imagine us, paddling with our hands, desperately trying to get back to the oars floating several feet away in the darkness.  We finally recovered them and made it back to Loose Pointer without further ado.
In reality, we were never in any danger (the water was, after all, almost 70 degrees and we could have swum back to the boat if we had to), but for a sheltered 14 year old with very few adventures under his belt as yet, it was very exciting.
Thursday, February 3, 2011
Current Location Puerto Ballandra, Isla Carmen, Baja
26 dg. 01.419 N, 111 dg. 09.785 W
Total distance traveled so far by sea: 1810.07nm
We are still here at Puerto Ballandra, waiting for a major norther to blow itself out.  Ever since yesterday morning, it has been cold and windy.  Did I say "cold"?  I meant to say COLD!!!!  The air temperature got down to 49 degrees last night and as I type this, it's 59 degrees in the cabin.  Come on now, this is Mexico.  Isn't it supposed to be nice and warm down here?
The sustained winds vary from the teens to the low twenties and the gusts normally seem to be in the low thirties, but two boats over in Puerto Escondido, just a few miles away both have anemometers (wind meters) that record the highest wind speed seen (ours doesn't, you have to sit there watching it) and they reported max wind speeds of 42 and 43 knots for the last 24 hours.  I'm here to tell you that whatever the actual number, it really windy down here.  The waves are also being reported as being somewhere between 10' and 18'!   Suffice it to say they we are hunkered down waiting for this weather system to blow itself out. 
We are in a small circular bay with a fairly small west facing entrance (you might want to look at the satellite image on Google Maps or Google Earth – use the latitude and longitude in the header of this journal entry to find it).  Even so, some of those waves are curving around the entrance and entering the bay.  Fortunately, they seem to expend most of their energy on the beach just around the corner from the entrance.  It's really a sight to see a 5' breaking wave with the top being blown off of it and streaming straight back from the advancing wave.   We are getting a little rolling and some bouncing from the locally generated chop, but it's not too bad.  This wind is expected to continue through Friday night or Saturday, so it looks like we'll be here until at least Sunday.
This is probably a good time to talk about how we've got the boat's ground tackle (anchors and such) set up.  If you find it boring, then stop reading here. 
The primary anchor is a 66 lb Bruce with 300' of 5/16" chain.  I would have preferred a heavier 3/8" chain like we had on Tricia Jean, but this is what the boat had when we bought her and the cost to change over was prohibitive.  This chain is plenty strong, but the 3/8" chain would mean that we'd be putting more weight on the seafloor and that translates directly into holding power.
When we bought the boat the secondary anchor was a 44 lb Bruce and was stored in a locker in the V-berth area.  One of the projects I did while we were getting ready in Richmond was to swap the anchor for a 45 lb CQR.  The various anchor types hold better or worse in different bottom conditions so I wanted two different types of anchors.  This way, if I can't get the primary to hold, there is a better chance that the secondary will.  I also installed a second anchor roller up on the bow, so the secondary is now always ready to drop at a moment's notice.  It has 50' of 5/16" chain and 300' of ½" nylon line.
We have a 3rd anchor that is also kept ready to deploy at the stern of the boat.  This is a large Fortress anchor.  I can't recall its weight at the moment, but Fortress's are really light weight and generate a tremendous holding force.  Their weakness is that if you change the direction you are pulling from, they come unset and don't always like to reset.  They are perfect for use as a stern anchor since the manner in which stern anchors are usually used is such that you are always pulling from the same direction.  This anchor is kept mounted to the aft rail and has about 20' of chain and 150' of ½" nylon line connecting it to the boat.

Finally, we have a 4th anchor, this is another Fortress, identical to the stern anchor.  It is kept disassembled and stored in a locker as a backup.
We currently have both the primary and secondary anchors deployed.  As far as holding power goes, the primary would have been ample.  It is in 22' of water I have about 150' of chain out with another 30' acting as a kellet (an extra weight) on the anchor snubber.  The snubber is a pair of heavy nylon lines that attach to the anchor chain about 15' out from the front of the boat and take the strain of the anchor back to the main mooring cleats.  This does two things.  First, it takes the strain (which in heavy weather can be huge) off of the anchor roller and splits it between the two strong mooring cleats.  Just as important, it acts as a shock absorber.  The chain normally lies in an arc down from the bow of the boat and out towards the anchor.  In high winds, the boat can be blown back until the arc is straightened out.  When this happens, the slack come out and all of the sudden, 40,000 lbs of boat hits the end of the chain.  This puts a huge shock load on everything.  Having the nylon snubber there acts as a big shock absorber.  By hanging the weight of 30' of chain where the snubber connects to the chain, we accomplish two more things.  First, is acts as a further shock absorber but also, its weight causes the direction of pull on the anchor to remain a little more horizontal and thus less likely to pull the anchor out of the bottom.
Normally, the primary anchor would have been sufficient, but things are a little tight here in this tiny bay.  As the wind shifts and swirls around the hills, the gusts sometimes hit us from odd directions.  This causes the boat to swing on a 150' arc around the anchor.  In this case, a few of those swings were putting us uncomfortably close to the shallows.  We thus dropped the secondary anchor off to the left of the primary.  Its job is to prevent us from swinging over towards the shore.
The final piece to the puzzle is the chart plotter I mounted on the steering pedestal.   Its anchor alarm is nowhere near loud enough to wake me, but from where I sleep in the aft berth, I can see the screen by just opening my eyes and lifting my head.  In conditions like this, I set it up so that the distance from where I think the boat should ideally be is displayed in very large numerals on the screen, readable without leaving my bed.  I'm happy to say that whenever I opened my eyes last night we were almost always within 20' and usually within 10' of that ideal spot.
Thursday, February 24, 2011
Current Location La Paz, Baja
24 dg. 09.565 N, 110 dg. 19.430 W
Total distance traveled so far by sea:  1943.16nm
Wow!  There so much to talk about as it's been over 3 weeks since I wrote a journal entry.
After riding out a pretty fierce norther at Isla Carmen, we decided that it was getting too cold for us as we progressed north and that rather than continue up to Conception Bay, we should turn around and head back south.  The water temperature had dropped to 61 degrees and the nights had gotten so cold I had gotten a sleeping bag out was using it as a comforter at night.  There were time when the temperature in the boat got down to the low to mid 50 and we had to resort to turning the heater on!  How do you guys living up north where it really gets cold manage <grin>? 
Fortunately, the previous owner of the boat installed the best boat heater I've ever seen. Our previous boat had a heater and a well thought thought of one, but it didn't hold a candle to this one.  On Tricia Jean, we had a  Dickenson diesel heater and to use it, we first had to go up on deck to replace a cover plate with a little chimney piece.  We then had to light the thing and coax it along for awhile and fiddle with the fuel valve to get it to stabilize at the right temperature.  On this new boat, all we have to do is to flip a toggle switch to turn the system on, then set the thermostats (just like in your house) to whatever temperature you want the boat to be.  There are even two separate thermostats, one for the main part of the boat and one for the aft cabin where Kathryn and I sleep.  Once you've done this, hot air blows out of the vents.  You really have to have lived on a boat to realize just how cool this all is.
We worked our way back to La Paz with nothing terribly special happening except that as we approached Isla Esperito Santu, we went through a large school of manta rays. They weren't jumping or anything like that, they were just hanging out at the surface and you could see their wing tips sticking out of the water sometimes.  Then, as we would get close to one, you could look down into the water and see it swimming alone.  Just too cool for words.
Another exciting thing happened the other day to Adam.  He and a friend were out in the dinghy and came across a pod of dolphins.  Adam said that he was able to reach out and touch them and unlike the couple of times I've been able to do this where the whole pod instantly disappeared, Adam said that they pretty much ignored him and just kept swimming around them.
We've been hanging out here in La Paz for awhile now doing various boat projects.  We had the compressor for the freezer recharged, I installed a 2nd hour meter for the engine, one that can be easily read.  It already has one, but I have to stand on my head in the cockpit and put my reading glasses on in order to read it.  On our last boat, I really came to rely on the hour meter to tell me just how much fuel I had burned (and by inference, how much I had left).  With a little practice, I could judge with amazing accuracy how much we had been burning per hour and simply multiplying it times the hours we had run since we last filled up usually got me within a couple of gallons of how much we had actually used.  Unfortunately, the hour meter on this boat is so hard to read that I haven't been recording it when we filled up with fuel and I have really missed not knowing with any degree of certainty just how much fuel we still had in the tanks.
Another project was an hour meter for the freezer.  We stopped using the freezer when it started running nonstop instead of intermittently (fortunately, recharging it with more refrigerant fixed that).   The boat already had an hour meter for the refrigerator, but not one for the freezer.  Unfortunately, while I found someone willing to sell me the one that I used for the engine, he didn't have any more so I decided to rewire things so that I could have a switch that when I throw it, causes the existing one to switch between the frig. and the freezer.  This means that I can't track how many hours a day both the frig. and the freezer are running simultaneously, but I can select between one or the other and monitor it.
The "freezer hour meter" project gives me a chance to comment on one of "Dan's observations regarding boats".
Nothing about boats is ever easy.
Those of you that have boats are grinning and nodding your heads right now.  Those of you that don't can't even begin to imagine the absolute truth of the statement.  Many of you have worked on cars or other mechanical systems over the years.  Let me tell you, they are easy compared to boats.  To begin with, no two cruising boats are alike.  Boats of the same make and model weren't even alike when they were first manufactured as every one of them was semi-custom.  Add to that the fact that the only kind of cruising boat we can afford to buy are around 30 years old and you have 3 decades of modifications done by various owners making them even more different.  So even though there were hundreds of Kelly Peterson 44's made, each one of them is unique.  They are also surprisingly complex and it takes an intelligent person years to figure out the details of how all the systems are wired and plumed.
All I wanted to do was to wire in an hour meter to the freezer.  This is a simple thing.  After spending an hour walking do a place where I could actually by the switch (cruising is actually a very healthy lifestyle, you get a lot of exercise) I figured that it would take about 15 minutes to run the wire to the thermostat lead on the compressor and maybe 5 more minutes to connect things up.
Silly me!!!!!
The first problem was that the hour meter was (as I expected) a 12 volt device.  Since the boat, like your car runs off of 12v batteries, this was expected.  However, it turns out that the supply voltage to the thermostat is only 5v and when the thermostat is on, it drops to a scant 3v, not nearly enough to run the hour meter.  "OK" I tell myself.  I have a degree in computer science and a passing acquaintance with electronics, so I whip out a pencil and paper and in a jiffy, I have drawn a simple circuit consisting of a single transistor and a couple of resisters to boost the thermostat signal up so that it can run the hour meter.  The next day, I walk back down to the store that I got the switch at (a Radio Shack) but it turns out that they don't have any discrete transistors.  They do have a couple of other bits and pieces that I think I may be able to cobble together a workable solution from, so I grab them and bring them back to the boat.  For those of you that this means anything to, I got a handful of resisters, a quad comparator, a bifet op amp and a 12v relay, and a prototype board. 
The first difficulty was that Radio shack had plastered their pricing labels on the back of the packages these little devices come in, perfectly covering the diagrams showing me the pin outs so that I had no idea how to connect them up.  This was solved by holding each of them over a tea kettle and steaming the labels off.
Plan A was to use the comparator to drive the relay which would in turn drive the hour meter.  Unfortunately, while prototyping it, I accidentally hooked up power to the comparator backwards.  Those familiar with ICs (integrated circuits, those funny little black rectangular things you see on computer circuit boards) should know that when you do this, the IC becomes instantly and permanently DEAD! 
CRAP!!!!  I really didn't want to make that hour walk to the Radio Shack a third time.  Fortunately, I had a plan B.
Plan B was to use the op amp to drive the relay.  Unfortunately, the output of the op amp wasn't strong enough to do so.
OK, so now I've got to either come up with a plan C or make that hour long walk again.  It turns out that the compressor uses a 12v fan.  If I could tap into the wires going to that, I could safely use that to drive my relay.  Unfortunately, while I can reach in and touch those wires with one hand, they are situated in such a way that that's all I can do.  There's no way I can get both hands on them let alone do that and be able to see them at the same time which I would need to do in order to cut them then reconnect them with another wire tapped into the connection.  So I started taking apart some cabinetry until I could (if I strained) get both hands on the wires while at the same time, being able to see what I am doing.  I proceeded to cut the wires while silently praying that I am not doing something that permanently destroys the thing.  I then connected everything back up and when I tested it, the hour meter was now recording the time the freezer is on.  YEAH!!!!  I then recorded the current time on the meter, put all the cabinetry back together and declared the project done.
The next morning, I check the hour meter and it hasn't moved. 
This isn't good.
When I investigate, I find that even when the compressor is on, the fan isn't running.
This really isn't good.
I break out the mirror and flashlight and I can see that while reassembling the cabinetry, I must have accidentally pulled too hard on one of the wires as it is hanging there unconnected.  At least this is something I can fix.  I take the cabinetry apart again, reconnect the wire and test it again.  The fan still isn't coming on.
Now I'm starting to get a little worried.
Further and closer investigation shows that yet another wire has pulled out of its connector.  After repairing this one, I retest again and wonderfully, both the fan and hour meter come on.  After once again (very carefully this time) reassembling the cabinetry, I again declare the project finished.
Nothing about boats is ever easy!
Friday, February 25, 2011
Current Location La Paz, Baja
24 dg. 09.565 N, 110 dg. 19.430 W
Total distance traveled so far by sea:  1943.16nm
More ramblings from paradise.
I just looked at the last journal entry I sent out and realized that it was filled with typos.  Sorry about that.  I'll try to do better in the future.  Despite having spent much of the last 25 years in front of a keyboard, I'm really not a very good typist and should know by now to proof read anything I send out multiple times before hitting the "Send" key.
While hanging out here in La Paz, not a whole lot is happening that would be interesting to report on, but we are getting a bunch of boat projects done.  While Kathryn was doing school with Adam today, I made a sojourn to Home Depot.  This involved a total of about 2 miles of walking and taking a small bus called a "colectivo" which costs 8 pesos (about 70 cents) to within walking distance of the Home Depot.  The main reason for the trip was to get a new Dremel tool.  Ours had died and while I could probably find one in one of the ferraterias (hardware stores) that are in downtown La Paz and thus within reasonable walking distance, it wasn't even close to a sure thing and I would have probably spent much of the day walking from one ferraterria to another looking for what I wanted.  It was expensive, but Home depot had it.  While there, I also picked up a few other things.
Once back at the boat, the main project of the day was to finish fixing the flopper stoppers.  These are pretty cool devices that came with the boat.  There is one for each side of the boat and they each consist of long stainless steel pole, one end of which attaches to the hull and the other projects out and a device that hangs in the water from the end of the pole.  The purpose of this is to reduce the rolling of the boat while at anchor.  Each pole breaks down into two pieces which are connected via a piece of aluminum tubing.  The problem was that the aluminum piece, which is pretty thin walled tubing, wasn't strong enough and while in the Channel Islands (where things were kind of rolly at times), both of them broke when a particularly large wave came by.  When this happened, it left half of the aluminum tube stuck in each of the two halves of the long stainless steel pole with no way to get the al. pieces out.  I had another piece of SS tubing the right size to replace the al. one with (it is actually the pump handle of the toilet that we replaced before leaving), but somehow, I had to get the broken al. pieces out first.  This is where the dremel tool with a cutting disk came into play.  Unfortunately, it wasn't working so I had to make that trip to Home Depot.
Are you following all this?
Anyway, to make a long story longer, when I got back to the boat, I finished that project and we now have flopper stoppers that we can use the next time we find ourselves in a rolly anchorage.
One of the things I got while at Home Depot was a 2 meter (everything down here is in meters instead of inches and feet) length of an aluminum box extrusion.  This was cut to fit and screwed onto the bottom of the bilge access panel in the aft cabin.  The panel had become so soft that I was afraid that the next time I stepped on it, I was going to break right through and find myself standing on the prop shaft which is right under the panel.
Finally, I had picked up some polypropylene line (which floats) and made a new tow line for the Porta-bote dinghy.  The reason this was necessary was that we normally tow this dinghy behind us while going from anchorage to anchorage and 3 times we have forgotten to tie it up short before dropping the anchor.  As a result, each time, when we ran the engine in reverse to set the prop, it sucked the tow line down and wrapped it around the prop shaft (the old line wasn't a polypropylene one).  This resulted in my having to dive down and either unwrap it or, if unlucky, cut it away from the shaft.
So I actually got 3 separate boat projects done today.  That makes this a very good day as we consider it a good day if we get even one boat project finished.
I could ramble on some more, but it's time to go up in the cockpit and enjoy the suset.
So long from paradise,
Dan
Tuesday, March 8, 2011
Current Location Anchored at La Paz, Baja
24 dg. 09.565 N, 110 dg. 19.446 W
Total distance traveled so far by sea:  1943.16nm
Almost 40 years ago, back in 1971, I was a freshman attending college at UCSB.  For some reason, my roommate, Josh Rosen, a close friend of ours, Brad Shaffer and I became enamored with the idea of buying or building a cruising sailboat and sailing off over the horizon to explore the world.  I'm not sure how this dream got started or who first suggested it.  Those memories were long ago lost into the mists of time.  Its genesis may have been reading those articles that the teenager Robin Lee Graham published in National Geographic magazine as we had all read them, but at this point, I really couldn't say.  However it started, it became our dream to sail the seven seas.
We poured over the plans of the various boats available at the time and debated for untold hours the advantages and disadvantages of almost every aspect of the hundreds of decisions that go into the design of such a boat.  We finally all agreed that for us, the closest thing to the perfect cruising boat was engendered in a design by a company called Samson.  The specific design we had decided upon was a plan dubbed the C-Strutter, a 43' center cockpit ketch.  This design had a ferro-cement hull which had the singular advantage of its being possible to be built by a few industrious, if  inexperienced guys.  I'm not going to go into the many plusses and minuses of ferro-cement as they are really not germane to this journal entry.  I will note in passing though that the ensuing years have shown that fiber-glass is the preferred hull material.  The important thing to understand is that for decades lI dreamed about the C-Strutter and it became fixed in my mind as the standard to which every other boat became measured.
The three of us never did realize our dream of cruising together, though Brad and I did manage to enjoy some other adventures that had nothing to do with sailing.  Josh is now a surgeon in Connecticut and Brad is now a professor of herpetology at UC Davis.  Other than looking them up on the internet, I long ago lost contact with both of them.  As far as I know, I am the only one of the three of us that eventually brought this particular dream to fruition.  As I think all of you know, this is our third cruise.  The first cruise was a brief 2 month one in 1999 aboard our 30' Catalina (Still Clueless) with our kids, Brian & Nicole aboard where we went from San Francisco bay, all the way down and around the tip of Baja, then a little over half way back up the Sea of Cortez to San Carlos, Mexico (a total of a little over 2,000 miles).  From San Carlos, we flew home while having the boat delivered via semi-truck.  The next cruise was in 2004-2006, a two year cruise that Kathryn and I did aboard our 37' Tayana (Tricia Jean - named after our mothers) that took us as far away as Ecuador and Tonga before sailing back to California (a total of just over 18,000 miles).
So where am I going with all this?  We are now anchored at the southern Baja city of La Paz (our favorite city in Mexico) and about a week ago, a new boat came in and anchored between us and where we land our dinghy every time we go into town so that almost every day, I find myself going right by it.  This ketch is a handsome boat and very familiar looking, but it took me a few days to recognize her.  Then, the other evening as Kathryn and I were on our way into town to take in Carnival and enjoy the parade, there was a couple aboard the ketch getting ready to get into their dinghy so I went by and asked them the question, "Is your boat by any chance a ferro-cement one?"  Sure enough, this was the realization of those 40 year old dreams.  The boat is a Samsom 43' C-Strutter that someone had built.  I don't yet know the history of the boat or anything about the owners, but we've been invited aboard for a tour and visit.  I'm looking forward to it.
Monday, March 21, 2011
Current Location Anchored at Ballandra Bay, Baja
24 dg. 19.155 N, 110 dg. 19.786 W
Total distance traveled so far by sea:  1954.18nm
We finally made it out of La Paz, if only for a couple of days.  We've been hanging out in La Paz for quite a while, waiting for various packages to be sent down from the US (Adam's next semester of school books, mail that's been piling up at my brother's house, etc.). It's also been real good for Adam as there is a group of teens from various boats there, so he's made some close friends.  The group is about to disperse as one of the boats returns to the US and another is about to cross the Pacific to the Marquesas.  Kathryn and I have been enjoying the cruiser social life here too.  Adam has also been getting a lot of schooling done.  He is finishing his first semester of home schooling and I'm happy to say that he's made some super progress.  He has already completed the English course and has a very good grade in it.  The other courses are also almost done.  I'm especially pleased with the progress he's made in algebra – he got an A on his last test which is a huge accomplishment.
In transitioning from the public school system to living aboard and home schooling, I was mentally prepared for the first several months to be pretty much a waste.  Our previous experience with doing schooling while traveling was pretty much a failure.  It seemed that there was always a good reason not to do school today.  If we were underway, it was just too difficult and if we were stopped somewhere, there were always interesting things that needed doing.  We've been able to stick to it much better this time while keeping the flexibility of home schooling.  If there is something Adam wants to do instead of school one day, he has to make it up by either doing extra on other days or doing school on Saturday or Sunday. 
What is really nice to see though is the way he is responding to the one-on-one instruction.  In a classroom full of 30 or more kids, even if the teacher notices that someone's eyes glaze over and he is no longer understanding or paying attention, there's not a lot that can be done about it.  But with Adam sitting across the table from us, we can ensure that he's understanding all of the concepts that are being thrown at him (remembering them is another issue, but that's what repetition is for).  With algebra, for instance, as soon as he demonstrates that he can do one type of problem, we can move on to the next section.  Sometimes, this means he only has to do one problem in the section and sometimes, we have to do problem after problem until he can do them without assistance.  It also means that we do every word problem which have always been difficult for him.  As a result, his ability to translate a word problem into a math problem that he knows how to solve has improved exponentially.
We've set things up so that one day, Kathryn will do the English, Geography and Spanish and the next day, I will do Algebra, Science and Spanish.  This is nice because it not only gives Kathryn and I every other day off to do other things, but every weekend is a 3 day weekend for us.  Poor Adam has to do school 5 times a week though.
The boat has been holding up well with only minor failures.  The latest one is a device called a battery monitor.  This device keeps track of the state of the batteries, telling us the current voltage, how much current is going into or out of them and how far down they are from a full charge.  Just to make life interesting, the model we have (a Link 20) is no longer made and apparently, there is not an equivalent on that monitors two separate banks available.  This means that I will be replacing it with 2 separate monitors, one for each battery bank.  Living on a boat where all our power comes out of the batteries, it is very important to monitor the state of the batteries.  Otherwise, it is very easy to discharge them to the point where they are damaged.  Since we paid over $1,500 to replace the house batteries just before leaving and them some more to replace the starting batteries while here in La Paz, the last thing I want to do is to damage them.  Were it just Kathryn and I, it wouldn't be nearly as important as we have two a large house banks (1,300 total amp hours), a lot of solar generation (460 watts) and fairly modest needs since all of the lights have been converted to LEDs which use very little power.  But Adam loves his X-Box which not only uses a huge amount of power, but given the opportunity, he'll sit there using it for hours on end.  Being able to monitor the battery state, I can tell him that it's OK to use the X-Box for an hour (or two hours, etc.) then that's it unless he wants to set the generator up and run it off that (we have one of the portable Honda EU2000 generators that works great).  As a result, Adam now spends only a fraction of the time on the X-Box that he used to when we lived on land - yet another benefit of the cruising life.
Our long range plans may have just changed.
So far, the plan has been to slowly make our way south, wait out the rainy season doing inland traveling and hanging out in Central America, then early next year, continuing down to Ecuador to do some more land traveling to Machu Pichu in Peru.  Ever since studying it in school, Adam as really wanted to visit there.  At the beginning, Adam really didn't want to go on this trip.  He would very much rather have stayed in Fresno, continued in public School and lived what he saw as a normal life.   As he saw it, visiting Machu Pichu was one of the few positive aspects that made the trip tolerable, so we were not about to take that away from him.  As time passes though, his attitude has been changing.  He's found that this trip is not just about him being stuck on a boat with his aunt and uncle and being seasick all the time. He's made many good friends, felt the pain as they went their separate ways and made new friends.  He's enjoyed exploring new places, SCUBA diving and snorkeling and slowly discovered that this is a pretty good life style.  He would still like to return to his life in Fresno, but is finding life afloat enjoyable too.
However, it came as a surprise to us when, during a discussion last night, he stated that it was OK with him if we did the puddle jump (crossed the Pacific) this year.  This morning, he confirmed that if it is possible, that that's what he would like to do.  It may not be possible.  We would have to leave in a few weeks and the major sticking point will be getting the visas for French Polynesia in time.  We'll be returning to La Paz tomorrow or the next day, and as soon as we get there, we'll research it and see where the nearest French consulate is.
Tuesday, March 29, 2011
Current Location Anchored at La Paz, Baja
24 dg. 09.423 N, 110 dg. 19.567 W
Total distance traveled so far by sea:  1965.36nm
It looks like we are going to do it.
The Polynesian visas are taken care of thanks to an agent we engaged there.  They will pick us up at the dock when we arrive in the Marqueses, take us to do the actual check in, return us to the boat, then meet us again when we reach the capitol (Papeete) on Tahiti. We will even be able to purchase duty free fuel.  The current plan is to leave La Paz sometime during the 2nd week in April, after Adam's birthday on the 6th, take 2-3 days getting down to San Jose del Cabo where we will check out of Mexico, then we'll be off for the South Pacific.  Out travel time will, of course depend greatly on the conditions we experience along the way and could be as little as 2 ½ weeks if we get perfect conditions or as long as a month.  At this point, I think our first landfall will be on the island of Nuku Hiva.  We'll spend a bit of time roaming around the Marquesas, the northernmost of the Polynesian island groups.  These are young islands, very steep topography, covered in greenery and beautiful.  There are numerous waterfalls, sometimes falling 100' or more directly into the ocean.   After a rain, more waterfalls suddenly appear until in some areas, you seem to be surrounded by them.  I once described the Marquesas as "something like Yosemite covered in greenery, designed by Walt Disney and empty of people."
South of the Marquesas is the Tuamotu island group.  These are very old islands that have completely eroded away until all that is left of each one is a ring of palm tree covered coral atolls, rising only a few feet out of the water.  The diving is incredible, with warm, crystal clear water, lots and lots of interesting fish and other sea life such as giant clams.
The final Polynesian island group we'll visit will probably be the Society islands; Tahiti, Bora Bora, Raiatea and others whose names evoke the classic Hollywood visions of the south Pacific.  Here's a photo we shot from the cockpit of our boat while in Tahiti during our last trip.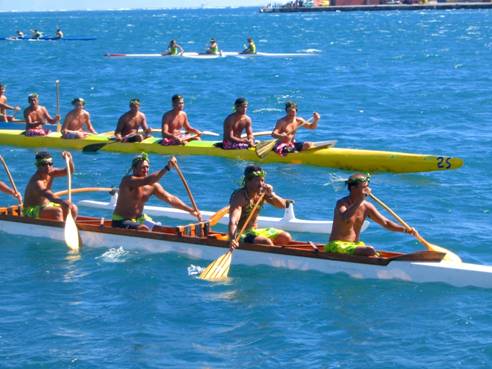 Eat your hearts out!
For now, we are madly completing boat projects and loading down the boat with load after load of provisions.  While the passage should be a month or less, the cost of food in Polynesia is significantly higher than here, so we are trying to stock up with about 4 months of everything except fresh fruits and vegetables.
Sunday, April 10, 2011
Current Location Anchored at La Paz, Baja
24 dg. 09.423 N, 110 dg. 19.567 W
Total distance traveled so far by sea:  1965.36nm
I think I'm going to rename our boat "AAA" as in those guys in the tow trucks that come rescue you when you're broken down on the road somewhere.  In the last week, I've participated in no less than 5 "rescues."
1. "Imagine", a boat that will be crossing the Pacific about the same time as us lost her transmission on the way back from the islands, so had no power to her propeller.  Greg from "Festma Lenti" and I used our dinghys to tow her into a slip in Marina de la Paz.
2. A project boat that had just had a new engine put in was motoring from Marina Palmyra at one end of La Paz to a boatyard at the other end when her engine quit and they couldn't get it restarted.  They had no sails aboard, so that wasn't an option.  This area has strong winds and currents, but they were in no danger other than possibly being hit by another vessel as they had dropped anchor right n the middle of the channel.  Once again, Greg and I towed them into a slip.
3. The next boat was "Festima Lenti".  They had managed to wrap their anchor chain around and under a concrete block about half the size of a Volkswagen and when they went to raise the anchor to leave, it wouldn't budge.  Dan and his SCUBA gear save the day.
4. The 4th time was a couple of nights ago.  A boat called "Boomer" was coming back from the islands on a calm night when their engine froze (never a good sign).  This time, Patrick from "Just A Minute" and I rode our dinghys the several miles out to tow them in to the Costa Baja Marina.
5. The latest just happened.  "Siempre Sabado" (Spanish for Always Saturday), a Westsail 28 was anchored near us.  A norther started this afternoon and the wind is blowing pretty hard.  Kathryn noticed that they were dragging their anchor.  That means that instead of staying in one place, they were slowly moving down wind.  They weren't on the boat, so Dave from "Wind Raven" and I each took another anchor over.  By the time we finished and had her secure, she was only about 2 boat lengths from a seawall.  A pretty close call.
I figure that I'm storing up some pretty good Karma points form when the day comes that I need to call for help.
Monday, April 11, 2011
Current Location Anchored at La Paz, Baja
24 dg. 09.423 N, 110 dg. 19.567 W
Total distance traveled so far by sea:  1965.36nm
Tomorrow morning marks a big day for us.
We leave La Paz for good.
We've been based out of La Paz for almost 5 months now.  During that time, we've done two trips up to the states and numerous trips out to various places in the Sea of Cortez.  We've also spent a lot of time just hanging out here in La Paz.  I personally like Mexico.  A lot.  And La Paz is my favorite Mexican city.  There is some tourism, but not a lot, it has the best street food of anywhere I've traveled throughout the world and it is just a nice place to be.  One of the nice things about the area is the general honesty of the populace.  Without noticing it there have been multiple times when I've dropped a bill or something else from my pocket as I reach for something (my pockets are often crammed with stuff) and rather than wait until I'm around the corner, and grabbing it, people will invariably either point it out to me or pick it up and hand it to me.  A couple of times they even had to chase me down as I walked away in order to return it to me.  I just like La Paz.
That's part of why leaving it is such a big step.  It can be hard to leave.  A lot of people get stuck here for years.  But, first thing tomorrow morning we will raise the anchor and head south.  It will take us 2 or 3 days to get down to San Jose del Cabo (just north of Cabo San Lucas) where we will check out of the country then after that, it will be 3 to 4 weeks of nonstop sailing until we arrive at the island of Nuku Hiva, one of the Marquesas and part of French Polynesia.  That will be the start of another major segment of this adventure.
Don Quixote, another boat with teens aboard and whom we've become good friends with left this afternoon.  We'll catch up with them at San Jose del Cabo, then probably leave there at the same time.  I think they'll probably get there a bit faster than we will, but they say that they've got their Lagoon 380 catamaran so loaded down, that they expect us to get there first.  Another boat with teens, Imagine, plan on leaving here for Nuku Hiva on the 14th so we'll have our own little flotilla along the way.  In addition, there are two other boats with teens that we know of leaving from Banderas bay, Phambili and Neener, Neener, Neener, so there shouldn't be any lack of socialization once we get there.
For the record, after tonight, I will not be able to check the dbsail.org email address so those of you that have been using it will have to shift to our sailmail address, WDF3565 at SailMail dot Com.  Please remember that sailmail allows only flat text messages.  If you try to send us a formatted message or any attachments, we won't get them.  All we will get if you try is an empty email message.
Wednesday, April 13, 2011
Current Location Underway south of Ensanada de los Muertos, Baja
23 dg. 49.902 N, 109 dg. 40.877 W
Total distance traveled so far by sea:  2029.77nm
We successfully got away from La Paz yesterday though it was not without minor incident.  I had to "rescue" a sixth boat, it was us this time.  When we went to raise anchor, it wouldn't come up.  So once again, I was swimming around in the murky water of La Paz bay.  This time though, I was able to free it using just a snorkel and didn't have to break out the SCUBA equipment.  We had managed to wrap the chain around and through a pile of concrete blocks, each one of which was 18" or 2' across.  It was 9:30 by the time we were moving.  This was a bit later than we had hoped, but at least we were finally underway.  We motored all the way to Muertos, about 45 miles away as what little breeze we had was mostly right on our nose and set the anchor just as the sun was setting. 
There were a couple of interesting things to note that happened while underway yesterday.  The first was that as we were turning into the Ceralvo channel, Don Quixote called us on the radio to find out if we had gotten way and to give us a condition update. They had left the afternoon of the day before and had stopped at Ensenada Ballandra.  Coupled with the fact that they got underway an hour earlier than we did today put them 4-5 hours (15-20 miles) ahead of us.  Immediately upon concluding that call, we were called by Full & By.  This is a boat that we met (and haven't seen since) way back in October while in the Channel Islands off of Santa Barbara.  They had been spending the intervening time on the mainland coast of Mexico, further south from here.  We had a nice chat during which they told us that another boat we had spent some time with in the Channel Islands, Sarah Jean II, had done the puddle jump and were now in Nuku Hiva, Polynesia.  This points out one of the things I like about cruising.  You keep running into friends.  In this case, we had only spent a short time with each other and hadn't seen them for months, but it was still nice to make contact with them.
The other interesting thing has to do with a piece of equipment.  A couple of year ago, we bought a Lowrance multi-display unit.  It displays the output of a number of different functions, chartplotter, fishfinder, radar, and AIS.  It can even display the engine information (oil pressure, coolant temperature, etc. though we didn't buy the transducers for those).  We have used fishfinders instead of dedicated depth finders ever since our MacGregor 25, Clueless, as they give you not just the depth, but the contour of the bottom.  This one has always impressed me because it routinely tracks the bottom to over 1,000' down.  Yesterday though it outdid itself, tracking to well over 1,600' deep.  The amazing thing is that we are using the standard transducer that came with it, one that is intended to be mounted in the water on the back of a power boat's transom and we don't even have it mounted in the water.  Instead, it's just glued to the inside of our hull.  With this kind of performance, I see no reason to purchase the special thru-hull transducer made for sailboats.
One other thing of note is that I got an email from Phambili, a boat we spent some time with here in the Sea of Cortez.  They have completed their puddle jump and are looking forward to seeing us again when we finally get there.  That will be yet another case of meeting up with old friends.
Thursday, April 14, 2011
Current Location Underway south of Puerto Los Cabos, San Jose del Cabo, Baja
23 dg. 03.677 N, 109 dg. 40.394 W
Total distance traveled so far by sea:  2092.88nm
We had whales of fun yesterday.  Lots and lots of whales with 2 close encounters.  The first was when a pair of humpbacks started breeching (leaping out of the water) then falling back with a gigantic splash about 200 yards from us.  It's always an awe inspiring sight when they do that.  This same pair also engaged in some nice tail slapping.  The other close encounter was when one lifted its tail way high out of the water as he sounded about ten feet from the front of our boat.  For a moment, I thought that we were going to hit him!  Whales are just too cool for words.  We motored all day yesterday with no wind at all most of the day, just a glassy calm.  We spent the night in Ensenada de Los Frailes and had dinner aboard Don Quixote then stayed and visited while Adam and Jamie came back to Loose Pointer to watch a movie.
Today was supposed to be a short day, only 27 miles so I got up early and cleaned the bottom of the boat.  The SCUBA tanks sure make that a much easier and faster job.  Don't get me wrong, it's still a big job.  My shoulder is still sore and it's been about 8 hours since I finished.
By the time I was done, a beautiful north wind had filled in, about 15-20 knots worth of it so after sailing off the anchor, we were moving along at over 7 kts.  For comparisons sake, when we motor, we usually only poke along at 5 or less.  This lasted for a couple of hours until it suddenly died down, spent 15 minutes coming at us from all different directions then settled back down to 15-20 kt.s again.  But this time, it was from the south, right on our nose.  As a result, the 2nd half of the day took over 4 hours as we had to tack back and forth into it.  I finally gave up and started the engine.
We just saw a single whale today, but it was a good sighting.  He lifted his tail and sounded about 30 yards from us. 
We are staying at a marina about 20 miles north of Cabo San Lucas for a couple of days while we check out of the country.  This marina is incredibly friendly to cruisers.  They have what they call the "Tahiti Special" which means that if you are checking out of the country to do the puddle jump, the first two days are free.  Even if that's all you stay!  So tomorrow, I'll take a bus down to Cabo and get us cleared out with customs and immigration then check out with the port captain here.
Our expectation is that Saturday morning, we'll untie the dock lines and our next stop will be in Polynesia.
Saturday, April 16, 2011
Current Location Underway
22 dg. 43.074 N, 109 dg. 47.949 W at 17:00 local time
Total distance traveled so far by sea:  2114.03nm
Well, a breeze came up, so we decided to get underway.  After topping off the fuel tanks, we were out of the harbor at 11:30 this morning.  The breeze is from the WSW, so instead of the downwind milk run, we are sailing about as high as we can into the wind.  It's just a breeze though, so it's a real comfortable ride.  We are currently making about 4.7kt on a heading of about 177 degrees.
Don Quixote is a couple of miles away and we seem to be going just slightly faster and a bit higher than them.  This is to be expected as they are in a Lagoon 380 catamaran and catamarans just don't sail to weather quite as well as a monohull.  As soon as we hit the trades though and have the wind aft of the beam, I expect them to be faster than us.
Not a whole lot to say.  The Monitor windvane is doing the steering for us, the solar panels are doing their job and everything seems to be going well.
Sunday, April 17, 2011
Current Location Underway
21 dg. 34.823 N, 110 dg. 55.982 W at 16:52 local time
Total distance traveled so far by sea:  2209.11nm
Just a quick note to let everyone know that all is well aboard Loose Pointer.  We lost the wind and motored for part of the night to push on through a ship lane but shortly after I came on watch at 01:00am, a nice sailing breeze came up and we were zipping right along and headed right for Nuku Hiva.  For an hour or so, the boat was gliding along at 7kt or better.  The wind did eventually lighten, then about dawn, died altogether and we spent much of today bobbing around on glassy seas or just barely moving.  Right now, we are doing about 1.8kt.  This is actually to be expected.  We should see a few days of really light winds before things pick up.  Our noon-to-noon distance today was 105nm, but I'm afraid that tomorrows will be just a small fraction of that.  Not to worry though.  Loose Pointer will scoot right along once we do get to where the wind is.
Tuesday, April 19, 2011
Current Location Underway
19 dg. 17.124 N, 112 dg. 32.784 W at 16:52 local time
Total distance traveled so far by sea:  2374.52nm
After a slow start, we are rocketing right along.  Our 24 hour total (which we are doing from 10:30am to 10:30am) was 147.3nm and if current conditions prevail, it will be even higher tomorrow.  To put this into perspective, the highest we ever saw with Tricia Jean was 156nm.  Last night, there were extended periods where we were maintaining 8kt or better.  Zoooooom!  This does come with a bit of a cost though. 
Things are a bit rocky & rolly.  Adam has been sea-sick though he seems much better this morning.  Enough so that we've got him on watch at the helm at the moment.  Due to his mal-de-mar, he was excused from this duty all yesterday.  This may change, but currently his schedule is 11am-2pm and 11pm-2am.  Kathryn & I just make sure that one of us is up there during the other daylight hours with no real schedule, then Kathryn takes from dusk to 11pm and I take from 2am to dawn.  So far, we've only managed one night with this schedule, but I can already tell you that having Adam do that 3 hours at night makes a huge difference for us.
So far, the boat is doing well; we have discovered a crack in the hard boom vang.  I think it can be repaired as soon as we can find someone who can weld stainless steel though.
Our only exciting sighting in the last couple of days was a pair of blue whales that came by before the wind came up yesterday morning.  Those guys are huge!  The largest animals on Earth.
Wednesday, April 20, 2011
Current Location Underway
17 dg. 47.779 N, 115 dg. 36.269 W at 11:58 local time
Total distance traveled so far by sea:  2561.06nm
We've finally got the wind behind us and are rolling along. The 24 hour total ending at 10:30 this morning was 136nm.  Not too bad!  The first few days was at times some pretty uncomfortable sailing.  We were generally close reaching which means we were heeled over and often, the waves were quite confused.  We spent at least 18 hours where there were at least 3 distinct wave trains coming at us from 3 different directions.  Nobody got much sleep.
Now though we are on a broad reach with the jib poled out.  The boat is level and just has a slow, gentle roll to it.  Very comfortable.  What's more, the forecast is that it should stay like this for at least a few days.
Friday, April 22, 2011
Current Location Underway
14 dg. 54.181 N, 118 dg. 47.871 W at 11:55 local time
Total distance traveled so far by sea:  2825.55nm
Only 1899nm to go to Nuku HIva!!!
Just wanted to let everyone know that we're still on top of the water and moving right along.  Except for the first day, we've been averaging about 130nm per day despite occasional periods of light winds.  The surprising thing is that we are moving at a slightly faster rate than Don Quixote, a Lagoon 38' catamaran.  I really expected the cat to be faster than us once we got away from the head winds.  It's difficult to predict this far out, but my best guess for a land fall is May 8th.  As we get closer, that will no doubt change.
There's not a whole lot else to report other than mundane things like we just finished making water so our water tanks (about 130 gal. worth) are now full.  It was exciting to us though as once the tanks were full, we got to use the watermaker output to take fresh water showers.  A really nice treat.
We haven't been able to get any school done while underway which is a minor disappointment, but no real surprised.  I would have been surprised had we been able to.
Tuesday, April 26, 2011
Current Location Underway
08 dg. 42.280 N, 124 dg. 54.737 W at 11:40 local time
Total distance traveled so far by sea:  3347.51nm
Only 1391nm to go to Nuku HIva!!!
Not a whole lot happening out here.  The only exciting things of note are a couple of failures;  I broke our whisker pole (a pole that we use to hold the jib out while running down wind) and our shore power charger isn't working right.  The former is a nuisance since it reduces our sail options when running deeply downwind.  Fortunately, the asymmetrical spinnaker is working really well though we don't have the courage to run it at night.  We did try it once, but when the wind came up, I had to go dancing around the foredeck in the dark to get it down and that wasn't any fun.  The charger not working falls into the nuisance category too since we have other ways of charging the batteries.  We wouldn't even have noticed it had it not been cloudy for several days.  It does mean that running the generator and plugging the shore power charger into it is no longer an option.
I'm hoping I can repair the pole in Polynesia, but the charger will have to wait until either we can entice someone into coming for a visit and they can bring a new one in their luggage or until we get to New Zealand (next Oct or Nov).
We've been making real good time.  The 24 hour totals since my last journal entry have been 127.6nm, 141nm, 144.4nm & 130.5nm.
Wednesday, April 27, 2011
Current Location Underway
07 dg. 43.846 N, 127 dg. 05.261 W at 11:55 local time
Total distance traveled so far by sea:  3487.06nm
Only 1288nm to go to Fatu Hiva!!!
About 9:00 this morning, we that left turn I talked about earlier and are nor heading almost due south to try to get through the ITCZ (Inter Tropical Convergence Zone – what they used to call the doldrums).  We should be holding this course for 3-4 days before turning back west for our destination.
Speaking of our destination, there are two things to note.  The first is that we've changed which island we plan on making our landfall on.  We are now heading toward Fatu Hiva.  It's a little further away and further south than Nuku Hiva, but it's upwind from the other islands, so going there first makes sense.  The other thing is that we are now more than half way there.  We are now closer to Fatu Hiva than we are to San Jose Del Cabo from which we departed.
Our friends on Don Quixote are slowly catching up to us even though we are still doing really well (yesterday's 24 hour total was 145.3nm).  They are currently about 122nm east of us and are seeing quite a bit more wind than we have here.  They are still having communications issues with their onboard email, but with the help of others, especially Scott of Jane-O who is in direct contact with the manufacturer (and with whom we spent a lot of time in the Sea of Cortez), it looks like they are going to be resolved sooner rather than later.  This is something you see over and over among the cruiser community, people jumping in and helping acquaintances or even complete strangers to a level that is all too rare in the work-a-day world.  Thanks again, Scott.
Friday, April 29, 2011
Current Location Underway
03 dg. 59.987 N, 128 dg. 04.088 W at 11:09 local time
Total distance traveled so far by sea:  3718.82nm
Only 1052nm to go to Fatu Hiva!!!
Yesterday's 24 hr total was the best so far, 151.8nm.  It capped off several days of really nice broad reach sailing and brought us right to the edge of the doldrums (I know that ITCZ is the technically correct term, but "doldrums" just has more flavor to it and paints a really vivid picture in your mind).  About a half an hour after the 24 hr time ended yesterday, we went through a couple of squalls, then the wind just died away to nothing and stayed that way.  We had entered the dreaded doldrums. 
No wind, but lots of rain and squalls.  Also, it is incredibly hot and humid.  Adding to the heat, we started motoring slowly due south.  Whenever we run the engine, an amazing amount of engine heat finds its way into the cabin of the boat.  This is almost unnoticeable up in the cooler latitudes, but down here, you can't ignore it.  We spent about 15 hours motoring at our max fuel conservation speed (about 4kt in calm conditions) then at 3am this morning, a breeze filled in from the SE.  It wasn't much of a wind, we were only going slightly faster than when motoring and we couldn't point as far south as I would like, but we were sailing again.  That was 8 hours ago and we are still sailing.  The wind has freshened slightly and after the sun came up, Kathryn was able to trim the sails such that we are now going a little further south so I think I can safely say that we made it through the doldrums.  Our next goal is the equator, a couple of days ahead of us.
In the last couple of days, a big issue out here has been Don Quixote's email capability.  Having email on the boat is not just good for keeping in touch with family and friends, but for receiving weather information allowing you make routing decisions such as we just did in deciding when and where to cross the doldrums.  With this information, we were able to cross it with a bare minimum of fuss.  The problem is that the doldrums can't be marked on a chart because they are constantly changing shape and position (this is why Inter Tropical Convergence Zone, ITCZ is the more technically correct term).  Sometimes it even breaks apart into multiple areas with wind filled gaps between them.  We were able to sail along just north of it the ITCZ, watching for one of these gaps to form, then turn south to get through the area as quickly as possible.  Without the up to date weather information we can receive via our email, it could have taken us many days to get through.
The weather information comes in a variety of forms.  We can pick up text reports of pretty much any area on the globe.  We can also pick up grib files.  "What is a grib file?" You ask?   They are like weather faxes on steroids and are the primary information source I use when passage making.  I use my mouse to select the area of the globe I am interested in, then select what information I want (wind info, wave info, barometric pressure info at various levels, etc).  I then select which time frames I want all this information for (now, +12 hrs, +24 hrs, +36, hrs up to 5 days in advance).  I then select how many of these grib files I want to receive per day and for how many days (I generally get one per day with now, +12hr, +24hr, +48hr, +72hr & +96hr).  Click the OK button and it sends a message to some server somewhere telling it what I want.  That server then periodically sends me a grib file. 
You use a software tool to view these files which displays them graphically and they look a lot like a color coded windfax.  But, as you roll the mouse wheel forward and backward, the information for the next/previous time frame is displayed so you can see how highs and lows are developing, how fronts are moving, and most importantly for us on this passage. The position, shape and motion of the ITCZ.
The only problem with these grib files is that they are fairly large.  The email we and most other cruisers use comes through our high frequency radio and is quite slow.  The default technology (Pactor-2) is limited to a max of only 200 baud.  For you non-techie types out there, that works out to something in the 100's of bytes per minute!  It is possible to purchase a software upgrade (called Pactor-3) which can send and receive at up to 3200 baud if the radio connection is good enough, but Don Quixote didn't have it. We are also limited to 90 minutes of connect time per week.  What happened was that Pactor-2 worked just fine for Don Quixote until they started receiving these grib files.  They then quickly went over the 90 minute/week limit and were shut off from using email at all!  Thanks to Scott from Jane-O, who got into direct contact with the SailMail people and the modem manufacturer, Don Quixote was able to get their email turned back on and their modem upgraded.  Major, major karma points to Scott for this one.
Sunday, May 1, 2011
Current Location Underway
00 dg. 01.230 N, 129 dg. 07.515 W at 15:35 local time
Total distance traveled so far by sea:  3967.85nm
Only 843.5nm to go to Fatu Hiva!!!
At 3:16pm, Loose Pointer crossed the equator and entered the southern hemisphere at W 129dg 07.2'.  This was old hat for Kathryn and I, having crossed the equator twice before aboard our previous boat, but Adam's status changed from that of Pollywog to that of Shellback and it shall be noted that he is now entitled to all the rights and privileges thereof (that being primarily to give hard times to those aboard Don Quixote who won't be crossing the equator until tomorrow). 
Note also that we are now over 2/3's of the way to our destination and also that our miles-to-go counter is now below 1,000 which means it now show tenths of a mile.  This latter is actually kind of important to moral as it now changes every few seconds, thus showing we are actively getting closer to our destination, instead of staying the same value for 10-12 minutes.
Wednesday, May 4, 2011
Current Location Underway
04 dg. 14.5' N, 132 dg. 05.9 W at 11:28 local time
Total distance traveled so far by sea:  4277.54nm
Only 529.5nm to go to Hiva Oa!!!
Things slowed down for a while after crossing the equator.  We had a 100nm day, a couple of 108nm mile days, a 117nm day and we just finished a 124.5nm day so the trend is back up towards what we were doing north of the line.  I currently expect to reach our landfall (which has changed again)  sometime between noon on Sunday and noon on Monday.  As we get closer, our ETA will obviously firm up a lot.
The boat has behaved quite well.  I did rip the spinnaker sock in half, but Kathryn was able to affect a repair that's better than new.  We also had a few chafe issues, especially with the Monitor wind vane control lines and the reefing lines, but they have been repaired and (we think) further chafe prevented in those areas.  We are having to run the engine every few days to bring the batteries up to full despite all of the solar panels we have as it's been overcast at least 2/3 of the time.  Hopefully, as we continue to get further south, the skies will clear some.  Kathryn just transferred the last of our frozen meat to the refrigerator and turned off the freezer.  That will help the power consumption equation a lot.
I'm happy to say that the interpersonal problems that are common on this passage have been pretty much a non-event with us.  That's to be expected for Kathryn & I, since this is our 4th long distance passage, but there was some concern that the new dynamic of having Adam with us might cause some issues to arise that needed to be dealt with.  So far, there's been nothing other than the everyday teenager/parent stuff and not much of that.
Don Quixote continues to slowly drop behind us (they are currently about 140nm away).  They've had a couple of boat issues too, but nothing serious.  The other day, they wrapped a reefing line around their wind generator but we were able to get it untangled without damaging anything and this morning, they reported that a fitting on their spinnaker sock broke.  The spinnaker is still usable, but unless they can figure out a work around, they won't be able to use the sock to collapse the chute before taking it down.  However, it looks like we will be doing beam reaches (the wind at our side) from here on in, so we won't be using the spinnakers anyway.  For you non-sailors out there, the spinnaker is the huge and colorful sail you sometimes see sailboats flying out in front of the boat as they go down wind.  The sock is a sleeve which slides up and down the sail, collapsing it into a limp sausage-like tube and making it far easier to work with when raising and lowering the sail.  Without a sock, things can be a little interesting raising and lowering it as the wind fills this light weight sail like a parachute.
Sunday, May 8, 2011
Current Location:  Anchored in Tahauku Bay, Hiva Oa, French Polynesia
09 dg. 48.216' N, 139 dg. 01.932 W
Total distance traveled so far by sea:  4815.02nm
At 08:45 this morning, our anchor hit the bottom here at Hiva Oa. Everyone is OK though quite tired.  I think I've had about 1 ½ hours of sleep in the last 24.  I am currently enjoying a stiff drink (rum & a Mexican peach drink) and when I finish it, I'm going to ignore cleaning up the boat, putting the sail cover on, and all other stuff like that and get some sleep. It will take a couple of days for everyone to get back to a normal seep pattern but I, for one, am really looking forward to it.
Our last position report from Don Quixote was yesterday at 5:30pm and at that time, they were almost 190nm behind us.  That translates into about a day and a half, but we were going quite slowly all last night, so they no doubt gained some ground on us.  This means that they may make it in tomorrow (YEAH!!!).  Imagine (another boat with kids), who left La Paz after we did is also here, having beaten us by a couple of days but they are not answering the radio.  Maybe they went into town for breakfast, or maybe they just turned off the radio.
Lots more later, but right now, that's all you get.
Monday, May 16, 2011
Current Location:  Anchored in Hanamenu Bay, Hiva Oa, French Polynesia
09 dg. 45.861' N, 139 dg. 08.431 W
Total distance traveled so far by sea:  4843.23nm
We stayed at the check-in port of Atuona for a few days, catching up o our sleep, taking luxurious fresh war showers, paying an outrageous  amount to have our laundry done, getting checked into French Polynesia and buying some fresh vegetables and bread. 
The anchorage was actually pretty uncomfortable.  It was overcast or rainy most of the time, very hot and humid, quite rolly and the dinghy dock was a challenge to overcome.  However, it felt good to be at anchor again.  Eventually though, we left for Hana Moa Noe bay on the neighboring island of Tahuata.  This was a really nice place.  First off, the sun was shining, the humidity was low and there was a cool breeze blowing off the land.  The water was so clear that as we were making our approach and I was on the bow ready to deploy the anchor, I looked down and saw some bottom details so asked Kathryn how deep it was.  It turns out that it was almost 50' deep!  The snorkeling was very nice with such clear water.  We even got to swim with some manta rays.  It was as though they were dancing in the water.  I made the mistake of reaching out and stroking the belly of the one I was swimming with which he didn't like at all.  He shot to the surface, the rapidly disappeared out of sight, swimming far faster than I could follow.
We next went down the coast a sort ways to Hana Te Fau bay.  It is a stunningly beautiful bay, with steep mountains lining three sides, hundreds of coconut palm trees clinging to the mountainside interspersed with various other lush green foliage.  It was unfortunately, hot and humid again with no cooling breeze.  The water was also pretty murky and while Kathrynand I did go snorkeling once, we both received jelly fishstings for our efforts.
This morning, we moved again.  This time to Hanamenu Bay back on, Hiva Oa.  We visited here on our last trip and are looking forward to once again soaking in a fresh water bathing spot in a stream not far from the beach.
Sunday, May 22, 2011
Current Location:  Anchored in Hakaotu bay on the west side of, Ua Pou, French Polynesia
09 dg. 23.833' N, 140 dg. 07.709 W
Total distance traveled so far by sea:  4908.64nm
After staying for a couple of days at Hanamenu Bay, we relocated to the nearby island of Ua Pou.  We spent the first couple nights at Hakamau Bay.  This is a visually stunning bay with several of the volcanic plugs (free standing vertical columns of rock) that this island is known for visible from the anchorage, but unfortunately, it was a bit rolly and the surf was such that we didn't want to try getting through it in the dinghy, so we never left the boat. 
Friday morning, we moved to this little bay which points directly west, so there is little or no swell.  There are also a few of the volcanic plugs visible from here.  There is a small one guarding the northern end of the bay and a huge one guarding the southern end as well as one inland up on top of a ridge that is often veiled by the white puffy clouds the trade winds cause to blow overhead.  There are also a lot of wild goats that can be seen scrambling around the steep terrain. 
Kathryn and I almost immediately jumped into the water and went looking for nice dive sites.  She took the south side and I the north side.  We both found what we thought would be good SCUBA sites.
Yesterday, we had two dives.  Adam's allergies were bothering him, so he missed out, but Dean (from Don Quixote) joined us for both dives and his 15 year old daughter, Jaime also joined us for the 2nd one.  They were both good, but the first one really stood out.  After the initial descent to 35', I looked up and around to spot Kathryn & Dean and saw a large Manta ray swimming by.  He ignored us and just kept slowly swimming away until he couldn't be seen any more. 
We started the dive at about 11:30, so the sun was directly overhead and had some really good visibility for the Marquesas, maybe 30'-50'.  There were lots of fish, some singly, some in small groups and many in large schools.  There were also several that I hadn't seen before and that is always a real treat.  The coolest thing though was a large octopus I spotted out in the open on a rock.  I don't know how long his arms would have been had they been spread out as he was keeping them tucked in under his head and body as he moved along, but the head was 8" in diameter and the suckers at the base of his arms were about the size of a fifty cent piece.  As soon as I approached him, he headed for a hole, but enough of him as still exposed so that when Kathryn and Dean got there, they could appreciate him.
Jamie joined us for the 2nd dive.  She's not certified but has done some SCUBA before.  She had a great time, but was plagued but minor problems.  First, the clasp of her weight belt came off and we had to reassemble it while about 30' down, then she had problems clearing her left ear, though she finally managed that, then she pricked her finger on a sea urchin.  I also had a minor issue.  I was so intent on getting Jaime's weight adjusted correctly that I forgot to put a weight that I normally use into a pocket of my BC vest.  I like to have just enough weight on my belt so that without the tank on, and holding a normal breath I am just slightly buoyant.  Then I put a 5 lb. weight into the BC vest so that with a full tank, I am 4-5 lb.s negatively buoyant.  This lets me sink to the bottom easily where I then adjust the amount of air in the BC vest (BC stands for Buoyancy Compensation) so that I am just neutral, neither sinking nor floating.   Without my extra weight, I was able to drift to the bottom by emptying the vest completely, but I would be in trouble when my tank emptied and got lighter as I would then tend to float like a cork.  As a result, I spent the whole dive carrying around a rock to act as that extra weight.  The visibility wasn't nearly as good for the 2nd dive as it was late in the afternoon and the sun was low in the sky, but as I said earlier, everyone had a good time.
Wednesday, May 25, 2011
Current Location:  Anchored in Daniel's Bay, on the SW corner of Nuku Hiva, French Polynesia
08 dg. 56.794' N, 140 dg. 09.893 W
Total distance traveled so far by sea:  4936.09nm
Thursday, May 26, 2011
Current Location:  Anchored in Daniel's Bay, on the SW corner of Nuku Hiva, French Polynesia
08 dg. 56.601' N, 140 dg. 09.816 W
Total distance traveled so far by sea:  4936.30nm
Friday, May 27, 2011
Current Location:  Anchored in Tai O Hae Bay, on Nuku Hiva, French Polynesia
08 dg. 55.075' N, 140 dg. 05.728 W
Total distance traveled so far by sea:  4942.16nm
Saturday, May 28, 2011
Current Location:  Anchored in Comptroller Bay, on Nuku Hiva, French Polynesia
08 dg. 53.709' N, 140 dg. 03.157 W
Total distance traveled so far by sea:  4949.67nm
Monday, May 30, 2011
Current Location:  Anchored in Tai O Hae Bay Bay, on Nuku Hiva, French Polynesia
08 dg. 54.965' N, 140 dg. 05.831 W
Total distance traveled so far by sea:  4957.28nm
Wednesday, June 1 28, 2011
Current Location:  Anchored in Tai O Hae Bay, on Nuku Hiva, French Polynesia
08 dg. 54.969' N, 140 dg. 05.811 W
Total distance traveled so far by sea:  4963.48nm
Thursday, June 2, 2011
Current Location:  Anchored in Daniels, on Nuku Hiva, French Polynesia
08 dg. 56.663' N, 140 dg. 09.815 W
Total distance traveled so far by sea:  4969.50nm
Collision at sea!!!!
Yesterday, while moving from Tai O Hae Bay (where the main town is) back to Daniels Bay, we were struck by a local 30' fishing boat traveling on a plane at high speed (at least 20 kts, or about 5 times as fast as we were going).  He was coming at us close to head on, about 15 degrees to the left of our bow and I spotted him long before the impact.  At least 3 times, I thought he had altered course to avoid the collision, but apparently it was just waves throwing him off course and a few seconds later, his autopilot would bring him back to a collision course with us.  It seemed as though every time I tried to alter course to get away from him, he would turn in the same direction so I would reverse my turn and then he would turn back into me.  Unfortunately, by the time I decided that no one was at the helm and just went hard over to the right, it was too late.  He was going too fast to avoid.  I did managed to change a disastrous collision where he was going to ram us forward of the mast to a glancing blow right on the port quarter (the back left corner of the boat).  I had the boat turning as sharply as it would, but these boats just don't do things quickly.  They accelerate and slow down slowly and turn very slowly.  It just wasn't enough to keep from being hit.
There were two guys in the back of the boat cleaning fish or something and neither one of them were looking where they were going.  Damage to their boat was nonexistent, it was a very heavy wooden boat and build like a tank.  You couldn't even be sure which scuff mark was the result of the collision with Loose Pointer. 
We didn't fare so well.
The solid rail on the aft quarter was crushed, the BBQ will never work again and while we may be able to rebuild the fish cleaning table from the pieces, at the moment it is out of commission.  Also, there is a large blue-green scuff mark on our hull.  The good news is that no one was hurt and we are still floating.  It was just Kathryn and I on board as Adam was making the trip with our friends aboard Don Quixote.  I was at the helm and Kathryn was standing at the starboard quarter throwing biodegradable garbage overboard.
We returned to the town at Tai O Hae Bay to assess the damage, report the accident to the local gendarmes and see what services might be available to repair the rail.  The answer to the last question is that nothing is available.  We might be able to get it repair in Papeete when we get to Tahiti, but it will probably have to wait until we get to New Zealand around November.
I bent my boat and feel really down about it.  At least, I keep telling myself, no one was hurt.
We are back at Daniel's Bay now and will walk into a really cool waterfall tomorrow morning, then tomorrow afternoon or the next day, we will shape course for the next island group, the Tuamotus.   While the Marquesas where we have been for the last 3 weeks are young, steep volcanic islands, the Tuamotus are very old.  So old that there are no islands left, just the roughly circular reefs where the islands used to be.  The diving in the Marquesas is so-so at best, but the diving in the Tuamotus is nothing short of spectacular.  I'm really looking forward to it.
Tuesday, June 8, 2011
Current Location:  Anchored in Ahe, the Tuamotus, French Polynesia
14 dg. 32.216' N, 146 dg. 21.452 W
Total distance traveled so far by sea:  5467.09nm
His is to let everyone know that a few hours ago, we completed the 4 day passage from the Marquesas.  More on that later, but for now, here's something from Aeron, one of the kids aboard our buddy boat, Don Quixote:
Guest Blogger: Aeron Conger
All that could be heard was the gentle pitter patter of cat feet on our fake wood floor. There was a slide, a whoosh, a bang, and a meow from a slightly dazed cat and I knew it was going to be an interesting day.
"Mommy can I have some Nutella on my pancakes?"
"No Aeron you may not have Nutella on your pancakes."
A chorus of awwwss rang out from the dining table. "All right everybody eat up! Today we will be seeing a cultural event that is amazing and you 're lucky you get to see. So hurry up." Mom reports.
"And tomorrow we will be visiting Ancient Rome so don't forget your chariot!" I joked.
"BOOM BOOM BOOM BOOM!" The welcoming drums were loud enough to vibrate your kneecaps and send your teeth chattering. As we rounded the point the seven ships came into view. They were in a procession one right after the other.
The villagers were welcoming the seven boats who started in New Zealand and were ending their adventure in Hawai'i. It was truly an amazing sight!
We finally made it to the shore just in time to see the celebration. Men in the village were doing a Polynesian version of a haka- A traditional war dance-  To both welcome and scare their guests.
Once the men and women were done welcoming their now completely stunned guests, it was time for the speeches. We sat there for what seemed like hours baking like the fish that the villagers were going to serve. Each boat did a traditional dance from each of their cultures. There were seven boats with seven different cultures so as you can imagine it took awhile. There was Samoan, Fijian, Hawai'ian, Maori, some form of African, even Polynesian! My ears are still ringing from all the battle cries, blessings to all different Gods, beautiful songs, and traditional songs.
It was a truly amazing experience. The guests were able to show off their beliefs, their cultures, and their people. After that the islanders gave anyone who was visiting, like us and the guests, a great feast of fresh fruit. There was a watermelon, pamplemousse, coconut and banana. There was also a very good pastry. :)
You cannot pay for an experience like that. It was incredible. I am Aeron Conger, I'm ten years old, and I am the luckiest girl in the world.
Friday, June 10, 2011
Current Location:  Anchored in Ahe, the Tuamotus, French Polynesia
14 dg. 32.216' N, 146 dg. 21.452 W
Total distance traveled so far by sea:  5467.09nm
Our passage from the Marquesas to the Tuamotus took us almost exactly 4 days.  The first three were literally a breeze.  We had the spinnaker (the colorful triangular sail that floats out in front of the boat) up for all but the first night, the seas were calm and we had just an idyllic sail.  The last day and night however, the winds and seas built for a fast, but somewhat uncomfortable and tiring final 24 hours. 
We are now anchored inside the Ahe atoll.  An Atoll used to be an island, but all that is left is a low lying series of small coral islands, called motus, around what used to be a central mountainous island that has eroded completely away.  As such, we are completely protected from the ocean waves.  In fact, this is probably the calmest anchorage we have ever been in.  People who live in houses just cannot understand what a luxury it is not to have your home rocking at all.  It is a wet dream come true.
To get inside the atoll, you have to come in through a break in the coral called a pass.  The passes are often shallow and rough, so you want to time your passage with the tides so that you enter at slack high tide when the water is deepest and the current non-existent.  The problem with this is that there is no easy way to tell just when slack high tide is going to be since it is different for every day and for every atoll and there are no little booklets available listing the information as there is for every harbor back in the civilized world.  There are, however computer programs that try to tell you when high and low tide occur.  The problem is that the different programs often don't agree.
When we arrived at Ahe, we decided to use the program that our buddy boat, Don Quixote usually uses mostly out of laziness on my part.  Toast had already looked the information up and I was too lazy to go below, boot the computer, find my tide programs and look it up myself.
This was a mistake on my part.
Another issue with these passes and navigating inside atolls is that there are sometimes towers of coral that come up from the bottom to just below the surface.  Running into one of the coral heads can ruin your whole day.  The solution it to put someone up on the bow where they can look down into the water, see the coral heads and signal to the driver to turn left or right to avoid them.  As such, I asked Kathryn to go up onto the bow while I drove the boat through the pass.
This was a rather big mistake on my part.
These two mistakes combined to make our entering Ahe quite interesting.  The first resulted in our coming through the pass when there was a fairly strong incoming current.  In other circumstances, this would be no big deal.  But atolls have a natural outgoing current caused by water that washes over the coral rims with the waves leaving the atoll via the pass.  When the incoming tidal current meets the outgoing current at the shallowest part of the pass (12'-15'), very, very steep standing waves occur, similar to those in a river.  When we hit these, one moment, out bow would be pointing at the sky, and the very next moment, out bow would be pointing at the bottom of the ocean.  In the meantime, our forward progress came to a virtual stop.  Remember now, Kathryn is standing on the very bow of the boat hanging for dear life onto the forestay.  Multiple times, there were waves of white water washing down the length of the boat and at least once, Kathryn lost her footing and was knocked to the deck by these waves crashing through.  This was more than an E-ticket ride.  This was more that Space Mountain, the Matterhorn and Splash Mountain combined.  This was downright exciting.  Just to make life a bit more interesting, just as we hit these standing waves, both my dedicated depth sounder and my fish finder lost track of where the bottom was, so I had no idea how deep the water was.  My greatest fear was Kathryn being washed overboard.  Right behind that was the possibility of hitting the bottom hard and seriously damaging the boat.  Just to complicate matters, another boat, Chesapeake, was closely following us in so if I turned around and aborted our attempted entry, colliding with them was a real possibility.  In the end, we made it safely into the atoll and are now in a very comfortable anchorage.
One of the nice things about having left Mexico is that we now have a much more international group of boats we encounter.  In Mexico, about 2/3 of the boats were from the US and rest were from Canada.  For instance, here in Ahe, there are five boats.  Don Quixote, Loose Pointer and Chesapeake are all from the US, but right next to us are Beyond from Glascow Scotland and Juliet from Luxemburg.  An interesting aside is that for many years, as the senior programmer for Comp Pro Med, I interacted with one of our customers, Alan Mitchell, who was from Scotland and had the thickest Scottish brogue you've ever heard.  Initially it was very difficult for me to understand Alan's accent though eventually, I got used to it and understood it effortlessly.  I was therefore prepared to act as almost an interpreter with the Scottish boat.  It was almost a disappointment to find that their accents were actually quite faint.
Sunday, June 12, 2011
Current Location:  Anchored in Ahe, the Tuamotus, French Polynesia
14 dg. 32.216' N, 146 dg. 21.452 W
Total distance traveled so far by sea:  5467.09nm
Calling for help.
I've been asked how people would know if we were in trouble.  It's an excellent question.  As with anything of a critical nature on the boat, there are redundancies.  In this case, the back ups have backups.
Our first level of calling for help would be the buddy boat we have been traveling with ever since Mexico, Don Quixote with Dr Dean Conner, his wife, Toast and 3 kids, Jaime, Meera & Airon (I may have the spelling of the kid's names wrong).  We are almost always within VHF (short range radio) contact with them and usually within sight of them.  This means that all we have to do is to pick up the microphone (both boats keep that radio always on) and we are talking to them.  For instance, when we were hit by the fishing boat, almost the first thing I did, even before assessing the damage was to call them and let them know what happened.  Within minutes, they were alongside us ready to render assistance if it were needed (as it turned out, the only help we asked for was for Toast to accompany us to the Gendarme's office later when we reported the collision since she speaks some French).
When we are out of VHF range, we have a schedule where we contact each other multiple times per day via the SSB (long range radio).  As well as chit chatting, we exchange our current positions, course and speed.  Should either boat fail to make contact for 24 hours, the other one will go to the last reported position and then head along the reported course looking for them.
The third level is the same email ability that you are receiving this journal entry by.  If necessary, I'll send out an email to a few people (primary among them will be my brother and sister) describing the situation and asking them to contact the Coast Guard.
The fourth level is our SSB (the long range radio) has a special frequency that I can switch to with a single button (2182KHz) that is always monitored for emergency traffic.
Finally we carry a device called an EPIRB (Emergency Position Indicating Radio Beacon) that if we set it off, sends a message to a satellite telling it who we are and where we are.  The satellite then retransmits it to the Coast Guard and it is treated as a request for an immediate rescue.  If we are within helicopter range of a coast, they will be dispatched.  Otherwise, A C-130, a large, 4-engine airplane, will be sent to look for us.  They will be ready to talk to us via the VHF (short range radio), drop big de-watering pumps, life rafts or whatever else to us while the nearest freighter is diverted to our position.  These guys are good too.  An acquaintance of ours started taking on water a few years ago on the way from Hawaii to California and a C-130 dropped a pump to him.  The container with the pump landed on one side of the boat and the parachute on the other side of the boat with the lines draped across the boat.
Finally, we have a life raft that in a real emergency we can use while we wait for help to arrive.
This is probably a good time to remind you all that if you don't hear from me for awhile, please don't panic and call the Coast Guard and report that we may be in trouble.  The most likely reason you haven't heard from us is that I've either been too busy having a great time to send out a journal entry or I've just gotten lazy.  When underway, the latter is the likely culprit as the constant motion of the boat is very tiring and it takes a real effort to get anything other than the bare minimum needed to run the boat done.  It's also very possible that there is some technical problem with the email system.  To send and receive emails, my computer, SSB and another box called a Pactor modem all have to cooperate and all the wires connecting the three must work right.  In a marine environment, with the salt air and all the bouncing around we do, this is actually asking quite a lot. It's kind of like a dancing bear.  The amazing thing is not how well the bear dances, but that it dances at all.
Sunday, June 25, 2011
Current Location:  Anchored in Morea, the Societies, French Polynesia
17 dg. 29.469' N, 149 dg. 51.101 W
Total distance traveled so far by sea:  5766.63nm
When I came on watch at midnight, the sky was mostly clear and the stars were as bright as I've ever seen them.  This is difficult to adequately describe to those who have never seen the sky on a clear, dark night at sea.  The dome of the sky above you is just filled with stars and the Milky Way id a glowing band that starts at one horizon, stretches up across the sky, and then disappears down past the opposite horizon.  It's not quite enough light to read by, except for the largest of print, but plenty of light to move around the boat with.  We are on a beam reach, a point of sail that this boat just loves.  With 17 kts of wind, the double reefed main, full staysail and jib rolled into between the 1st and 2nd reef marks, we are gliding along at just over 7 kts and the boat has a nice comfortable motion to it.  I love night watches like this and can spend hours just staring up at the sky, imagining what planets must be orbiting the countless stars above me.  Eventually though, a half moon rises, its light drowning out much of the grandeur of the starry heavens.  Sometime after that, some clouds came by, hiding even the moon from my view.
We are under way on an overnight passage from the Rangiroa atoll in the Tuamotus to the island of Morea, just west of Tahiti.  We only visited two atolls in the Tuamotus, but spent several days snorkeling at Ahe and more than a week SCUBA diving in Rangiroa.  The snorkeling at Ahe was generally very nice, but the last day was some of the best we've ever experienced anywhere or anytime.  In the morning, we had moved the boat from the wonderfully protected anchorage over to very close to the pass into the atoll.  Atolls are just rings of coral with no central island.  Ahe is about 6 miles across and Rangiroa, a large one is about 15 miles across.  The tide was coming in at about 3 kts, so this area was being flooded with the crystal clear water of the deep Pacific (just an 1/8th mile offshore, the water is already several thousand feet deep).  We spent a few hours drift diving the pass with Don Quixote.  To do this, everyone piles into the dinghies and we go to just outside the pass.  Then everyone except one jumps in with their snorkeling gear and lets the current carry them through the pass while the one unlucky sole who got stuck with the dinghies drives one while towing the other to meet the swimmers on the other side of the pass.  I was the dinghy driver for the first drift, and as soon as people jumped into the water, most of them would stick their heads out of the water to shout (or in the case of the younger girls, squeal) about how clear the water was so when my turn came, I was eager to experience it.  It was fantastic.  The visibility was literally 150'-200'.  You felt as though you could see forever. In addition, there were fish everywhere.  Aeron (Don Quixote's 10 year old) even found an octopus.  After we had drifted the pass several times, we moved to just around the corner, inside the atoll where we found twisted canyons of coral.  The tops of the coral walls and towers were usually just 2 or 3 feet below the surface and the sandy paths between them about 15' down.  Again, there were incredible numbers of fish in the crystal clear water for us to enjoy, including at least 3 white tipped reef sharks prowling the bottoms of the canyons.
Eventually, the time came to return to the boat, pull the anchor up and head out the pass.  In order to anchor so close to the pass, we had had to anchor in water deeper than we had ever done before, 98 feet!  When it came time to pull the anchor up, we discovered that our windlass (an electric winch dedicated to pulling the anchor up) is a bit undersized for the task of pulling a 66 lb anchor and a 100' of chain out of the water.  It kept popping the circuit breaker.  Eventually though, we got the anchor back on board and headed out the pass for an overnight run to Rangiroa.
The timing of the passages from atoll to atoll can be a bit tricky sometimes since you want to go through the passes at slack tide (see my last journal entry for a description of what it's like when you miss-time this).  In this case, we left Ahe in the afternoon and arrived at Rangiroa before dawn and had to heave to for a few hours waiting for daylight and slack tide.  I'm happy to say that both our exit from Ahe and our entrance to Rangiroa were done in smooth water with nothing exciting to report.
We spent our time in Rangiroa SCUBA diving…. A lot.  Rangiroa is a much larger atoll had has a very much larger population than Ahe along with the services to support it.  It even has an airport.  We were thus able to hire a local dive master to take us outside of the pass for our first dive.  Once again, we were in crystal clear water and so saw a lot.  Among other things, there was a large school of barracuda and down below us, at about 140', we could see off in the distance about a dozen gray reef sharks in one spot.
We SCUBA dived every day we were at Rangiroa except one.  All but the first day, we dove on an area inside the atoll called The Aquarium.  Suffice it to say it lived up to its name.  We never seemed to tire of it.  Depending upon the tide, visibility varied from incredible to just better than California ever dreamed of.
Eventually, the time came to leave Rangiroa for the 30 hour trip here to Morea.  It was a fast trip indeed.  In fact, we set a new 24 hour record for us, 169.1 nm.  I'm sure this boat is capable of a 180 nm day or even more given the right conditions.
This afternoon, there will be a large number of boats showing up here as part of a rally for this year's puddle jumpers (those who crossed the Pacific).  I've no idea how many, but it wouldn't surprise me if close to a hundred boats participate.  The rally actually started yesterday in Tahiti, but we decided to miss the opening festivities and get here a day early to find a good spot to anchor.  After the rally officially ends tomorrow, Toast (our friend from Don Quixote) has organized a get together of boats with kids aboard.  The last time we spoke (they left Rangiroa a day before we did and went to Tahiti for the start of the rally), she had commitments from 10 different kid boats and "maybes" from a few more.  The kids will range from 2 ½ years old up to teenagers.  Among them will be boats we made friends with and haven't seen since last fall.  It should be fun.
Saturday, July 9, 2011
Current Location:  Anchored in Papeete, Tahiti, the Societies, French Polynesia
17 dg. 34.992' N, 149 dg. 37.095' W
Total distance traveled so far by sea:  5804.85nm
A lot has happened in the last couple of weeks.  To begin with, just after arriving at Morea, someone told us that they had heard on the radio that Don Quixote had lost the outboard for their dinghy.  Normally, this would be sad, but not really a big deal for us.  However, back in the Marquesas, their outboard had died, so we loaned them our big one until they could get theirs fixed in Papeete.  We found out the next day when they got to Morea that after launching their dinghy and lowering our outboard onto it, it didn't get tightened down onto the transom properly and while Jamie was driving it, the outboard jumped off the transom and dropped to the bottom 45' below.  It took them less than an hour to recover it and after giving it a fresh water bath, turned it over to a mechanic.  As a result, it now works as well as it ever did.
There was something over 50 boats that participated in the puddle jump rendezvous.  The anchorage at Morea was so crowded that we had Don Quixote rafted to us (we had gotten there a day early so had a primo spot in the anchorage).  There was native dancing, heavy stone lifting, lei making and coconut shucking and shredding classes, outrigger races and a lot of fun.  Each team in the outrigger races consisted of 4 cruisers and 2 Polynesians.  The two Polynesians occupied the front position which sets the pace and the last position in the outrigger which is responsible for steering.  There were 4 outriggers and 28 teams of cruisers, so it was quite the big event of the rendezvous.  I'm proud to say that in the original 7 heats, our team had the 2nd best time out of all 28 teams.  Unfortunately, we were beaten in the semi finals by the team that went on to take overall first place.  I take pride in how we performed, especially since our team was much older than the one that beat us.  We probably averaged in our mid-fifties and I doubt if the oldest member of the other team was even 30 years old.
After the 3 day rendezvous, those boats with kids aboard stuck around and with over 20 kids, there was even more fun to be had.
Here's the list of participants but it may not be complete as the kids were moving around it was kind of hard to count them all.
Watcha Gonna Do (Danielle 12, Harrison 10)
Loose Pointer (Adam 15)
Evergreen (Josh 13)
Don Quixote (Jaime 15, Mera 13, Aeron 10)
Phambili (Cameron 10, Anina 15, Naomi 13)
Savannah (Jake 5)
Big Fish (Matt 14, Alex 13, Ayla 11)
Calou (Francois 16, Antoine 13)
Nina (Dave 16)
Rhythm (Joey 17, Olivia 15)
Ceilydh (Maia 9)
Discovery (Claire 12)
After Morea, we headed for Tahiti, just 15 o 20 miles away, but about half way there, there was a call on the radio asking for assistance.  Since we were the closest boat, we put on our AAA hats again and changed course to Star Gap's location about 13 miles away, off the SW corner of Tahiti.  They were coming in from the Galapagos, but there engine had failed.  Normally, this would be no problem, but there had been no wind for the last two days and they were drifting further and further away from Tahiti.  Being the nice guys that we were, we towed them in, arriving in Papeete (the main city on the island of Tahiti) just as it was getting dark.  It's funny, we either assisted or participated in the assistance of half a dozen boats while in La Paz and it was no big deal.  For some reason though, after towing Star Gap in, we are now enjoying a little local fame.  Perhaps it's because they were so far out.  On the other hand, there seemed to be a lot of boats needing assistance in La Paz, but very few out here.  I guess the boats that have made it this far, have pretty figured things out and are pretty self-sufficient.
We've enjoyed being able to buy things here in Papeete.   They have real supermarkets and everything.  There are also real chandleries and even an Ace Hardware.  On the other hand, it's a bit crowded.  There are well over a hundred sailboats competing for limited anchoring space.  We were anchored way out there for several days.  It meant a long dinghy ride into the dock, but it was nice and quiet.  Unfortunately, we are going to have a local guy replace the cooling system on our refrigerator Monday/Tuesday, so when Don Quixote left yesterday, we took their spot right next to the Dinghy dock.
Why are you replacing the refrigeration you ask?  I'm glad you asked that. You see, it's like this…  Our refrigerator stopped working the other day.  Being the handy guy that I am, I dug into it and diagnosed that there were actually 2 different problems.  One was a wire that had gotten too hot and the other was a solenoid that stopped working (the hot wire connects to the solenoid, so the heat may have caused it to fail).  I then replaced the solenoid with one from our spare parts collection.  It wasn't the identical part since the replacement was a spare we had onboard for something else, but I was able to get the refrigeration working again…honest.  Then, while putting the cover back onto the control box, I made a major boo boo.  There I was, stretched out, laying sideways over the top of the engine struggling to get the screws back into the cover plate.  As is common on a boat, they are in a very awkward spot, one where I can see them or touch them, but not both at once.  As I was wiggling around, trying to get a better angle on things, suddenly, there was a very loud hissing and I was instantly enveloped in a cloud of escaping coolant.  I had apparently pressed against one of the metal tubes with the back of my shoulder and broken it.
This was a major bummer.
We had the local refrigeration expert look at it and while he can repair it and recharge the system, neither he nor us can figure out from which refrigerant it uses and he tells us that if we guess wrong, then the system will never work again.  This coupled with the fact that the unit is at least 15 years old and down here in the tropics, it is using a massive amount of power caused us to go ahead with the expensive decision to replace it with an expensive but  much more power efficient system.  This will cost us a few more days here at Tahiti and a couple of thousand dollars, but nobody ever said this was going to be a cheap adventure.
On the bright side, Adam is able to spend lots of time with a number of other teens here and the sunsets are just glorious with the sun sinking down behind the island of Morea every evening.
Thursday, July 14, 2011
Current Location:  Marina Tahina, Papeete, Tahiti, the Societies, French Polynesia
17 dg. 35.116' N, 149 dg. 36.996' W
Total distance traveled so far by sea:  5805.10nm
Monday was an interesting evening.
Several of the cruisers here got together at sundown for a dinghy raft-up just inside the barrier reef for drinks, appetizers and talk.  It was a bit windy and some wave remnants were making it over the reef to make things a little bouncy for us, but it was a glorious sunset and everyone had a great time.  Once the sun was down, we all headed back to our boats.
Just after dark, Kathryn and I heard some shouting and when we came up on deck, we found that  Discovery's anchor wasn't holding and she had dragged down on us.  Had we not rushed up to bow to fend her off, the boats would have collided.  By the time Kirk got his engine started and in gear, their dinghy had hung up on our anchor chain so they had to cast it loose before motoring back upwind.  While the boats were together, Kathryn climbed over the rail and joined Kirk (he was the only adult onboard) while I hopped into our dinghy to recover his dinghy which was drifting away.  By the time I got back to Discovery, Kirk had the boats well separated.  The only trouble was that his windlass was broken so we had to manually crank his chain and anchor aboard.  Since he has a large boat with a big anchor and heavy 1/2" chain, this was quite a chore.  We got his boat positioned in the middle of the channel where we were going to leave it for the night, let the anchor fall and a few seconds later, things suddenly got a lot more exciting. 
It seems that Kirk had ordered a new windlass and in preparation for receiving it had tried to remove his old one.  He had removed all the mounting bolts but couldn't get the 5200 adhesive to break loose.  As the anchor was going out, about the time there was 50' of chain out, the 5200 let go causing the whole windlass to spin around and jam the outgoing chain so that it wouldn't budge in either direction.  We now had 150 lbs of chain and anchor dangling below us, just barely scraping across the bottom.
But wait! (as they say on the Ginzu knife commercials)  There's more!!!
As we were trying to figure out what our next step was, Loose Pointer started dragging with no one aboard (since Kathryn & I were both on Discovery and Adam was off somewhere with his friends).  I can't prove it, but I think that when Discovery dragged down on us,our anchor was disturbed.  In any case, our boat was now in danger of bumping into a couple of boats that had been behind us.  I then abandoned Discovery, leapt into our dinghy and rushed over to Loose Pointer.  Just as I got there, Craig from another boat got there so I quickly started the engine and gave Craig a quick lesson on the controls, turned on the windlass and rushed up to the bow to get the anchor up.  We did so, circled around and wound up dropping our hook out in the middle of the channel for the night.
But wait, there's even more!!!!
We've now got Loose Pointer safely anchored again, but when we look up back toward Discovery, he's got another boat just a few feet to his starboard with someone's dinghy jammed in between acting as a fender.  Apparently, while motoring around with his anchor dangling, he had hooked Britannia's chain and was now dragging the much smaller boat around with him.  As if things weren't already interesting enough, Brittania had anchored with two anchors in tandem making the task of untangling everything even harder.  By now tough, they had a number of people aboard Discovery to assist, so I stayed with our boat to monitor things.
Our's was obviously not the only excitement that happened that evening, as when the sun rose the next morning, there were at least a half dozen boats anchored in the middle of the channel. 
Just to add insult to injury, when Kirk finally got an anchor down and set, his boat was sitting in the really nice spot close to the dinghy dock that we had so worked hard to get (the anchorage is really crowded) so that a mechanic could work on our refrigeration.  However, we lucked out and managed to get a spot in the marina for the next couple of nights.  This it made it even easier for the mechanic to replace the cooling system for the refrigerator (but not cheap!).  That work is now done, and not only does the refrigerator work again, but it should use a lot less power than it did before.
Thursday, July 21, 2011
Current Location:  Avea Bay, Huahini Iti, the Societies, French Polynesia
16 dg. 48.730' N, 150 dg. 59.568' W
Total distance traveled so far by sea:  5925.04nm
Do you remember my telling you about Star Gap a few journal entries ago?  That was the 45' ketch we towed in to Papeete from about 13 miles away.
The adventure continues.
He had requested a tow because his engine had frozen a couple of days out of the Galapagos on the way to Polynesia.  He had headed for Tahiti instead of the usual destination of the Marquesas since he figured (correctly) that it was probably the only place in Polynesia that he could get the mechanical assistance he needed.  He had then gone way south, not wanting to risk going through the crowded and difficult to navigate Tuamotus without an engine in case the wind died.  This was a good choice on his part.  Unfortunately, it took him 7 weeks (49 days) to get within sight of the island.  Then Murphy dumped on him again.  Within sight of the island and just south of it the wind not only dropped to almost nothing, but he found himself in the wind shadow of the island.  I can understand his not wanting to come around the north side and risk being on a lee shore, but he failed to remember that there's no wind on the lee side.  He spent another two days trying to sail up to the city of Papeete against an adverse current.  Every time the breeze would come up for a few minutes, he would make some headway then the wind would die again and the current would carry him back.  After a couple of days of this, he finally called for help and we wound up towing him back in. 
The skipper is an older guy (79) named Brian from South Africa.  He's a real nice guy and was really appreciative of the aid we rendered.  In return, he gave us 20 gallons of diesel and offered to also give us the ¾" tow rope we had used that evening.  It was a really nice piece of line, but we felt that the diesel was more than enough, so we declined the tow line.  He had picked up 4 young men in Panama to crew for him and they all agreed that he was a nice guy.  Nevertheless, within a few days, they had all found other boats to crew on since it was pretty plain that Star Gap wasn't going anywhere soon.
When we finally got him to Papeete, it was getting pretty dark, the anchorage was very crowded and so we decided to have him drop the hook in an unauthorized area.  After all, we figured, we can always move him again in the morning.  The local harbor police were very accommodating though.  Just get your engine fixed then re-anchor when you can.  I suspect they assumed that it would only be a couple of days.  I think it was about 10 days later, his engine was no closer to working than it was when he got there and they finally told him he had to move his boat.
Since we had been so helpful before, he asked us if we could assist him again.  He said that he could see what looked like a good spot near one of the channel markers and wanted us to use our dinghy (his just has a 2 horse power engine on it) to move him over there.  I told him that he should go over there in the dinghy to make sure that the open space was going to be big enough and that there were no coral heads in it.  He agreed to do so and we arranged a time to show up the next morning to get him moved.  I also recruited a couple of teens from other boats (Josh from Evergreen and Francois from Calou) to give us a hand.  This also gave us a 2nd powerful dinghy.  When moving a much larger boat with dinghies, the way to do it is to tie one dinghy along each side of the boat.  The dinghies then provide the power and the boat does the steering.  If needed, the dinghies can also steer by one of them going into reverse while the other powers forward.
When we got there, Brian was ready to go.  He had two anchors out, the primary (all chain) in one direction and a secondary one (mixed chain & rope) in another.  Kathryn and I started hauling in the secondary one while he and the boys got started on the primary.  While doing this, our dinghy ran out of gas (this is the dinghy Adam normally uses and I had failed to check the gas when we got in).  We therefore aborted hauling in the anchor, took the rode back to the boat, told the boys who were on deck (Brian was either in the wheel house or down below – in either case, he wasn't in sight) what the problem was and that we would be right back and left to refill the tank (by tilting the tank to one side, there was enough gas in it to get us back to our boat).
Back at our boat while Kathryn and I were filling the tank, Brian's panicky voice comes over the radio, "Dan where are you.  The anchors are up and we're drifting towards the rocks!!!!"
We look at each other wondering what the Hell is going on?  We left him with two teens (15 & 17) and a powerful dinghy.  Why on Earth didn't he wait for us before raising the 2nd anchor and in any case, why can't the dinghy that's there keep him safe?
We rush through the refilling and zoom off back toward Star Gap.  In the meantime, his radio call in a crowded harbor had the predictable effect and by the time we got there (no more than 3-4 minutes), there were at least 4 or 5 other dinghies milling about.  He was nowhere near any rocks.  In fact, the only thing he was in danger of bumping into was another illegally anchored boat that was nearby.  We quickly pull him safely away from this other boat.
After getting him calmed down, I put Kathryn onboard and proceed to side tie my dinghy to the port side while one of the boys gets into the other dinghy on the other side.  At this point, Brian starts arguing with me.  He wants me to take a line to his bow and tow him like we did with Loose Pointer.  The only problem with this is that it won't work.  If you try to tow a large boat with a dinghy, because of the pull of the much larger boat on the back of the dinghy, you have no steering and can't control where you are going.  You see, unlike a car which steers with its front wheels, a dinghy steers by turning the outboard engine and pushing the back of the dinghy to one side.  When the back of the dinghy is secured to a much larger boat being towed, it is kept from being pushed to the side.  While trying to convince Brian of this, he insists "But Dan, I've got the wheel hard to the left and the wind is still blowing us to the right.  I don't have any control!"  After reminding him that he doesn't have any control because we're not moving yet and there's no water flowing past his rudder, I finally convince him to do it my way.
Eventually, we get us side tied and underway, his helm is responding and I look up and ask him where we are going.  All the reply I get is "I don't know, I thought you were going to take me to where we can anchor."
("Groan")  I'm down in the dinghy, most of my view is blocked by his boat and he expects me to find and direct him to a spot in a crowded anchorage!
Fortunately, I've got someone whose competence I can trust aboard his boat (Kathryn), so she takes the helm and finds us a place.  Brian directs Josh in how to drop the anchor and the adventure of the day is over.
Brian is a real nice guy whose company I enjoy and in talking to him, I think that a few years ago, he was intelligent and competent.  But I'm afraid that his age has caught up with him.  His ability to plan ahead and respond to the unexpected have become severely compromised.  I've seen this happen before and it's always sad.  I'm not too worried about Brian.  After all, he's lived his life and if he dies at sea, that's probably the way he would prefer.  I'm just afraid that he may take someone with him.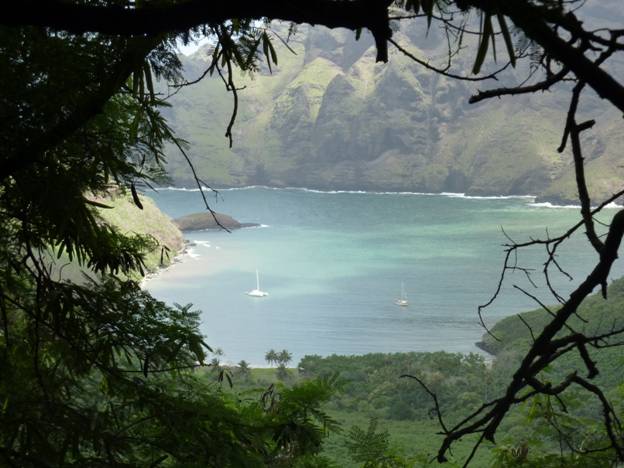 Monday, July 25, 2011
Current Location:  Fare, Huahini Nui, the Societies, French Polynesia
16 dg. 42.700' N, 151 dg. 02.211' W
Total distance traveled so far by sea:  5933.8nm
We spent several days in beautiful Avea Bay.  We didn't do a whole lot other than work on Adam's school work.  I did manage to clean the bottom and Kathryn finished cleaning the waterline, a job she started some time ago.  Somehow, we got into the habit of me cleaning the bottom (using SCUBA) while she cleaned the water line.  I'm not sure which if us got the short end of the stick on this one.  While the bottom has a lot more area to be cleaned, the waterline is more difficult to clean as it gets a lot more growth.  There was another kid boat, Yuranga with Gary, Sue and (14 year old) Tyler aboard.  We first met them in Papeete.  Tyler was one of a small gang of teens that Adam hung out with there.  Tyler, especially has one of the most intense Australian accents I've ever heard.  As with pretty much all the cruising kids though, he's a good kid.
From Avea bay, we came up inside the reef to here (anchored off of a town called Fare) where we will spend a couple of days.  This gives us a chance to do a little grocery shopping and also enjoy the happy hour at a place right next to the dinghy dock.  I actually ordered a pitcher of beer this evening.  That's the first time I've done that in so long that I don't remember the last time.  We had a nice time with Yuranga and Rob & (can't remember her name) from Blue Moon, a S. African boat.
Wednesday, July 27, 2011
Current Location:  inside the reef, S. end of Raiatea, the Societies, French Polynesia
16 dg. 54.990' N, 151 dg. 25.805' W
Total distance traveled so far by sea:  5961.24nm
We are anchored off a motu (a very small island) inside the reef off of the s. end of Raiatea.  This one is inhabited and (unusually) has no trespassing signs every 100 yd.s or so around the island.  It is a beautiful anchorage, though kind of a difficult one as there are no good, sand filled spots of appropriate depths on the lee of the motu.  The water goes from about 95' almost vertically up to the beach in most places.  We will probably stay here for a couple of days as the wind is starting to blow pretty good and this is a very calm and protected spot.
Friday, July 29, 2011
Current Location:  inside of Toamara Pass, Raiatea, the Societies, French Polynesia
16 dg. 51.395' N, 151 dg. 29.185' W
Total distance traveled so far by sea:  5967.40nm
We did a quick snorkel this morning and the coral and fish were probably the best we've seen here in the Societies (although after the incredible times we had in the Tuamotus, that's really not saying all that much).  The problem was that the waves were so big coming over the reef that there was a really strong current.  After anchoring the dinghy and jumping in, you had to swim almost as fast as you could just to keep from being swept away from the dinghy.  Since this was the main reason we were hanging out here and the waves are predicted to continue for some time, we pulled the anchor this afternoon and headed up inside the reef along the W. side of the island.  We thought it would be a quick, easy little jaunt but when we got here, we had a heck of a time finding a place where we could safely anchor.  This island just doesn't seem to have much of a sandy shoal around it like the others we've been to.
Sunday, July 31, 2011
Current Location:  inside of Toamara Pass, Raiatea, the Societies, French Polynesia
16 dg. 51.395' N, 151 dg. 29.185' W
Total distance traveled so far by sea:  5967.40nm
Our inflatable dinghy disappeared last night.
It had been secured alongside the boat and when we woke up this morning, it wasn't there.  Gone with it is the 4hp outboard that my brother gave us to replace the one we lost off Pt. Sur, a pair of oars, a dinghy anchor, Kathryn's sandals and a pair of crocs.
We have another dinghy, the Porta-Bote that has served us so well, and we also have another outboard, a 15hp Evinrude that came with Loose Pointer.  The problem is that the outboard is too big for the dinghy. 
We had planned on stopping in at Utaroa, the city here on Raiatea (and the 2nd largest city in Polynesia to get some fuel and provision for the next passage and now it looks like we are going to have to buy an outboard too.  I've no idea how much it is going to cost, but one thing is for sure.  Here in Polynesia, it's not going to be cheap.  The irony of the situation is that Don Quixote just bought a 15hp one there a few days ago and now we have an extra one we can't use.
I'm getting real tired of having to replace outboards.
Sunday, July 31, 2011 (addendum)
Current Location:  inside of Toamara Pass, Raiatea, the Societies, French Polynesia
16 dg. 43.344' S, 151 dg. 26.435' W
Total distance traveled so far by sea:  5979.63nm
Today was an intensely interesting day.
Vexation, anger, exaltation, relaxation, extreme frustration – We've run the gamut of emotions today.
I woke up in a good mood this morning but as soon as I got out of bed, Kathryn (who had gotten up before me) announced "We lost the dinghy, it's gone." 
So much for my good mood.
The plan for today was to move about 8 miles up the island to Utaroa, the 2nd largest city in Polynesia.  We were going to anchor somewhere tonight, do some provisioning tomorrow, take the boat into the fuel dock then head out for Bora Bora from where we will check out of Polynesia.
The first problem was obviously that the dinghy had disappeared.  Either someone had stolen it or it had somehow become untied during the night.  If someone had stolen it, our chances of getting it back were a big, fat zero.  We had anchored just upwind and up current from a pass through the reef, so if it had become untied, there was a good likelyhood that it was swept out the pass and was now floating somewhere out in the middle of the Pacific ocean.  In other words, it was gone for good.
Anchoring pretty much anywhere at this island is difficult.  The water inside the reef is quite deep, generally 80'-150' deep and the bottom generally comes steeply up to the shore of the island on one side and the reef on the other.  In other words, no good placed to set the anchor.  Day before yesterday afternoon, we were getting desperate.  It was going to be getting dark soon and every spot we check out with the idea of anchoring failed to pan out.  We were just going from one spot to another and not finding anywhere to drop the hook.  The chart showed a shallow spot sticking up from much deeper water directly in front of the pass so in desperation, I approached it from downwind with Kathryn up on the bow ready to drop the anchor.
120'… 90'… 70' … 55' … 40' … 36' … 33' … 30' … 32' … 34'  It was at 34' that I called to Kathryn to drop the anchor and put it into reverse to start backing up and lay the chain over the top of the mound.  We got what felt like a solid set, so we let 150' of chain out and set the snubber.  The next day, the wind was gusting in the high 20's so I jumped in the water and followed the chain out to the anchor to make sure that everything was secure.
Oh boy, were we secure.
There was no sand, just irregular rock and dead coral that the anchor had caught on and the chain had threaded itself through.  Not only were we secure, I figured from looking at it that I would have to go down with SCUBA gear before we would get the anchor back aboard.
Wouldn't you know it, but just after we started to bring the anchor up, a squall came over the mountain treating us with 25-30 kt winds and some rain.  As I expected, we had difficulty getting the anchor up.  In several spots, the chain hung up on the rocks and with the wind, we were not only being buffeted around, but there was no way I could see down into the water to tell which way we had to motor the boat to try to unstick the chain.  As a result, we took some pretty good jolts.  Especially when a wave would come by and we'd come up short on the chain.  At Kathryn's suggestion, I finally gave up and came back to the cockpit to wait out the squall.  When it was over, we managed to finish raising the anchor without too much further difficulty.
Turning around, we started heading for the pass.  To our right, there is a motu (a very small island) inside the reef and just to the north of the pass.  As we get past the motu, there is the dinghy!!!!  It's floating in some very shallow (2'-3') water in the lee of the motu, between it and the reef.  Halleluiah!  We turn back around and Adam & I get into our swim suits, grab our masks and fins and as Kathryn drives the boat back along the motu, we jump in and swim over.  After walking across the motu, we wade out to the dinghy and other than being about 1/3 full of water (it must have gotten into the breakers on the reef), it's in good shape and from the outboard to Kathryn's sandals, everything is in it.  We bale it out, wade it out to deeper water and jump in. The outboard fires right up and we drive it around the Motu and back to where Kathryn is driving the boat around in circles.  After securing the dinghy up on the foredeck, we head out the pass for a very quiet and relaxing trip up the island.
Upon getting to Uturoa, we spot the fuel dock and then find a nearby spot that looks like we can anchor.  The anchor dragged on the first try, so we decide to bring it back up and try again in the same spot.  As Kathryn was doing so, the chain suddenly stopped coming in.  She could hear the motor turning, but the windlass wasn't turning.  "What's probably happened," I say, "is that we broke the key this morning."  The key is a brass piece that acts as a shear pin.  It is a replaceable piece that is supposed to break before anything else does.  Sort of like a mechanical version of a circuit breaker.  In fact, we had broken it once before back in California, so this seemed like the likely culprit.  Kathryn tells Adam that he is going to have to clean up the V-berth (where he lives) so I can get to the chain locker (where the windlass motor is) which is forward of the V-berth.
A few minutes later, he shouts up, "I think it's broken.  It's just hanging by the wires."
Our windlass is indeed irretrievably broken.  All 4 of the cast aluminum mounts have broken off the motor.
So, we don't have to buy a new outboard (which is readily available here) after all.  However, we do need to buy a new windlass which may or may not be available.  If it's not available or too expensive, what we will probably do is order one from the US and have it delivered to American Samoa where there is no duty and shipping from the US is cheap.  Since American Samoa has a zip code, you can just send stuff Priority Mail via the post office (as long as it isn't over 50 lbs) and it usually takes a week to 10 days to get there.
Are we having fun yet?
Friday, August 12, 2011
Current Location:  Mopelia Atoll, French Polynesia
16 dg. 46.694' S, 153 dg. 57.151' W
Total distance traveled so far by sea:  6162.20nm
 Just about every day cruising is a good day, but yesterday was a great one.  After all, it's not every day you get to go on two fantastic SCUBA dives and then finish the day by swimming with a whale.  It was awesome.
Since it's been almost two weeks since I wrote in this journal, so I should probably back up a little bit first and bring the account of where we've been and what we've been doing up to the present.
When I last wrote, we had just broken our anchor windlass which on a boat this size is needed.  As long as we can find a shallow spot to anchor, we can get by hauling the anchor and chain up by hand, but you can't always find such a spot.  Our next stop was the town of Utaroa (16 dg 43.344'S x 151 dg 26.435'W), on the east side of the island of Raiatea.  While there, we came across Evergreen (with Dennis, Carla and 13 year old Josh aboard) whom we first met in Papeete.  Since Adam and Josh are friends, we made appoint of buddy boating with them for the next few stops. 
In Utatoa, we learned that of the 3 windlasses physical present in Polynesia that could be delivered in a reasonable time (all are in Papeete), only one would be suitable for a boat our size.  Unfortunately, its cost was about $3,000 and would require us upgrading to the next size of chain which would not only cost us another $1,300 but looked like really lousy chain to boot.  I like the idea of upgrading to 3/8" chain as I've always felt that the chain that the boat came with (5/16") was a little light, but I was afraid that the galvanizing on this stuff would wear off so quickly that I'd have to buy the chain all over again in a year or so. 
After examining our options, we decided to order a new windlass and have it delivered to Pago Pago, American Samoa.  The advantage to this plan is several fold.  We can purchase stuff at US prices and have it shipped Priority Mail (American Samoa has a US zip code) in a reasonable amount of time without paying any import duty on it.  It also allows us to order a bunch of other stuff that we have not been able to get out here.  Chief among this list is a portable generator that we can run the boats 110v battery charger off so when it's cloudy for awhile, we don't have to run the diesel engine just to charge the batteries.  There were generators in Papeete, but since just about the entire world other than the US uses 220v we couldn't get one that put out 110v.  We also took the opportunity to restock our larder and fill the fuel tanks (the first fuel we've purchased since Mexico).
From Utaroa, we then went to the neighboring island of Tahaa (16 dg 36.388'S x 151 dg 33.078'W) where we hung out for a few days socializing with Evergreen, Don & Carla on Moon Dance and doing a little snorkeling.
Our next stop was Bora Bora (16 dg 31.595'S x 151 dg 44.614'W) where the 3 boats picked up moorings at the famous Bloody Mary's restaurant for 3 days.  There is a long list of famous people who have eaten there on a sign out front.  This includes everybody from Ringo Star to John McCain.  I can attest that their bloody mary's are very good (and VERY strong).  The restaurant prices were higher than we like to pay, but since the moorings were free, we felt it was worth it.
It was at Bora Bora that we separated from Evergreen and Moon Dance since our 90 day Polynesia visas were up and they had acquired 6 month visas.
While in Bora Bora, we got the word that our old friends, Don Quixote had found paradise at a small atoll called Mopelia (on some charts it's Maupihaa).  Since it was not far out of our way and we hadn't seen them since they left Papeete, Mopelia became our next destination. 
The pass into the atoll is a bit daunting, long, narrow and with a strong outbound current of at least 4 knots.  As we approached the pass, the water was fairly smooth but there were some wicked cross currents.  The boat would suddenly turn 30 degrees to the right as we would hit one and I would turn the wheel hard to theleft to get the boat straightened out and then we'd hit one pushing us to the left and instantly, we'd be pointing way too far that direction.  With hard coral just a foot or two below the surface nearby, this was SCARY.  Fortunately, once we were actually into the pass with hard coral close by on either side, the cross currents stopped and all we had to deal with was the main current.  I had the engine at almost full throttle and we were barely creeping ahead.  Once we were fully inside the pass though, we had indeed entered Paradise.  The atoll is roughly square, about 3 miles on a side with just two families living on it.  They were down at the SE corner and we anchored, along with Don Quixote, up at the NE corner.  The large motu here is covered with coconut palms and the picture of the desert island you think of when you read a book like Robinson Crusoe.  Just outside the pass, a German raider (the Sea Addler) sank during WWI.  I don't know how large the boat was, but it was big.  All that is left is some heavy machinery and the pistons of its engines are at least 4 feet in diameter.  So far, I've found 3 anchors from the wreck, in the order of my finding them, they were in 135', 110' and 15'.  The SCUBA diving outside the pass is just fantastic.  The coral is vibrantly alive and the area abounds with both reef fish, deep water fish and a number of sharks.  The coolest shark we've spotted so far was a large thresher shark during one of yesterday's dives.  We've been doing 2 dives a day along with various people from Don Quixote, Night Fly (Warren & Maria) and Soggy Paws (Dave & Sheri) and a couple from another boat whose names I can't recall at the moment.  Our compressor has been getting quite the work out.  In fact, I filled 10 tanks yesterday. 
At the conclusion of our 2nd dive yesterday, Kathryn, Jaime (Don Quixote) and I were back in our dinghy and Warren and Sheri in theirs, we had just pulled the anchors up when a whale spouted close by.  We zoomed a little closer then Jaime and I jumped into the water with masks and fins and swam the rest of the way over to the whale.
It was just a brief encounter since he sounded as we got there, but it was AWESOME!
Friday, August 19, 2011
Current Location:  Underway
13 dg. 32.866' S, 161 dg. 45.593' W
Total distance traveled so far by sea:  6663.79
We've been underway for about 4 days now, having left Mopelia about 10:00am on Monday the 15th.  We had a grand time in the almost a full week that we spent on that little atoll.  Not bad for a stop we hadn't even considered making until the day before we left Bora Bora.  There were several other boats there that all got along well together;  our old friends on Don Quixote, Dave & Sheri on Soggy Paws, Warren & Maria on Night Fly, Graham & Avril on Dream Away (another Kelly-Peterson 44, the same as our boat and I'm happy to report that for the last 4 days, we have steadily pulled ahead of them), Don & Carla on Moon Dance and Blue Moon (I forget their names at the moment).
The main recreation was scuba diving as Soggy Paws, Don Quixote, Night Fly and us all had divers aboard.  We were anchored a mile or two from the pass, but all the divers (and often a couple of snorkelers) would pile onto one boat which would then motor over and anchor by the pass towing a flotilla of dinghies behind it.  We would then jump into the dinghies, motor out the pass and jump in.  When our air was exhausted, we'd come back in the pass to the mothership to relax and have something to eat and (when we were on Loose Pointer) refill the tanks before doing it all over again.  On the days we took someone else's boat, we used Soggy Paws' extra tanks (4 of them!) so everyone who wanted to do two dives got to do so.  Our little compressor did a yeoman's job every afternoon keeping all the tanks filled.  Then, in the evening, we would all gather on the beach at an encampment the girls from Don Quixote had made to enjoy sun downers, munchies and dinner cooked over the camp fire.  Additionally, we enjoyed other activities such as crab collecting and lobster hunting while wading on the reef at night which all wound up as part of the next evening's feast.
The wreckage of the Sea Addler was a great attractor of marine life.  At one spot within just a couple of feet of each other around part of the crankshaft was a beautiful, large moray eel and not one, but two absolutely gorgeous lion fish.  There were also a lot of large pelagic fish that would swim by just off the reef.  While poking around, I found 3 large anchors from the wreck, the first in about 140' (too deep to actually reach safely), one at 135' and one close to shore in 15'.  Also, one day, the south side of the pass had no current, so we could dive down into it and enjoy the sea life there including several good sized black tip sharks.  On another of the dives, I also spotted a large thresher shark, another nice find.
Eventually, it came time to leave our little paradise.  Don Quixote headed SW to Aitutaki (one of the Cook Islands) and we'll meet up with them later in Vava'u, Tonga.  The rest of us all headed NW for the Suwarrow atoll.  This is a park/marine reserve whose only permanent residents are the ranger and his family.  We had near perfect winds for the first three days and had hoped to get there sometime today, but then yesterday, the wind fell away to literally nothing, not even enough to keep the boat moving fast enough to maintain steerage.  We finally got a light breeze about 2am this morning and it is expected to pick up so we should be moving right along again.
Saturday, August 20, 2011
Current Location: Anchored at Suwarrow Atol, Cook Islands
13 dg. 14.885' S, 163 dg. 06.548' W
Total distance traveled so far by sea:  6762.75
Hi Everyone!
This is just a quick note to let y'all know that as of 10am we are safely anchored at the Suwarrow Atol, Cook Islands.
The anchoring was a bit of an interesting exercise.  It is a small anchorage with 15 boats already in it.  To complicate matters, with a broken windlass we really wanted to anchor in as shallow water as possible.  Then, to make life even more interesting, just as we arrived at the anchorage another boat pulled their anchor up and started circling through the anchorage, looking for a better spot.  Around and around he went again and again.  He dropped his anchor twice only to pull it back up again and continue his circling.  All the while, Kathryn is driving the boat cussing at this idiot as we circle outside the anchorage waiting for him to get settled and out of the way and I am up on the bow ready to drop the hook whenever Kathryn signals that we are in a spot that she likes.
Around and around this other boat went.
Finally, she settles into place and we start into the anchorage, looking for a spot for us.  As we got close enough o the other boat to read her name, suddenly Kathryn lets out with an "Oh SHIT!"  I look back at her and then to this other boat where she is pointing.  The name on the transom is "Challanger."   I didn't write about this, but back at the Ahi atoll in the Tuamotus, they came in immediately after us and they were still circling around that tiny anchorage, dropping the hook and pulling it back up when Dan Quixote got their an hour later.  DQ got so fed up with waiting for them that they finally gave up waiting and anchored next to us, leaving Challenger to continue their circling.
We owe a note of special thanks to Soggy Paws, one of the boats we spent time with at Mopelia and who came in the pass here a couple of hours before us.  Knowing that we had a non-functioning windlass, they graciously pulled up their anchor and offered us their spot. 
Thursday, September 8, 2011
Current Location: Anchored at Pago Pago, American Samoa
13 dg. 16.414' S, 170 dg. 41.696' W
Total distance traveled so far by sea:  7217.46
We had a wonderful time at Suwarrow.  This atoll, out in the middle of nowhere, is a park/reserve with just two rangers living on it and they are only there 6 months out of the year.  James and John, the rangers have to be the nicest and most hospitable pair I've ever met.  They go way out of their way to make everyone feel welcome, arranging for pot lucks or just sun downers in the evenings, taking people on nature hikes out across the reef at low tide to another motu where thousands of birds nest and generally just being great guys. 
James especially is an interesting character.  He is a maori and really looks the part, usually going around shirtless in just shorts displaying his upper torso covered in fierce tattoos.  Throw in a couple of missing teeth and a maori hair style that's 7" tall and you can imagine him picking human flesh out of his teeth.  Then he opens his mouth and the illusion is shattered as what comes out is perfect, New Zealand accented, educated English.  I really enjoyed James.
The diving wasn't all that great, probably because much of the week we stayed there some pretty strong winds were blowing and the resulting large waves that come with them were stirring up all kinds of stuff in the water so the visibility wasn't all that great in the atoll.  The waves and chop were also too much to let us take the dinghy out the pass and sample the diving out there where the water was probably clearer.  In fact, Kathryn and I went sport snorkeling just once.  While Kathryn got to see a large manta, things were pretty uninteresting for me.
I did make a couple of scuba dives, once to untangle another boat's anchor chain from some coral and another time to retrieve the remains of a boat's broken anchor.  There is a lesson to be learned here.  DON'T USE STAINLESS STEEL ANCHORS.  Stainless steel can be shined up and look real pretty, but it is a poor choice for an anchor.  First, it is far more brittle than cast or forged steel.  Second and most important, it can (and did in this case) suffer from something called crevice corrosion, a type of corrosion that eats deep into the metal, leaving no visual clues to be seen with a casual glance.  In this case, crevice corrosion had eaten more than half way through the shank with only a very slight ½" rust line showing in the surface.  The owner had put a float on his anchor which is not a bad idea, but the line he used was too short and the combination of high tide and 2½' chop cause the anchor to lift right out of the sand.  It then wedged itself in some coral but at almost a right angle to the direction of the boat pulling on the chain and the shaft of the anchor just snapped off a few inches from the end.  Fortunately, it happened during the day when people were aboard and awake so they were able to quickly set another anchor and keep the boat off of the reef just a short ways down wind.
We wound up staying at Suwarrow a lot longer than we had planned, waiting for the weather to settle down but eventually the Gods cooperated and we were able to make the 3½ day passage here to American Samoa where our new anchor windlass (a powerful electric winch used for raising the anchor), a 2kw portable generator and a bunch of other smaller goodies were waiting for us at the post office.
We arrived here in the Pago Pago harbor about 4:30 in the afternoon and were really looking forward to finally getting a full night's sleep.  The worst part of making multi-day passages is that someone has to be awake and on watch 24 hours a day.  For us, that means that I wake up at midnight and stay on watch until Kathryn wakes up (usually, right at or just before dawn).  Unfortunately, the night held a little excitement for us. About 2am a single hander, Kennedy, that we had first met our first day in Polynesia when we helped him set the stern anchor for his boat, came into the harbor and anchored just upwind of us.  Far Star had been at Suwarrow with us and, in fact, had left about an hour before we did.  Kennedy made the decision to come into the harbor at night.  Not a terrible decision, but not a great one either.  Pago Pago is a very easy harbor to navigate, but the anchorage has really poor holding.  Unfortunately, about 3am (why do bad things always seem to happen at 3am?)  Far Star's anchor started dragging.  In fact, it dragged right into ours and hooked ours causing it to start dragging.  I'm not sure whose anchor alarm woke who up first, but from a sound sleep, we were jerked awake and into full "save the boat" mode in a matter of seconds.  I levitated up out of the aft cabin and got our engine started while Kathryn, Kennedy and someone else from another boat (I'm still not sure who or how he got here so fast) were grabbing fenders and stuffing them between the two boats to keep them from damaging each other.
Sometime during this process, some piece of the anchor gear from one of the boats hooked on something on the bottom because we had stopped moving.  Since the situation was stable and the boats were cushioned from each other, we decided to have Kathryn stay awake on anchor watch while Kennedy and I got some sleep and we would deal with it in the morning when we could see what we were doing.
The next morning, we had Kennedy raise his anchor (remember, we don't have a windlass), hoping that it would come up hooked to our chain and that Loose Pointer's anchor was what had grabbed something down there and that once Far Star got untangled from us, we would be secure with nothing else to do.  Alas, that was not to be the case.  What came up out of the water was not Kennedy's anchor, but both of ours.  His anchor had managed to actually hook onto ours, so once more we had to raise the anchor by hand so we could then try to reset it.  In fact, we had to do so twice as the first time, it wouldn't set.
Once we were finally, securely (we hoped) anchored, Adam and I took off into town to the post office where all of our packages were waiting for us.  I didn't count them, but there must have been ten or twelve of them.
So, after formally checking into the country, all we had to do was to mount the new windlass and we could check back out and leave for Tonga, right?  As Bill Cosby used to say, "Riiiiiiiiiiight."  It would seem we had a little problem to overcome. You see, our boat has a tall bulwark, a feature that I really like.  This is an extension of the vertical sides of the boat that extends up above the deck about 6" all around the boat.  The reason I like it is that it tends to keep things like tools and people from slipping off the deck and sliding or rolling under the lower lifeline and into the water.  The front end of our anchor roller rests on the top of this bulwark and then extends aft 2 or 3 feet where it terminates 6" above the deck.  Remember that as it is important. 
The windlass consists of two main parts, the above deck part that hooks onto the chain and hauls it in and the below deck part which consists of a large electric motor.  This arrangement keeps the motor out of the elements and makes the above deck part as small as possible.  Now, the part that grabs the chain has to be at the level of the chain which as I said is about 6" off the deck so it sits on a little platform.  The problem is that the new windlass is designed such that the two parts can be a maximum of only 2" apart.
After hemming and hawing and staring at things for awhile, we came up with a plan.  Basically, it amounted to cutting the heavy stainless steel part that guides the chain aft a few feet and rewelding it back together with a bend in it so that it brings the chain down to deck level.  After measuring everything and getting out my calculator, it turns out that if we put the windlass on a 1" riser (the tallest the specs would allow us to do), this would deliver the chain to it at an angle of 5.8 degrees, well within the max of 10 dg specified in the manual.
Removing the remnants of the old windlass and the anchor roller went amazingly smoothly.  We located someone who could do the cutting/welding for us and delivered it to him.  He tacked things back together and this morning, after a test fitting, we took it back to him to be securely welded and tomorrow we should be able to install everything and have a working windlass again.
The best part of all this is that for modifying the anchor roller, making us the mother of all backing plates (out of ¼" stainless steel plate) and even supplying us with some marine plywood to make the 1" riser out of, he only charged us $65 for everything.
Tuesday, September 13, 2011
Current Location:  Underway
15 dg. 28.045' S, 171 dg. 34.320' W
Total distance traveled so far by sea:  7307.59
This is just a quick note that the new windlass works perfectly and that after a last minute delay (it turns out that government offices are closed on Saturday so we had to wait until Monday to check out of the country), we are finally underway again and should arrive in Tonga Thursday morning.
This will be our second visit to Tonga as we spent a month there during our first cruise.  In fact, it was the furthest we got as from there, we turned around and headed back to the US.  Tonga, labeled the "Friendly Isles" by Capt. Cook, was one of our favorite places we visited on that two year cruise and we ate really looking forward to revisiting it.  It has some fantastic diving, beautiful anchorages and the people are really easy to get to know.
Friday, October 7, 2011
Current Location:  Anchorage #7, Vava'u Island Group, Tonga
18 dg. 42.028' S, 174 dg. 01.874' W
Total distance traveled so far by sea:  7611.58
We've been wandering around this group of islands, rarely staying at the same anchorage two nights in a row.  The scuba diving has been really, really nice.  In one area, we may find an incredibly diverse and vibrant coral population.  In another, there wasn't so much diversity, but the towering coral formations, some 2 or even 3 stories tall was just awe inspiring.  Other places, the fish population catch our eye, either with the sheer number of fish, the diversity of different species or the size of some of the individuals.  Day before yesterday, we spotted a very large and truly beautiful grouper down around 80'.  He was at least 3' long, bright yellow and covered with dark speckles.  Then yesterday, while diving at about 65' among some caves in the limestone at a site called Shark's Tooth, we were treated to an enormous humpback wrasse (sometimes called a napoleonfish).  He was at least 4' long and 2' – 2 ½' tall!  Showing no fear of us, he just slowly swan around the formations letting us follow him and having a good close look.  It was a really amazing site.
At some point, we will move on a day's sail south to spend some time in the Ha'apai island group. Then sometime in the first part of November, we'll have to beat feet out of the cyclone zone and head down to New Zealand for the cyclone season.  We currently plan to revisit Tonga next spring (after the cyclone season) before continuing further west to Fiji.
Perhaps this would be a good time to remind people that we welcome visitors aboard.  We can very easily accommodate a couple and could handle as many as 5.  We have 3 complete sets of scuba gear (BC vests are Medium, Large and XXL) and plenty of extra weights (thanks to one of our fellow Pt. San Pablo Yacht Club members who donated some) and, of course, the compressor.  So just bring your mask, fins and snorkel (and your BC vest if one of ours won't fit you) and be prepared to enjoy yourselves.  If you're not a scuba diver, there's lots of great snorkeling here too though if it's something you've ever thought you might enjoy, I think it would be worth it to go ahead and get yourself scuba certified before coming down here.
I doubt that we'll be doing much, if any, diving in New Zealand.  The water is just too cold for comfort as it's at the same latitude as northern California.  We do have some boat projects we need to get done, but that will only take up a fraction of the time we'll have down there.  I'm really not sure how we'll spend the rest of the time, but I'm sure we'll come up with something.
Sunday, November 6, 2011
Current Location:  PangaiMotu Group, Tonga
21 dg. 07.654' S, 175 dg. 09.967' W
Total distance traveled so far by sea:  7820.33
If you ever get the chance to visit Tonga by boat, take it. We had a great time here in 2006 and at least as great a time this time.  The people are friendly and easy to talk to, the islands are beautiful and the snorkeling and diving is excellent.  What's not to like. 
Unfortunately, the cyclone season is approaching and our visas are running out, so we've done the paperwork to clear out of the country and are waiting for a good weather window on which to begin our journey to New Zealand, about 8 – 10 days south of here.  The weather between here and there is notorious.  The conventional wisdom is that you are going to get hit by nasty weather at least once, so you try to time it so that you get hit only once.  However, this year seems to be a little strange and lack of wind has been a bigger problem than too much of it.  There has been a big high pressure system sitting north of NZ for some time, so the boats are actually waiting for what seems to be enough wind to sail by for as long as possible.  Right now, I think we will be raising the anchor tomorrow sometime for that long trek south.  A bunch of boats are leaving today, but for a couple of reasons, we won't be.  Yesterday, Kathryn took some laundry in for a local to do and it didn't get finished.  Since the Tongans take their Sundays seriously, we won't be able to pick it up today either, so we're stuck here until tomorrow.  That's probably a good thing though as he winds for today are predicted to be quite light (5-7 kts) and we'd probably spend much of the day motoring anyway.
The only restaurant/gathering place on this small island, Big Mama's Yacht Club, is a nice place.  Their porch extends out over the water and has a beautiful view.  The food, though limited to burgers and fish & chips, is quite good, they have free wifi (though it is turned off between 4:30pm & 6:00pm while the service and refuel the generator) and the music (also turned off during that period) is played low enough so that conversing with others is easy.  The music is generally really old US stuff.  Two of the songs I remember from last night are Johnny Horton's "Sink the Bismark" and Ricky Nelson's "Teenage Idol".
We spent yesterday prepping the boat for the passage.  I climbed the mast for fix a broken radar reflector and examine all of the rigging for chafe or other problems and used up two tanks of air cleaning the bottom.  We really need to get the boat hauled and repainted in NZ as the bottom paint doesn't seem to be inhibiting growth at all anymore.  I last cleaned the bottom about a month ago in Vava'u and we already had a lawn growing down there.  I also did a couple of plumbing repairs (the shower sump pump wasn't working and the Y-valve which controls where the stuff goes (overboard or into the holding tank) when you flush the toilet was frozen.
This morning, I feel a little like I was rode hard and put up wet.  Fortunately, we are basically ready to leave now, so I can take it pretty easy today.
We may stop at Minerva reef a couple of days south of here, but that really depends on the weather.  If we have good sailing winds, we'll keep on going to take advantage of them.  On the other hand, if we have either rough weather or not enough wind to sail with, we'll likely stop for a couple of days until things improve.
Next stop:  Opua, New Zealand.
Monday, November 28, 2011
Current Location:  Opua, North Island, New Zealand
35 dg. 18.804' S, 174 dg. 07.492' W
Total distance traveled so far by sea:  9046.73
We've traveled over 1,000 miles since I last wrote in this journal.  In that time, we've crossed into the eastern hemisphere, moved from the warm tropics into the relatively cool temperate zone (we are now more or less at the same latitude as Monterey, Calif.) and at the same time moved back into a first world country where they even speak English (sort of).
We are currently spending money hand over fist.  The biggest purchase so far has been a car to get around in ($3,750nz).  Hopefully, we will recover most of that when we sell it before leaving for the tropics again  in 5 months.  We've also purchased new anchor chain, upgrading the old 5/16" to a stouter and heavier 3/8" (when it comes to anchoring, the more weight on the bottom, the more secure you are).  We are busy doing boat projects again and this time, the main focus seems to be plumbing.  So far, we've replaced the pressure water pump which had lost its ability to prime itself, the refrigerator water pump which was making real nasty bearing-about-to-fail noises and the float switch for the bilge pump which stopped working months ago.  We've  also ordered a new boost pump for the water maker and a new fuel transfer pump which died after I used it to pump sea water out of the boat (that story in a minute).  We've also ordered a rebuild kit for the manual bilge pump which failed to work the one time I needed it to (part of the same story).  About the only part of the plumbing that seems to be still working just fine is the toilet that I installed just before leaving.  There are other, non-plumbing projects in the queue, but right now, if it involves moving fluids, I seem to be repairing or replacing it.
About now, I figure you're probably curious about that sea-water in the boat story I mentioned earlier.  You gotta understand that aboard a boat, Rule #2 is "Keep the water on the outside."  It comes just after Rule #1 which is "Don't let a fiberglass boat catch fire."  After these two, everything else is secondary.  That's why when were about a day away from getting into port here in New Zealand, we all got a little excited when we suddenly noticed that we had water coming up over the floor boards.
Kathryn & I jumped into action.  I am actually quite pleased with the way we worked like the well oiled team that we are.  I rushed down below to turn on the bilge pump and to where we store a fuel transfer/polishing pump, stuck the intake hose down into the bilge and handed the outlet hose up for Walker (as our son, Adam Walker Best, now chooses to be called – old habits die hard, but we're trying) to hold over the side, hooked up the power and turned it on.  While I was doing this, Kathryn is going through the boat pulling floor boards up and digging through lockers checking all the thru hulls, trying to find where the water is coming from.  A few minutes after getting the pumps in operation, we could tell that the water level was going down (it took that long because we were sailing hard into a stiff wind, heeled way over and bouncing around quite a bit so there was a lot of sloshing going on). 
WHEW!!!!!!  OK, we can now slow down and let the adrenalin drain out of our systems, we're gonna stay on top of the water after all. 
The funny thing is that we couldn't find anywhere that the water was coming in.  It reminded me of a boat trip the family took way back in 1965 down Baja.  The first day out, we started taking on water so the skipper turned around and returned to San Diego.  Everyone figured that when they hauled the boat out of the water, wherever it was coming in would be obvious since it would now be flowing out.  But it didn't.  There was this 65' boat, the bilge full of water sitting there high and dry on the marine railway and not even dripping.  They eventually figured it out, but there was some serious head scratching going on for awhile.
So where did all that water in Loose Pointer come from?  Our best guess is that the anti-siphon valve on the bilge pump failed and the water was siphoning into the boat through the bilge pump.  Remember, the float switch had stopped working long ago, so the pump wasn't coming on automatically and we were heeled way over on the side with the bilge pump outlet.  I haven't gotten around to checking that valve (or even finding it yet), but you can bet it is on the list of things to do.
Cruising is a healthy lifestyle.
I've said this before, but it comes to mind because I just got back from the first doctor's appointment I've had in over a year.  I have to take blood pressure meds and I was last able to stock up way back in Mexico.  My supply is seriously low and you need a prescription to buy these drugs here in NZ. When we started this trip 14 months ago, I weighed a whopping 325+ pounds.  Now at 6'3", I'm a big guy, but with that much weight on me, the best descriptive word to use is FAT!  Back in the '70s, when I was in the service and in the best shape I've ever maintained as an adult, I generally weighed between 195 & 205 so I was packing over a hundred pounds of pure fat around.  At the doctor's today, I weighed in at 85 kilos.  For those of you not too quick with a slide rule, that translates into a mere 187 pounds.  I've also been able to cut way back on the meds I'm taking and the doctor measured my pressure today at a wonderfully low 110/70.
So for those of you who are always looking for a better diet plan, it's simple.  Just go cruising. 
Sunday, January 1, 2012
Current Location:  Opua, North Island, New Zealand
35 dg. 18.916' S, 174 dg. 07.353' W
Total distance traveled so far by sea:  9067.93
We're Famous!  (sort of)
Yesterday, I finally got around to reading last September's edition of the Latitude 38 sailing magazine and was surprised to see us in it.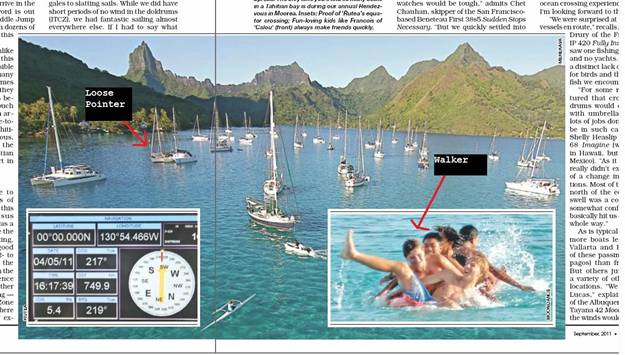 The photo, taken at the Puddle Jump Rendezvous at the island of Moorea in Polynesia shows us rafted together with Don Quixote and Walker is in the inset photo. 
Not a whole lot has happened during the month+ we've been here in New Zealand.  One small surprise for me has been how much it rains here.  Since it's about the same attitude as Monterey, and it's summer down here, I sort of expected the weather to be similar to that of the California coast.  Instead, it's been much more like that of the Pacific Northwest.  Lots and lots of rain intermixed with a small amount of sunshine.  We've done a bit of wandering around and a whole lot of hanging out. 
Our current thoughts have us heading further south to Whangarei in about a week.  While there, we will haul the boat to repaint the bottom, something that really needs doing.  We'll also have the railing that was damaged in Polynesia repaired.  Other than that, we really don't have any plans for the immediate future.
Tuesday, January 3, 2012
Current Location:  Russell, Northland, New Zealand
35 dg. 15.788' S, 174 dg. 06.834' W
Total distance traveled so far by sea:  9071.28
Wow!!! 
I'm continuing to catch up on back issues of Latitude 38, the sailing magazine.  You'll never guess what I saw when I got to page 78 in the June 2012 issue. 
There was a photo that I took occupying about half of pages 78 & 79 in the Sightings section.
I took the photo of Jane-O back in Baja on January 23.  It accompanied a write up in the magazine of Scot, Chris and Jacob's experience while on the 2010 Baja HaHa and I had given them a copy of it.  I didn't get any photo credit in the magazine but rest assured, that's my photo.  It's one o a series I took from the cliffs of a narrow bay called El Cardonalito on Isla Partida (one of our all time favorite anchorages).  Unfortunately, since we've move the boat a few miles across the Bay of Islands to Russell where there's no wifi signal, I can't include the image in this email (the email we have through our SSB that works from anywhere is text only and cannot include attachments), but for those of you who get Latitude 38, go back and take a look.
Friday, February 10, 2012
Current Location:  Whangarei, New Zealand
35 dg. 43.741' S, 174 dg. 19.879' W
Total distance traveled so far by sea:  9171.54
By the time the boat goes back in the water Monday, we will have been on the hard here at Riverside Drive Marina & Boatyard for a full 3 weeks!  We arrived here 3 weeks ago today and hauled the boat the following Monday.  Since we were hoping to get out, sanded, painted and back in a week's time, things obvious have not gone fully according to plan.  The reason for the delay is that we discovered that there was a lot of play in the gudgeon (which acts as the lower hinge of the rudder) as well as the upper bearing that the rudder stock goes through.  As a result, we decided to pull the rudder off the boat and let the professionals fix it.
Removing the rudder was a learning experience in itself.  I had never done this before on any of the boats I had owned.  I'm afraid I made a bit of a pest of myself, asking one of the professionals or another questions every few minutes.  Eventually though, we had the rudder off the boat.  That's when the real trouble was detected.  Closely inspecting around the base of the pintle (the axel around which the gudgeon clamps), we could detect what appeared to be some serious metal loss due to corrosion.  Because of this, we had the yard do some exploratory surgery on the rudder, cutting it open to allow us to fully inspect the structural stainless steel buried inside it.  Suffice it to say that what we found was not good.  It caused us to have the yard to far more extensive exploratory surgery to find the limits of the problem.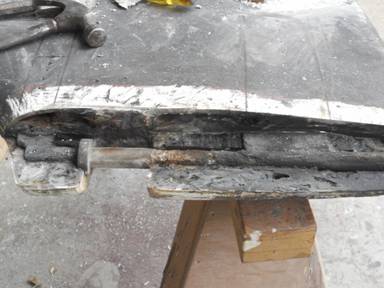 The photo above is of the lower part of the rudder.  The pintle is the relatively smooth cylindrical piece of stainless steel.  We wound up having to replace all of the structural stainless steel in the lower third of the rudder (starting about at the hammer head and extending through where you can see the magic marker lines.  Fortunately, when we exposed the metal in the top portion of the rudder, it was in good shape as you can see from the next photo.

Having that refabricated and then rebuilding the rudder up around it is what took the time.  The good news is that the rudder is now better than it was when it was new.  What caused the problem is that when the rudder was made, they left a void in the fiberglass where you can see the worst of the damage and for 30 years, the stainless was sitting in oxygen depleted salt water that had seeped in.  Stainless doesn't like that.  The rebuilt rudder has no voids so it should last a long, long time.
The other major repair was to our stern pulpit and port rail that were damaged in the collision back in Polynesia.  It is now as good as new.  Other things we've done include:
· Installing a through hull transducer for the Lowrance fish finder (replacing the one that we had just glued to the inside of the hull).
· Replace the cutless bearing (this entailed removing the prop – another first for me).
· Disassembling, sanding, refinishing and reassembling the aft storage box.
· Repairing various leaks in the inflatable dinghy.
· Replacing 2 of the 4 floor boards for the inflatable dinghy and refinishing the other 2.
· Creating a rail mount for our 2nd outboard so we won't have to just hang it on the rail when not in use.
· Fixing the port, forward lifeline.
· Fixing the rigid boom vang.
· Raising the water line about 8".
Still left to do once we are back in the water is:
· Replace the VHF antenna at the top of the mast which I broke while trying to figure out why our anchor light stopped working.
· Replace the tricolor & anchor lights at the top of the mast.
· Replace the deck level navigation lights (the lenses on them and the tricolor are so sun damage after 30 years that they are pretty dim.
· Replace the broken radar reflector.
In between times, we have also managed to get all 4 of our propane tanks and all 3 of our SCUBA tanks inspected and certified for use in New Zealand and about a zillion other things.
I think I need a vacation.
Sunday, April 1, 2012
Current Location:  Whangarei, New Zealand
35 dg. 43.694' S, 174 dg. 20.035' W
Total distance traveled so far by sea:  9171.54
There's been a major change in plans. 
That, by the way, is an understatement.
We have decided to end the cruise and return to land.  For Kathryn, who has been back in the U.S. for the last few weeks, the cruise is over.  She will stay in California.  Our son, Brian, will fly back down here on the 12th, Walker will fly back to California on the same day, overlapping with Brian just long enough to say "Hello" and Good-bye", then Brian and I will then deliver the boat back to California.  Right now, it looks as though we'll make it back there sometime in late June after 6-8 weeks of upwind sailing.  We'll make one brief stop in Hawaii to sleep, resupply and perform any boat chores that need doing and possibly one more stop in Pago Pago, American Samoa if any repairs need to be accomplished or if we just feel that we need a break after the first 2 weeks at sea.  Meanwhile, Kathryn will be looking for a place for us to stay in Cloverdale where our daughter and granddaughter live.  Once there, I'll be looking to rejoin the work force again.
How's that for a change of plans?  Loose Pointer is once again living up to her name (you never know where she will point her bow next).
It's short notice, but should anyone like to experience an ocean passage in a sailboat, a third crew member would be more than welcome during any or all of the legs (New Zealand -> Pago Pago, Pago Pago -> Hawaii, Hawaii -> San Francisco).  I've done this trip once before (Tonga -> Hawaii -> San Francisco) so I'm not expecting any real surprises, but it's a long arduous trip and I've no doubt that we'll be really glad to see land again.
If there's a slip available, we would like to keep the boat at Pt. San Pablo Yacht club again, but I suspect that that is not going to be possible, so our plan 'B' is to park her at Spud Point Marina in Bodega Bay.
Wish us "fair winds."
Tuesday, April 17, 2012
Current Location:  Marsden Cove Marina, near Whangarei, New Zealand
35 dg. 50.284' S, 174 dg. 27.979' W
Total distance traveled so far by sea:  9181.89
After being at the Riverside Marina for 4 months, Brian and I finally untied the dock lines and left this afternoon.  We are now tied up at the customs dock about 10 miles away where the customs official will clear us out of the country tomorrow morning.  We then set sail for the open ocean again.
If the wind gods are kind to us, we will make a stop at Beveridge Reef.  This is an island out in the middle of nowhere that has completely weathered away until all there is left is a ring of coral about 2-3 miles in diameter that's just awash at low tide.  It's a few hundred miles from the nearest land and this time of year, I expect to be the only boat there.  It should take us about 10 days to get there.  What will we do there?  Sleep, sleep some more then take a nap.  The only down side to 2 people doing long passages is that you invariably wind up sleep deprived since there is just the two of you to share being on watch 24 hours a day.  When we are finally rested up, we'll enjoy some of the best snorkeling I've seen anywhere.  Finally, we'll raise sail and point the boat towards Hawaii. 
It should take us about 3 more weeks to get to Hawaii.  What will we do when we get to Hawaii?  You guessed it, sleep, sleep and sleep some more.  When we finally feel human again, we'll perform whatever boat maintenance is needed, reprovision and head out for California, another 3 week passage.  By the time we finally get home, dry land is going to feel pretty good.
By the way, we no longer have internet access, so any email has to come to us via our single sideband radio and the sailmail.com account.  Please do not forward any jokes of the day or interesting political essays to this account, but if you'd like to sent us any messages or ask questions, we'd love to hear from you.
Monday, April 23, 2012
Current Location:  Underway
28 dg. 56.443' S, 172 dg. 02.413' W
Total distance traveled so far by sea:  9801.86
Halfway to Beveridge Reef we are bailing out and are now heading to Pago Pago, American Samoa due to equipment failure. 
· The jib furling line has broken twice and I have no more spares.
· The jib is damaged and cannot be used until repaired.
· The paddle that sticks down into the water from the Monitor wind vane has disappeared and so the wind vane is out of action leaving us solely reliant on the electronic auto-pilot.
· I have suffered a stab wound (not too serious, but it makes it difficult to do things) in the left wrist while SCUBA diving on the prop in high seas to unfoul it from the severely wrapped furling line.
In the good news department:
· The SCUBA compressor still works just fine, though the motor quits if it is tilted more than about 40 degrees due to the boat's rolling.
· The route to Pago Pago is a beam reach and much more comfortable than the pointing we had been doing.
· Since Pago Pago is only a week away, the ration for special treats (dark chocolate dipped ginger) has been quadrupled.
We have experienced high winds for the last 600 miles, often in the 30's and last night at one point I saw it reach 40.  Along with the waves these winds produce, it makes for a very uncomfortable journey.  Neither of us has gotten much sleep for the last week (the fact that I had had no sleep since midnight following several days of sleep deprivation may have contributed to my stabbing myself while trying to free the prop this morning).
Monday, April 30, 2012
Current Location:  Anchored at Pangaimotu, Tonga
21 dg. 07.595' S, 175 dg. 09.715' W
Total distance traveled so far by sea:  10,292.49
We've been having great difficulty getting a connection with our SSB radio to the shore stations that we can pass email too.  This has two ramifications:  It makes it impossible to send email such as these journal entries and also, we can't pick up the weather information we use to make routing decisions while underway.  I'm not sure which is worse, knowing that Kathryn is back in the US worrying about us because she isn't hearing anything or spending a week battling upwind in 25-35 knot winds with gusts to 40.  Anyway, because of the email difficulties, we decided to pull in here where we have been anchored for the last couple of days.  During that time, we caught up on our sleep, made about 100 gallons of fresh water to rinse the salt out of our clothes, sheets and just about everything else.   We've also refueled and done some other repairs that are lots easier when sitting in a quiet anchorage.  Lastly, we've been in email contact with Kathryn and she is ordering us some stuff that will meet us in Pago Pago (shipping there from the US is incredibly cheap and easy, just send it US Priority Mail).
We should be underway again tomorrow for what we hope will be an easy 3-4 day passage to Pago Pago.